FIRST FUNDED RESEARCH PROJECT UNDERWAY
THE FIRST OAT research project funded by Grain Farmers of Ontario is underway. After the organization took on representation of oats in 2015, the research department broadened its yearly call for proposals to include oat projects that would address breeding and agronomic concerns.
PHOTO: GRAIN FARMERS OF ONTARIO RESEARCH LEAD MATTHEW CZERWINSKI HELPS FIELD TECHNICIAN STEWART GARSON PREPARE FOR PLANTING AT THE RESEARCH FIELD IN MIMOSA (NORTH OF GUELPH).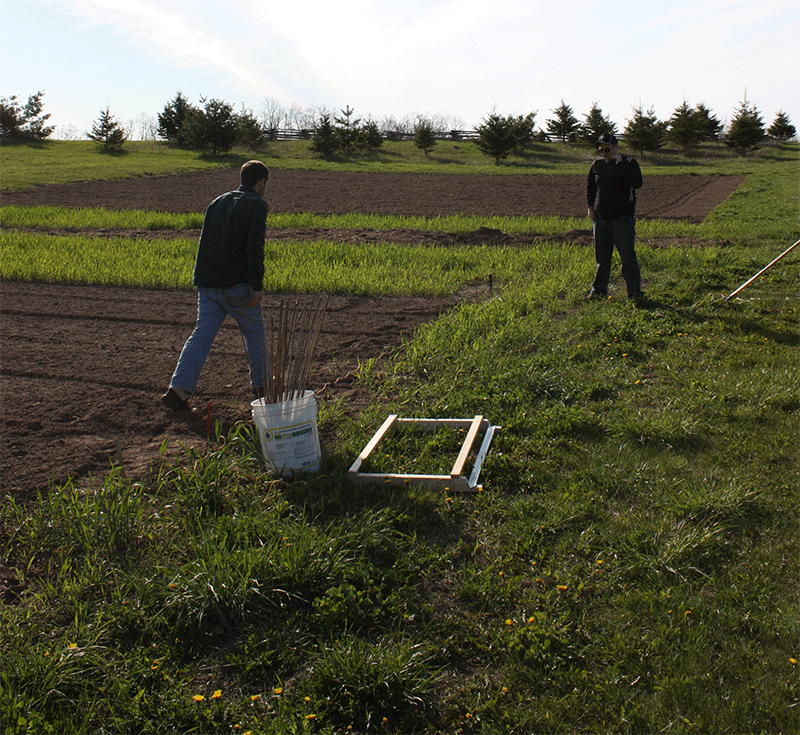 "We want our growers to see oats as a viable option in their crop rotation," says Josh Cowan, research manager at Grain Farmers of Ontario. "This means making it a competitive crop by funding research that will economically increase yields and quality. An increase in yields is an increase in value back to the farmer."
Cowan says investment in genetic research is one of the areas where they expect to see the greatest return. "The knowledge developed through genetics research can often trigger additional avenues of research that can lead to productive improvements to crops."
GRAIN FILL
It's that type of cascading effect that has led to the oat research project now being funded. The one-year project, being completed by A.R. McElroy, research coordinator at PhytoGene Resources Inc., is studying the genotype by environment (GxE) interaction for oat grain fill.
In 2014, research on grain fill conducted by PhytoGene Resources revealed a significant finding about unfilled kernels. According to McElroy, their research showed that unfilled kernels develop from anomalies at the panicle differentiation stage and are completely unrelated to plant stress during filling. They also confirmed that the level of unfilled kernels is a highly heritable trait. Some oat lines have fewer than five per cent unfilled kernels while others have more than 40 per cent. As unfilled kernels take the place of normal ones, this trait is closely linked to yield potential.
"The panicle develops from the top and works its way down, but unfilled kernels appear throughout the panicle even at the top," explains McElroy. "This confirms that unfilled kernels are not related to plant stress during filling."
TEST PLOTS
For this new research, test plots have been planted at three locations across Ontario to examine if environment plays a role in the frequency of unfilled oat kernels. The plots, located in Cumberland, New Liskeard, and Mimosa were hand planted this spring by the same field technician to ensure precise individual plant spacing and seeding depth. McElroy explains they also wanted to rule out any inherent genetic variability among plants within lines, so seeds planted at each site all came from the same plant, for each of the 100 lines being tested.
During the growing season, notes are being taken on heading date, disease presence, and any other stresses that could affect grain fill. In the fall, two samples of each of the lines will be taken from each plot and a grain fill profile, including the number of unfilled kernels, will be created. This will take several months as they analyze the pattern of grain fill in panicles, one by one. There will also be an assessment of the environmental conditions at each of the test sites to see if there were any differences that could affect the kernel fill trait.
"This will tell me how to go about my selection of lines for breeding purposes," says McElroy, "and then the next step in our research is to go to molecular markers. We need to sort out what genes are involved in unfilled kernels because most traits are under multiple gene control. The best way to sort this out is with markers."
"Eventually, for farmers, the big thing is if we can get rid of these unfilled kernels we will increase the test weight of the oats," continues McElroy. "Unfilled kernels are related to yield potential. On an individual panicle basis, the number one factor affecting yield is the number of kernels; but the number and size of kernels are not related. Once the kernel gets to its predetermined size, its stops growing, and this doesn't affect the size of the neighbouring kernel."
CROP POTENTIAL
McElroy says oats have a lot of untapped potential that farmers could benefit from.  "It's a low input crop that can be quite profitable. There are good markets for oats, such as milling and the premium horse feed market which is often overlooked."
Understanding the specific needs of the different markets for oats is something Cowan hopes they can incorporate into future research on variety development. He also hopes to offer farmer-members additional agronomic information that will increase their success with growing the crop. Currently, funding is directed towards oat performance trials involving fungicide versus no fungicide that are being completed by the Ontario Cereal Crops Committee and research projects under the banner of the Canadian Field Crop Research Alliance.
"We hope to review more oat research projects during our next call for proposals in early fall," says Cowan. "We see a lot of opportunity for oats in the future."
"I have the confidence in the potential of oats to invest in research of it," says McElroy, "but we are a small company and can't invest as much as we would like to. Additional funding, such as that now available through Grain Farmers of Ontario, allows us to do more and explore more. It's a significant boost." •