IT'S NOT CHILD'S PLAY
FOR PARENTS, IT is gratifying to see children learn and accomplish tasks on the farm. They learn the value of hard work, get exercise in open spaces, work alongside family, and learn responsibility early.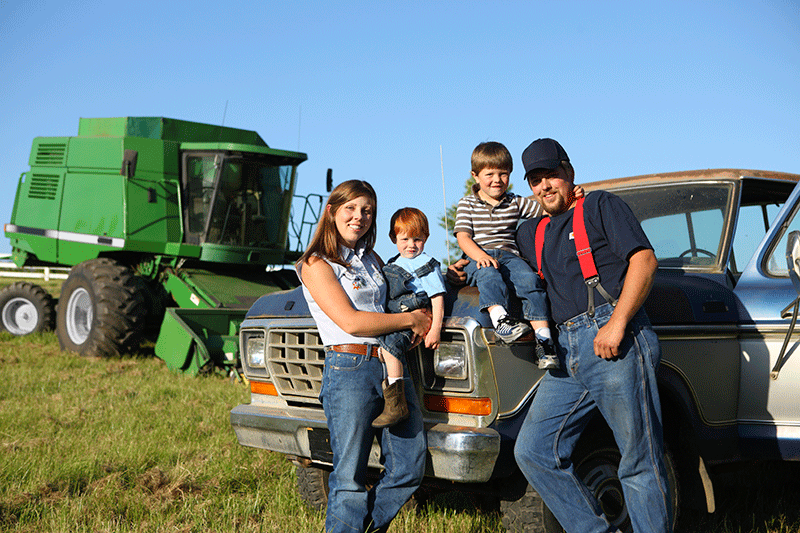 However, there is an increased risk that goes along with being raised on a farm.
Now that harvest has started across Ontario, it is a good time to re-evaluate farm safety. It could save your child from a serious injury or worse.  
"Harvest is a busy time, but it is just like the old quote "haste makes waste" and this applies to safety on the farm too," says Glen Blahey, agriculture safety and health specialist, Canadian Agriculture Safety Association. "Safety is really about your sense of priority, and taking time for safety is a decision making process."
Blahey feels that making children safe on the farm is about setting aside the time to talk and establish a safety plan. This applies to the whole family and anyone working on the farm too. With that in mind, there are a number of ways that parents can make the farm a safer place.
TIPS
SAFE PLAY AREAS
Being on the farm means that children can play outdoors, but machinery and other obstacles during harvest make the farm less safe. For the youngest children in the family, creating a safe play area is important to let children enjoy the outdoors while reducing the risk of a farm related injury.
The Canadian Agriculture Safety Association says that location is an important aspect of choosing this play area. It should be designated by a physical barrier like fences, gates or shrubs to give children a marked area to stay in. It should be away from the majority of farm activity, while also being within sight and hearing distance of a responsible adult. Make sure the area is adaptable, so that it can be modified as the child gets older. Finally, keep the area fun by providing ways for children to be active; if they enjoy being there, they are more likely not wander.
TRADITION
It is time to rethink tradition. Farmers are on the cutting edge of technology and practices on the farm, which must extend to safety.
It might have once been tradition to have children on farm machinery and going for rides on the tractor, but it is time to change that tradition and make new safer ones. Children can still be involved in the farm, but take steps to ensure they will not be injured. Teach them how to be safe, so they can pass it on to the next generation.
TASKS THAT ARE SAFE AND APPROPRIATE
There is no reason that children cannot help out on the farm when accompanied by a responsible adult, but there are a number of considerations for kids working on the farm. The Marshall Clinic developed the North American Guidelines for Children's Agricultural Tasks (NAGCATS). These guidelines are not based on age, but by growth and development.
They have outlined tasks from picking rocks, to driving tractors, to using a grain drill and unloading grain. For example, there are a number of questions to consider about your child before allowing them to unload grain. Is the child strong enough to start the auger motor and open the door on the gravity box without struggling? Does the child have the balance and dexterity to turn and stretch on a two step ladder? Can the child understand and repeat from memory a 10-step process? Can they react quickly? Can they recognize a hazard without getting upset? Does the child react to a "gut" feeling or on impulse? Is the child responsible?
Take a few minutes to look critically at your child. Age is not the only factor, as children develop mentally and physically at different speeds. Visit nagcat.org for more information on how to determine what tasks your child can handle on the farm during harvest.
TALK TO YOUR KIDS
Parents must have an open dialogue about safety and make children feel comfortable asking questions about their safety on the farm. A safety plan is the first step, but talking about it is just as important.
"Talk to kids about what's happening on the farm and why it is happening, and make it clear within the whole family structure. It's about clarifying the roles and responsibilities and what children are capable of doing," says Blahey. Blahey explains that having a conversation and even writing safety ideas down with children is more lasting and creates a commitment to safety.
"A safe harvest is a good harvest," says Robin Anderson, communications officer, Canadian Agriculture Safety Association. "That includes everyone… safety is for the whole family, the kids and workers."
Blahey encourages people to embrace their community to explore options to keep kids safe. Agriculture communities and schools can work to teach children about hazards they may encounter on the farm. There are many resources available to help.
'Empowering the AgSafe Family —  keeping kids safe' is the focus of the CASA national farm safety conference and AGM in Charlottetown, Prince Edward Island from October 4 – 6.
This harvest, start the conversation about safety. These tips can help prevent a tragic injury. •