Crown rust in oats
MITIGATING CROP LOSS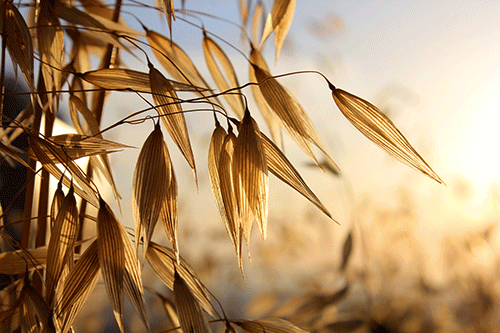 UNDER THE RIGHT (or wrong) conditions, crown rust can be a real problem for oat growers. While most varieties carry some resistance, Albert Tenuta, plant pathologist with the Ontario Ministry of Agriculture, Food and Rural Affairs (OMAFRA) warns that races do change over time, affecting variety performance. The disease can cause substantial loss with 50 per cent or more of the crop being affected. Good management, though, can help growers avoid losses entirely.
Incidents of crown rust in oats are not uncommon. In fact, the pathogen is often quite serious, causing substantial losses, especially in central and eastern Ontario. When the pathogen is present, dealers and agronomists will work closely with growers to mitigate losses.
This was the case a few years back when a customer called Cory McDonald, manager of the Pontypool branch of Thompsons Limited, to say that his 200 acre oat crop was being destroyed by the pathogen. Together, Tenuta and McDonald walked the grower's field to assess the damage. McDonald said he had advised all of his oat producers to spray that year, and most of them had. This grower, though, said he chose not to because he had sprayed the year before and didn't see the advantage in terms of yield and quality. Unfortunately, the decision meant that he lost all 200 acres to the pathogen.
"It was a really unfortunate year," says McDonald.
CROWN RUST: A PROFILE OF A PATHOGEN
Crown rust, also known as leaf rust, is probably the most destructive disease of oats. Not only does it cause massive yield loss but Tenuta notes it also lowers test weights and increases lodging. Infection, he adds, can also result in premature ripening.
The disease is specific to oats and some wild grasses, such as ryegrass and fescue. Its most distinctive symptom is the orange pustules that grow on the plant's leaves and sheathes. While sometimes considered quite pretty, the pustules, which look like volcanoes, can produce thousands of orange-yellow spores that can spread to other fields. The pathogen, says Tenuta, is neither seed nor soil borne. Locally, spores reproduce on buckthorn, which can lead to gene mixing. In areas where buckthorn thrives, so, too, does crown rust. Spores also make their way north from the southern United States.
According to Tenuta, as long as there is green leaf tissue on the plant it is susceptible to crown rust. Like any other rust, spore production can take place in as quickly as seven to 10 days for new cycles when conditions are just right. Ideal conditions for development include daytime temperatures of 20º C to 25º C and 15º C to 20º C at night. Crown rust thrives when moisture, such as leaf wetness from fogs, heavy dews, or misty rains, occurs.
MANAGEMENT TIPS
Choose resistant varieties. Planting resistant varieties can really help to reduce the risk of an outbreak. Ontario oat variety trials can be found on the Ontario Cereal Crops Committee website at http://www.gocereals.
ca/variety_trial.php.
Plant early. Doing so will allow plants to mature before inoculum levels are high. Tenuta recommends planting early especially when susceptible varieties are grown.
Scout early. There is no economic threshold for crown rust in oats. "It's best for growers to scout early and consider a fungicide application at first sign of the disease, especially if weather conditions are conducive to disease development," says Tenuta.
Remove further risks. If there are buckthorn shrubs near the crop, remove them. While removal is ideal, note that it is not always possible.
Use a good foliar fungicide. Consider using a foliar fungicide in fields with good yield potential or if more susceptible varieties were planted. Also consider a fungicide application if other leaf diseases are present and the weather forecast is favourable for their development. To learn more about fungicide options in Ontario, Tenuta recommends checking out OMAFRA's Field Crop Protection Guide (PUB 812). It can be found online at www.gfo.ca/
production. The best time to spray will depend on the fungicide. Be sure to follow label instructions.
Stay connected. Pathogens can develop quickly in the field. Probably the most effective way of staying ahead of them is to be prepared. New Liskeard area grower Dave Schill says he keeps on top of news, especially on moving pathogens, in a variety of ways. He believes by using his network, which includes seed sellers, local agronomists, and other farmers he's doing just that. Not only does he recommend scouting daily, but he also suggests using online tools like Twitter, Facebook, and farm forums, such as Farms.com and AgTalk, to stay connected.
Extension specialists like Tenuta, as well as researchers, regularly communicate with growers online. You can find Tenuta on Twitter, for instance, at @AlbertTenuta. OMAFRA also contributes updates to spore maps, which are available through the USDA Cereal Disease Lab.
ON-GOING BREEDING EFFORTS
When it comes to breeding efforts, it is a never-ending battle, says Tenuta, especially when it comes to diseases. Rusts, he said, are one of the most problematic pathogen groups to deal with.
"Their ability to produce millions of spores makes them a good pathogen," he says. "When you add their ability to develop new races quickly on alternate hosts (such as buckthorn), that makes it an even greater challenge."
Currently, there are no oat varieties that are resistant to all races of crown rust, which is why it is important that local breeding programs exist. New races will build over time, usually taking about two to five years to develop.
"Common buckthorn is key to these new races," he explains. "Although crown rust spores can be blown in from other areas, buckthorn is where these new races develop, since it is on buckthorn where sexual mating or reproduction occurs."
Growers, he said, should be on the lookout for changes in their variety's resistance. "Are you seeing more rust over time on a variety?" he asks. "This could indicate a change in local race populations. Unfortunately, it will only get worse over time." •