Call before you cut
REMOVING TREES ON FARMLAND IN ONTARIO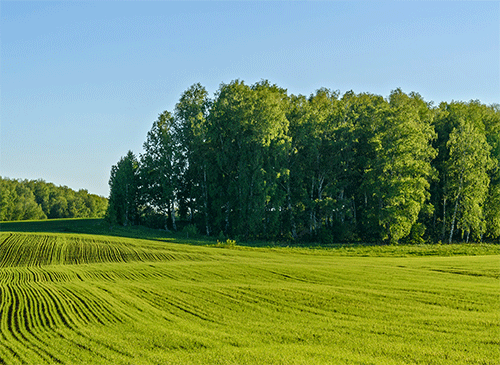 GRAIN FARMERS LOOKING to cut trees or clear brush on their property should consult with their local municipality about woodcutting bylaws and follow good forestry practices to maintain their soil, preserve wildlife habitat, and potentially make money.
"The by-laws are a bit of a patchwork —  they've mostly been put in place where the municipalities want to maintain forest cover," says Ben Hindmarsh, environmental specialist with the Ontario Ministry of Agriculture, Food and Rural Affairs (OMAFRA). He strongly advises farmers to consult first with their municipality before doing anything to remove trees.
CHECK LOCAL BYLAWS
In general, the southwest and south-central parts of the province do have bylaws and the eastern and northern jurisdictions don't. One big exception to this is Chatham-Kent, where there is no bylaw. A heated and very public debate a few years ago that pitted neighbours against one another resulted in the county deciding to implement a forestry policy instead.
Different jurisdictions take different approaches to the bylaws — some require good forest practices, which include taking into account the tree species, how it interacts with other trees, its role in creating habitat, and the future marketability of the timber. This kind of bylaw normally requires the services of a trained professional.
Others simply use 'diameter limit' cutting, which allows the removal of any tree species over a certain size. This method is considered less preferable from a forest management point of view, but easier to manage.
Some agricultural practices are exempt from the bylaws, and some refer to the Farming and Food Production Protection Act for guidance in this regard.
The Municipal Act, which provides municipalities with the power to pass these bylaws, allows them to impose penalties for cutting trees. These can range from issuing a stop work order to enforcing re-planting orders to imposing fines of a maximum of $10,000 or $1,000 a tree for a first offence.
THINGS TO CONSIDER FOR CLEAR CUTTING
Hindmarsh cautions farmers to be very careful if they're looking to clear larger tracts of land.
"They should develop a plan that takes into account such things as the potential for water and wind erosion, the slope of the land, where there are watercourses, and where they'll need buffers to keep the soil in place," he says, adding that areas that are important for significant plant and wildlife habitats should be protected and it's a good idea to chat with the staff of the Ministry of Natural Resources and Forestry (MNRF).
Many municipalities ask landowners to replant along with removal to balance out the losses and maintain tree acreages. In some cases, the municipality owns land that it wants to re-forest, in which case the farmer could pay for the trees and replanting. In other cases, where the municipality doesn't own a lot of land, the farmers can make it up on their own marginal land.
KEEP IT TIDY
A municipal permit may also be required for farmers wanting to maintain the edges of their fields. Generally, where there are rules, they apply to the boundaries at the historic plow line.
Municipalities also have the authority to regulate tree injury as well as removal. For example, using a backhoe to knock down the branches may result in large scars where insects and disease can set in. Farmers are advised to, after checking with the municipality, cut the overhanging branches.
The best management practice is to not let things go for four or five years, to regularly maintain field edges, and avoid having to deal with encroachment.
WOODLOTS CAN BE PROFITABLE
Managing trees on farmland is not all about rules and red tape. Hardwoods in the south are used in furniture and flooring while the softwoods in the north can be sold for construction.
"A well-managed woodlot can yield a fair bit of profit for farmers," Hindmarsh says.
Engaging a professional forester to help with making the right choices for cutting is a good idea, and most will do the job for a percentage of the revenue gained through the sale of the wood.
Depending on whether the area is provincially significant for wildlife habitat or wetlands, there are also government programs that provide tax incentives to maintain the environment. For example, the Conservation Land Tax Incentive Program provides a 100 per cent property tax exemption on property deemed by the MNRF to be environmentally important.
The Ontario Woodlot Association (www.ontariowoodlot.com) has a comprehensive listing of municipalities with bylaws, as well as additional information on forestry practices. •