Sustainability goals
ONTARIO FARMERS MEETING INTERNATIONAL TARGETS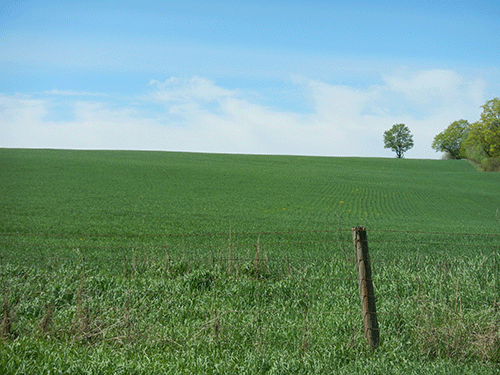 MULTI-NATIONAL COMPANIES are building agricultural sustainability into their corporate social responsibility plans. After initially starting with high risk commodities such as cocoa and palm, companies are now assessing the sustainability of grains and oilseeds in their supply chains. These companies want to buy sustainably grown agricultural products and are increasingly setting ambitious targets to do so.
Farmers are being asked questions about their sustainability and they are being asked to verify their production practices. Grain Farmers of Ontario has been working to make it easier for Ontario farmers to provide these answers. One of the initiatives the organization has been actively involved with is the Sustainable Agriculture Initiative (SAI) Platform.
WHAT IS THE SAI PLATFORM?
The SAI Platform is a food and drink industry initiative which supports the development of sustainable agriculture worldwide. In 2002, Group Danone, Nestle, and Unilever came together to establish the platform to facilitate the sharing of ideals at a precompetitive level to support the sustainable development of agricultural supply chains. This is unique as it is the only global food industry initiative seeking involvement from all stakeholders. The SAI Platform has grown considerably over the past 15 years and now has more than 90 members. Some recognizable members include Cargill, Coca-Cola, Ingredion, McDonalds, and McCain's.
"The real opportunity that the SAI Platform can bring is to connect the supply chain partners and to increase communication and visibility between the beginning of the value chain and the end of the value chain, which is the brand manufacturers and ultimately the retailer," says Urlike Spairo, president of the SAI Platform, and director of sustainability at the Coca Cola Company.
Many global companies have complex supply chains — sourcing multiple commodities from multiple regions around the world. There are a number of sustainability initiatives that look at individual commodities; however, the SAI Platform is taking a different approach by using a cross commodity approach. This can be seen within the Platform as currently there are several pilot projects with strawberries, rice, sugar beets, and even oranges. This approach aligns with Grain Farmers of Ontario's philosophy of a cross commodity approach to sustainability. Ontario farmers are growing multiple crops in a growing season and in some instances they are selling to multiple customers. The SAI Platform seeks to harmonize sustainability requirements across multiple commodities and complex supply chains.
Grain Farmers of Ontario has been a member of the SAI Platform since 2013 which has given the organization the opportunity to share, communicate, and work together on sustainability with food and drink companies. We continue to be active within a number of working groups and committees within the SAI Platform.
Spairo says that recognizing the farmer as the beginning of the value chain is critical and is the starting point for any collaboration to work.
"While we [companies] talk about sustainable agriculture, the farmer talks about agronomy and farm management," says Spairo. "It is important to understand what sustainability means to the different aspects of the supply chain and by working with alliances through the SAI Platform we have increased our understanding of the farming reality and challenges for farmers. We are very keen and aware that we want and need to work with the farmer to show how sustainable farming practices add value to the farm, now and in the long term, and there are still opportunities to make that really clear."
FARM SUSTAINABILITY ASSESSMENT (FSA)
Through the SAI, a Farm Sustainability Assessment (FSA) has been created as a way for farmers to understand how well their operation is meeting specific sustainability goals.
The FSA is a questionnaire based on sustainable farming practices recognized by the food and drink industry. It can be completed through either an excel spreadsheet or online assessment. The questionnaire was developed by SAI Platform members (including suppliers, farmers, and external stakeholders) to ensure it met the needs of the supply chain. It covers environmental, economic, and social aspects of farming. Grain Farmers of Ontario provided a farm-level perspective on how the FSA tool can work for farmers and the value it can provide, but also identified some of the challenges.
The FSA is made up of questions which consist of three levels; essential, basic, and advanced. Essential questions are straightforward in the sense they deal with general practices (for example, crop protection and product safety). Basic level questions examine the fundamentals of sustainable practices (such as soil erosion). Advanced questions go above and beyond the fundamentals of sustainable practices (biodiversity).
Based on the number of questions a farmer complies with, a result is given as 'not yet Bronze', 'Bronze', 'Silver', or 'Gold'.
Grain Farmers of Ontario has worked to streamline the FSA process for Ontario farmers. Local legislation and provincial regulations have been incorporated to increase the tool's ease of use and reduce duplicate questions. Through this work, all farmers in Ontario now have preliminary compliance at the Bronze level.
Grain Farmers of Ontario is remaining active with the SAI Platform as we see it as a viable means to work in collaboration to meet some of the market demands we are facing. The reality is, meeting the market demands of consumers and the supply chain is essential, if not we risk losing market access. As an organization, Grain Farmers of Ontario wants to implement a cross commodity approach that can appeal to all our customers while placing the least amount of administrative burden on our farmer-members. We are ensuring that our farmer-members have the necessary tools to meet our commitment to the environment and society in a scientifically sound manner.
Farmers can access the FSA Excel tool at http://fsatool.com/.
Michael Buttenham is the sustainability and environment coordinator at Grain Farmers of Ontario. •