Farming for the future
2017-2018 ASA DUPONT YOUNG LEADER PROGRAM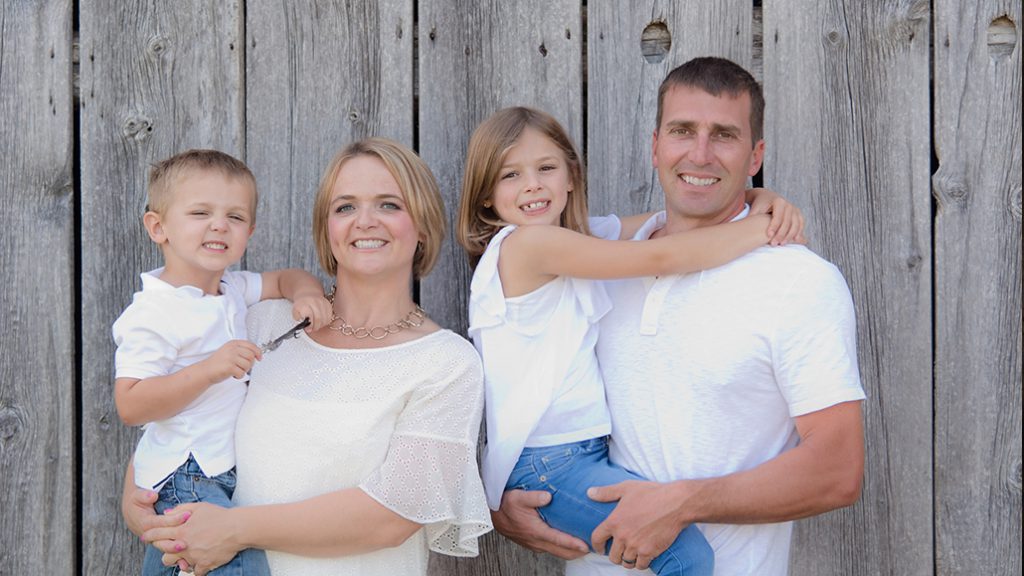 GROWING UP IN North Gower as the seventh generation on her family's cash crop and beef farm, Ann Vermeersch always knew she wanted to be in agriculture.
"It's never been a doubt; it's all I've ever done, all I've ever known," says Ann, who was selected as the Ontario representative for the 2017 – 2018 American Soybean Association (ASA) DuPont Young Leader Program. The program is designed for farmers interested in assuming a position of leadership in the agricultural industry.
After attending University, Ann settled in Tillsonburg with her husband, Jeff Vermeersch. They are partners in Tillvalley Farms Inc. and cash crop 1,000 acres, just under half of which is planted to soybeans each year. They also operate a Pioneer Hi-Bred seed dealership and Ann specializes in precision agriculture through their agronomy consulting service. They are also involved in their local soil and crop association, county fair committees, and community activities with their two children, Abbie and Aric.
PROGRAM PARTICIPANTS
Ann applied for the Young Leader Program as a way to expand her professional contacts outside of Ontario. The ASA has 26 affiliated state associations, including Grain Farmers of Ontario, which send representatives to the program each year.
"Networking is a big part of my work life and I feel like I've established a good network here in Ontario and even across Canada; but this was an opportunity to expand my borders and get to know people from across the U.S.," Ann says, adding she also wanted to develop her leadership skills and find ways she can contribute to the broader industry.
Spouses also attend the Young Leader Program, and for Jeff it was a chance for them to do something together that would also give him the chance to get off the farm.
"I am interested in talking with people about their farming practices — how and why you are doing things. I find it interesting how so many people find different ways to do the same thing," says Jeff.
Field irrigation is a valuable technology Ann and Jeff have pioneered on their farm as a way to combat the challenge of Norfolk County's sandy soils. About a quarter of the land they use to grow corn and soybeans uses sub-surface irrigation or is under a center pivot system.
"Irrigation is allowing us to manage our limiting factor, which is moisture," says Ann. "As a result, we are seeing higher grain yields, increased biomass, and positive profitability."
But Ann acknowledges there is a limit to how far their production practices can increase soybean yields. One of the top industry issues Ann identified in her application to the Young Leader Program is the relatively low increase in yield gains compared to other crops.
"Soybean yield gains only seem to increase a couple of bushels per year, and we haven't seen a breakthrough in breeding technology to push soybean yields higher in many years," she notes. "We need to embrace new lab technologies to push soybean yields higher."
A LEARNING OPPORTUNITY
During the first session of the ASA DuPont Young Leader Program, which took place at Pioneer Headquarters in Johnston, Iowa in November 2017, Ann and Jeff learned their American counterparts are facing similar challenges with yields. They also learned more about the global market factors influencing the soybean industry outside of their own Canadian perspective. And they also discussed how to determine what new technologies are the best investments for their farms.
"We discussed managing the technology and figuring out if we need it, because new technology can be expensive," says Jeff, "It was an interesting conversation for a lot of the participants to focus on that management aspect."
A key takeaway from the first session for Ann was the media training that was included during the session.
"We learned how to tell our story and that we need to step up and tell our story. I think that's a big part of the industry right now. We need to tell consumers what we are doing, explain our production practices, and tell them these are family farms and farmers are doing their best to produce the highest quality, safest food possible," she says.
The second part of the ASA DuPont Young Leader Program takes place at the end of February in Anaheim, California in conjunction with the annual Commodity Classic Convention and Trade Show. This session provides participants the opportunity to continue their leadership and marketing training with each other as well as engage in important issues updates and discussions with a broad range of representatives attending the convention.
"People need to take a the time to participate in programs like this because it broadens your horizons and it allows you to meet other people that you can then reach out to," says Ann. "And you bring skills back to your own area that you can contribute because we are part of a bigger network within our community, our county, and our province."
If you are interested in participating in a future ASA DuPont Young Leader Program, contact Steve McCabe, manager of member relations for Grain Farmers of Ontario, at smccabe@gfo.ca or 226-979-5581. •