A Nuffield experience
BRANDING GRAINS AS LOCAL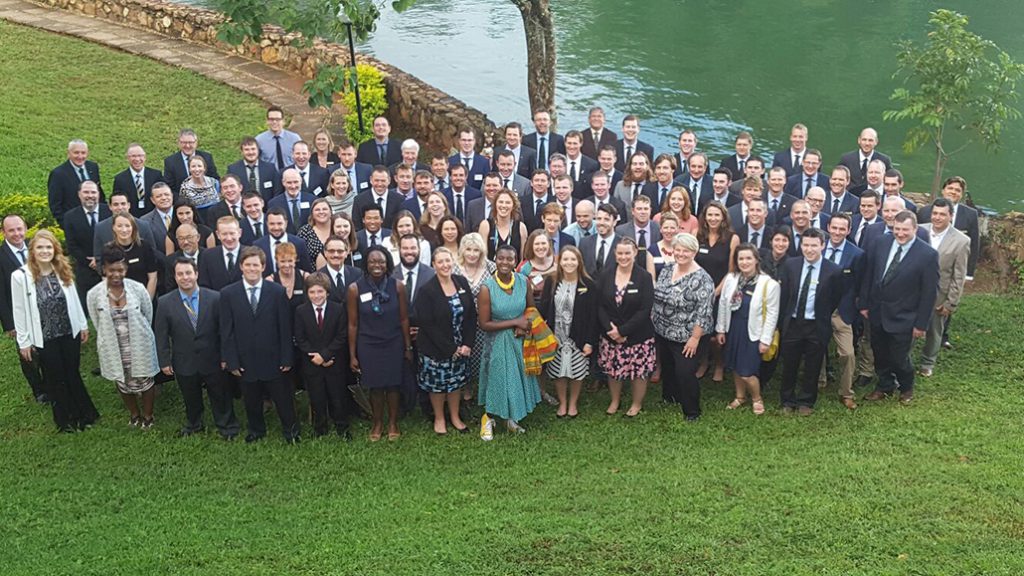 Nicole Mackellar is Grain Farmers of Ontario's market development manager. She recently completed a Nuffield Canada Agriculture Scholarship which studied the possibilities for the branding of commodities that are further processed into ingredients. Here, she shares some of the highlights of her experience and some of the outcomes of her research.
EIGHTEEN MONTHS AGO, I was given an amazing opportunity by the members of Nuffield Canada. I was one of three scholars selected as part of Nuffield Canada's 2017 Agriculture Scholarship program.
For those that have not heard of Nuffield before, it was created by William Morris, also known as Lord Nuffield, as a way to foster growth in global agriculture. Starting in the car manufacturing business and later moving into agriculture equipment, Morris had a strong commitment to the agriculture industry and a desire to see it grow around the world. The best way he thought to do this was to support young people working in the industry by bringing them together to share ideas, foster relationships, and conduct research that would push the industry forward. From this, the Nuffield Agriculture Scholarship program was born.
My Nuffield experience started in March 2017 when all 74 of the 2017 Nuffield Scholars from around the world gathered in Brasilia, Brazil for the Contemporary Scholars Conference. The conference provided the opportunity to get to know the other scholars, learn about agriculture in Brazil and undergo leadership training.
GLOBAL FOCUS
From here, I participated in a Global Focus Program, which brings together nine to 10 of the 74 scholars to participate in a seven-week agriculture journey around the world. My group was very diverse including representatives from Australia, New Zealand, the United Kingdom (UK), Ireland, and South Africa.
Our group had the opportunity to travel to Singapore, Philippines, Hong Kong, Shanghai, Shandong and Beijing, China, Germany, the United Kingdom, Washington D.C, and California. The most interesting part of the program, and what made me choose this one from a selection of six, was China. The region has always fascinated me from a cultural and agricultural perspective. It is also a significant market for Ontario grain with over 600,000 metric tonnes of Ontario soybeans exported to the region annually.
Everyone had told me not to judge China based solely on Shanghai and Beijing and they were correct. The cities showcase a very small aspect of the overall country and do not provide an accurate picture. Witnessing farming in rural central China seemed like we had stepped back 50 years. The field sizes were incredibly small with most production still done manually.
Air and water quality are two of their biggest challenges and significant research dollars are being spent to improve both. While we were there, the Air Quality Index was 180; 200 is considered hazardous and 250 considered severely hazardous. Dust masks were provided and recommended to wear at all times.
One thing that is no different to agriculture in Canada is the pride the farmers took in the crops they grew. Whether it be 2,500 acres or 1/5 of an acre, farmers share the same passion for growing food around the world.
One new challenge for Chinese farmers is the increase in foreign agriculture companies investing in and building facilities in China. This forced many from their rural communities and into large state-built community compounds.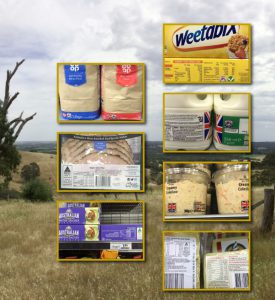 BRAND RECOGNITION
For my personal research I looked at the opportunities available to brand commodities further processed into ingredients. I travelled to Australia, England, Wales, Scotland, and Ireland to study well recognized brands to see if something similar could be created for Ontario grains. If it could, how do we then leverage this to drive utilization of Ontario grain products and increase consumer demand. I met with over 30 different companies, organizations, and government agencies learning about all the work each of them was doing on promoting commodities within their country as well as to export markets.
While there are several commodity brands that have been very successful, one that really stuck out to me was Red Tractor in the UK. It was created in 2000 as a response to consumer demand for an easily recognizable symbol to identify local food products that were produced to a high-quality standard. What started as a simple red tractor logo placed on products has turned into the largest food standards scheme in the UK. It is the only scheme that offers full traceability from farm to fork.
Today, over 75% of UK vegetable and fruit farms are Red Tractor assured with 1.2 billion pounds worth of products assured annually. The organization works with both grocery retailers as well as the food sector with more than 2,000 food service products displaying the Red Tractor logo. In 2012, all the food supplied for the London Olympics came from Red Tractor approved products.
While most items under the program are fruit and vegetables, it applies to all agriculture produced within the country including grain. On Weetabix and Shreddies boxes the Red Tractor logo was proudly displayed showcasing their commitment to using British wheat.
LESSONS
I think there is a lot we can learn from this program and the many others I studied. I believe as a grain sector we do have an opportunity to brand ourselves; however, I think this will be better at a national level than at a provincial specific level. When you look at all the successful brand campaigns related to agriculture products they are all national in focus. Here in Ontario, many of our grains are often blended with western Canadian grain. A national program would provide the opportunity to leverage more companies and be represented on more food products.
Local should be one aspect of the brand but it should not be the only focus. While many consumers are supporting local they are looking for additional tie-in to truly persuade them. Whether it be sustainability, non-GMO, or organic there must be a secondary component to the brand. For the Canadian grain sector, I think sustainability should be our linking arm. We are known for producing some of the highest quality grain around the world. Building a Canadian sustainable brand will provide the opportunity to share the sustainable practices utilized by Canadian farmers that help achieve this high level of quality.
The development of a brand and marketing campaign for the Canadian grain sector is no small feat and will require significant resources. It will take the commitment of industry members and their respective organizations to be successful. It will also take significant financial resources. However, I think there are amazing opportunities that we cannot afford to pass up. •
WHAT YOU NEED TO KNOW
• Grain Farmers of Ontario is a sponsor of the Nuffield Canada Agriculture scholarship program.
• Mackellar focused her research on how to brand commodities further processed into ingredients.
• The Red Tractor assurance program in the U.K. is one of the most successful branding programs Mackellar discovered during her global study.
• Mackellar's final report will be presented at the Nuffield Canada AGM at the end of November.
• Mark Brock is the recipient of the 2019 Grain Farmers of Ontario Nuffield Canada Scholarship. Brock will examine funding and investment models with the goal of creating options for Canadian farmers to confidently make investments that improve efficiencies and return on investment.