Growing a new brand
BREVANT SEEDS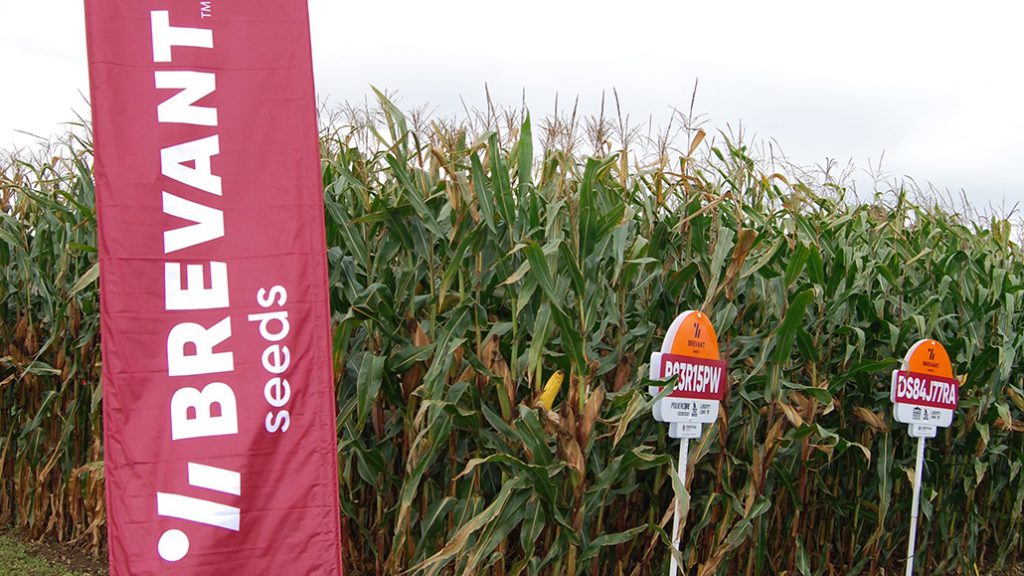 A NEW SEED brand is on the market with a streamlined product offering that is more closely tailored to the region in which the crops are grown.
"Farmers won't have to worry about nuances around maturity zones and relative heat units and so on — our intention is to have something that works broadly in a certain area rather than a lot of products," says Collin Phillip, area leader, Eastern Canada at Corteva Agriscience™, Agriculture Division of DowDuPont.
In Ontario, Brevant includes grain corn, silage corn, soybean, winter wheat, and alfalfa seeds. It is a sibling brand to Pioneer, which will keep its name. Both brands are being produced by Corteva Agriscience. The name Corteva comes from a combination of words meaning heart and nature.
As a result of the customization, suppliers in eastern Ontario will carry a different line of products than in the southwest. Phillip says that the new approach will also help retailers, who have to keep up with hundreds of different products.
"Our intent is to make it easy to do business with us — so they have the time to get the right seed product, crop protection product, fertilizer, and other inputs for the customer," he says.
He believes that getting better crop production and reducing input costs will also be more dependent on variable rate prescriptions and seed counts, which is where tools like Encirca and Granular — the company's digital services platforms — will be the most advantageous.
RESTRUCTURING
There has been a great deal of merger and acquisition activity in the agriculture space over the past few years, including Monsanto-Bayer, ChemChina-Syngenta, and DowDuPont.
As of June 2019, DowDuPont will officially be spun off into three companies. The agriculture division will be known as Corteva Agriscience, the materials science division will be called Dow and the specialty products division will be the new DuPont.
A paper published in April by the U.S. International Trade Commission noted that in 2015 (prior to the Dow-Dupont merger), the two companies had 21 per cent of the global pesticide and seed market share, which was worth $88 billion in sales.
DowDuPont did well in 2017 through all the reorganization, with the agriculture division's pro-forma net sales of $14.3 billion
Phillip says that, for his company, the merger has provided a more comprehensive suite of agricultural products — including seed, crop protection, and digital services. It also allows for efficiencies in research and development.
"We can develop new traits and move products to market quicker than we could as separate organizations," he says.
While the company is global in scope, and has a huge presence in the U.S. and Brazil, Canada is its third largest market. Phillip leads the sales team in eastern Canada and Greg Stokke leads it in western Canada. The company has production plants in Chatham and Wingham, and research facilities in both Ontario and Quebec, along with a production plant and numerous research sites in western Canada.
With data being gathered both in the local areas and world wide, farmers will be able to find out how the company's products perform in similar maturity zones in other geographies.
The Brevant line is launching in Canada, Latin America, and Europe, but not in the U.S. The Dow-Dupont merger meant that the company started with several different American brands, which have now been narrowed down to include Pioneer and Mycogen, but each is so large and so established in the marketplace that they couldn't be reduced to only one.
"In Canada, we had a legacy brand that was small and growing — we're taking the best of the legacy Dow seeds and adding new material from the Corteva portfolio," Phillip says. "Going forward, combining these two R&D pipelines will mean advances that neither could have done on their own."
Brevant has also replaced the legacy Dow Seed brand.
He's quick to add that Brevant is not 'Dow Seeds chapter 3'– it's a totally new brand that will be focused solely on agriculture from research to the field.
In terms of what's coming down the research pipeline, Phillip says that there are plans to launch numerous new products and technologies over the next few years. New genetics are coming, as well.
The Brevant brand was launched this year, with fall 2018 being the first sales season. •