On-farm emergencies
HAVE A PLAN FOR FIRST RESPONDERS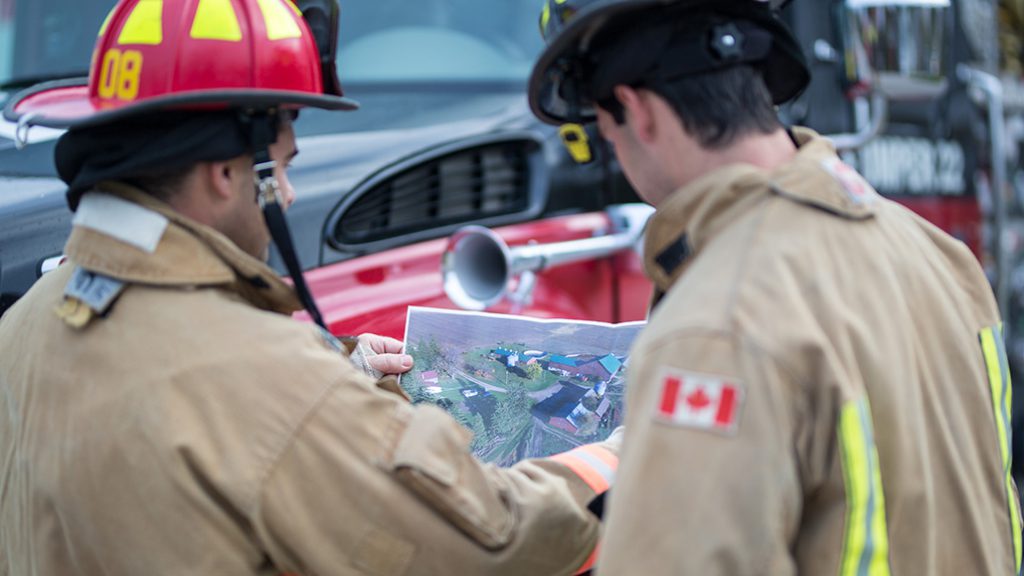 NO ONE CAN ever really prepare for an emergency. The cause, scale, and impact are unpredictable, especially on a farm where emergencies or accidents can include anything from barn fires or tractor roll overs, to a gas leak or a fuel spill.
Emergency preparedness has become a popular concept in recent years as Ontarians have experienced events such as severe weather incidents and power outages. "We've seen ice storms, blackouts, wind storms and floods that have reminded everyone, farmers included, that being prepared for an emergency is vital," says Dan Carlow, western Ontario regional manager for the Ontario Ministry of Agriculture, Food and Rural Affairs (OMAFRA) in the environmental management branch.
Being prepared for the unknown has its challenges, especially on farms where goods are perishable, and livestock require 24/7, 365 days of ventilation, feed, and water. The emphasis on emergency preparedness, both in the public and farming communities, has seen the development of many tools and best practices for planning ahead. Education programs like the 72-hour emergency kit are reminding Ontarians to plan for emergency events and on-farm emergency pre-plans are being promoted regionally and across the agricultural industry.
BE PROACTIVE
Ron DeBrouwer, fire chief of the Lucan Biddulph Fire Department, defines an emergency as any unplanned event with negative results that could cause personal or livestock harm or financial loss that must be dealt with in a timely manner. With that in mind, he's an advocate for education and creating on-farm emergency pre-plans to reduce the risk of emergencies.
John Elston, manager of Fire Prevention Division and Safety and Standards for the County of Middlesex, agrees that public education is the first line of defense against emergencies and accidents.
"The problem is most people don't think these types of things can happen to them, their family, or their farms. But we see emergencies first hand. They can, and they do happen — to anyone," says Elston.
Elston is responsible for prevention education in his area and sits on various committees like OMAFRA's barn fire risk reduction advisory panel as a technical advisor to develop risk assessment and preparation resources for emergency preparedness on farms.
Provincial commodity organizations, OMAFRA, and municipalities across the province have been working to develop resources like pre-planning documents and best practices to help farmers prepare for future incidents and emergency events. In most cases, resource development and general education programs also involve first responders.
"Farming practices have changed and modernized to include larger equipment, bigger farms, more storage of products, and inputs. These changes impact how fire departments respond to farm emergencies and how farmers themselves assess their risks," says Elston, who encourages all farmers to include their local fire departments in their emergency planning process.
MAKE A PLAN
"Prevention is critical," reminds Carlow. "Emergencies impact everything and everyone on a farm — family, employees, livestock, equipment, first responders, and the surrounding community. That's why making an emergency pre-plan is so important."
Here are tips to consider when creating an on-farm emergency pre-plan for your farm.
LOOK AROUND
"Look at your farm from the outside," suggests Elston, explaining that farmers should evaluate all buildings and machinery for hazards. "These include your environment, like cobwebs, loose straw, and dust. These can cause problems too."
A farm assessment can also include safety practices and maintenance of equipment including generators, electrical systems, heaters, and dryers. "A proactive approach to reducing your risk of fire or accidents is the first step to dealing with an emergency," reminds Elston.
DeBrouwer recommends including emergency preparedness in employee training, such as educating workers on the hazards involved with grain storage and how to respond if someone gets trapped in loose grain.
"Don't hesitate to reach out to your local fire department when you're planning too," adds DeBrouwer. "Tour your local first responders through your elevator or farm to help them see first-hand your farm set up. They can help identify various risk factors and emergencies that could happen."
FARM FIRE AND EMERGENCY CHECKLIST
Date Sketch Created: _________________________
Farm name: ___________________________________
Address: ______________________________________

EMERGENCY CONTACTS
__ Spills Action Centre 1-800-268-6060
__ Hydro
__ Union Gas or propane supplier
__ Hospital

ROADS AND LANEWAY ACCESS
__ Roads to farm, including nearest crossroads
__ Safety meeting point
__ Traffic control (someone to direct fire trucks, block roads from public traffic, etc.)
__ Any potential access barriers
__ Inaccessible sides of buildings
__ Seasonal access points
__ Overhanging trees
__ Soft laneways not suitable for larger vehicles
__ Other

ALL UTILITY SHUTOFFS
__ Hydro (per building and farm)
__ Natural gas
__ Propane
__ Heating oil
__ Backup generators
__ Anaerobic digester generator
__ Solar panel disconnect

ALTERNATIVE ENERGY SOURCES
__ Solar panels – ground mounted
__ Solar panels — roof mounted
__ Battery bank location
__ Anaerobic digester

ONSITE WATER SOURCES
__ Surface water — ponds, rivers, creeks
__ Cisterns

ENVIRONMENTAL NOTES
__ Wells
__ Tile inlets and catch basins
__ Surface water (in case of spills)

BUILDINGS
__ House or other residential area
__ Permitted smoking areas
__ Livestock housing
__ Equipment storage
__ Workshop
__ Fruit/vegetable storage
__ Grain storage

CHEMICAL STORAGES
__ Fertilizer
__ Pesticide, herbicide, etc.

FUEL STORAGES
__ Propane tank
__ Gas
__ Diesel
__ Oil

EXISTING FIRE PREVENTION
__ Sprinklers
__ Internal fire walls or doors
__ Fire retardant curtains
__ Other: (list – e.g. dry hydrant)
WRITE IT DOWN
"A plan can reduce the risk of incident, and significantly help first responders if something happens," says Carlow, who suggests sharing a copy of your plan with your local fire department where they can keep it on file. "When seconds matter, access to a plan can save time. If the fire department has access to your plan, farm map, and identified hazards they can make their own response plan on the way to an emergency."
An emergency pre-plan should identify possible hazards or emergencies. Each farm will be exposed to their own risks, that's why making your own plan is so important. The plan should be made available to all family members and employees, so everyone is prepared. A contact list should be included, including family, employees, neighbours, insurance companies, service providers, and suppliers.
"Consider walking through your plan with the local fire department on your farm or invite them to your farm for training," says Elston. "Chances are the volunteers on the fire department live and work in your community and they want to be just as prepared as you do."
MAP IT OUT
OMAFRA has developed a Farm Fire and Emergency Sketch resource, available at omafra.gov.on.ca to help farmers develop an emergency plan. Carlow recommends the plan include an aerial map of the farm that identifies significant farm features including:
• fuel storage
• pesticide storage
• natural gas lines
• grain dryers
• fire risk areas
• propane tanks
• access routes for emergency vehicles
• water sources
MAINTENANCE MATTERS
"Maintenance is part of being proactive," says Elston. He encourages farmers to prioritize equipment and machinery maintenance to avoid hazards like electrical and grain dryer fires. A regular maintenance schedule can be developed in the early stages of emergency pre-planning and implemented to minimize risks.
INVEST IN INSURANCE
Carlow also suggests working closely with your insurance provider to ensure your farm and equipment are properly covered and your policy includes appropriate replacement costs. "Many insurance companies offer loss prevention services and an inspection can help identify risk hazards," explains Carlow. •
WHAT YOU NEED TO KNOW
• Evaluate all buildings and machinery for hazards.
• A regular maintenance schedule can be developed in the early stages of emergency pre-planning and implemented to minimize risks.
• Include emergency preparedness in employee training.
• OMAFRA has developed a Farm Fire and Emergency Sketch resource, available at www.omafra.gov.on.ca/english/engineer/barnfire/safetysketch.htm 
• Share your plan: if the fire department has access to your plan, farm map, and identified hazards they can make their own response plan on the way to an emergency.