Growing momentum
LESSONS FROM THE 2019 MARCH CLASSIC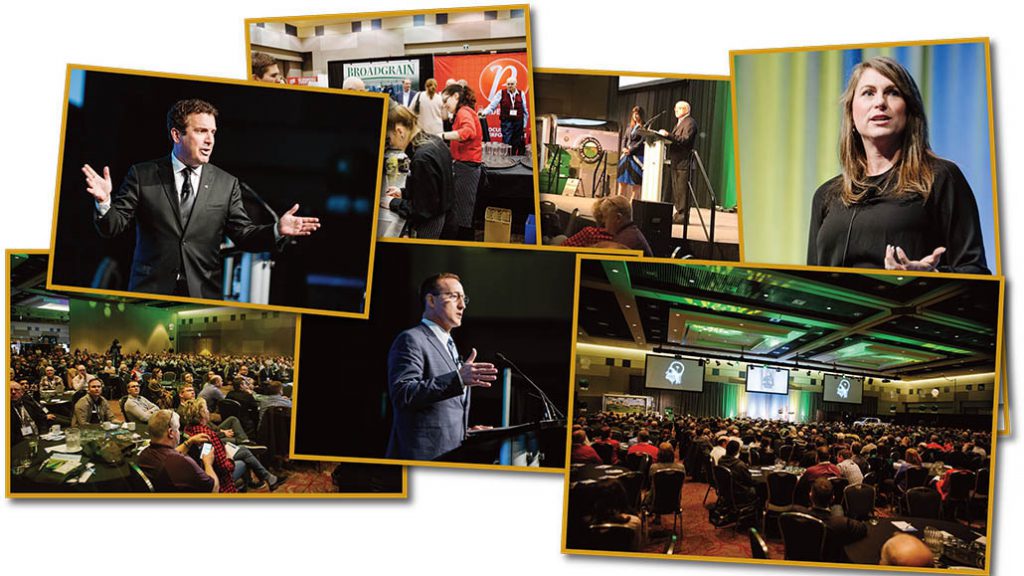 THE 2019 MARCH CLASSIC was attended by a record number of Grain Farmers of Ontario farmer-members and grain industry representatives. More than 900 people filled the London Convention Centre for a full day of inspiring speakers and networking within the trade show. The conference was designed to highlight how Canadians are pushing boundaries and attendees heard from speakers who have figured out how to grow their own momentum and succeed in their fields.
RICK MERCER
Rick Mercer is a household name thanks to his popular television show 'The Mercer Report'. But there was a time when he had to convince the CBC to give him, and his show, a chance. Mercer set out to answer the question 'what does it mean to be a Canadian?' but, he says, after 250 episodes he still doesn't have an answer to that question. He has experienced greater cultural shocks travelling across our country than he has anywhere else in the world. What he does know is that Canadians work hard and no matter where you go in the country, it feels like home.
"One common thread I discovered is the generosity of Canadians," says Mercer. "So, while I never figured out what it means to be a Canadian, in 15 years I never wanted to be anything else."
GRIFFITH FOODS
Griffith Foods is an Ontario company that has moved forward with its goal to source more locally grown Ontario wheat. They produce dry mixes, sweet and savoury batters, dough mixes, and other customized products for food service businesses and protein processors. Jennifer Neate, senior director of marketing with Griffith Foods, and Joachim Baur, director of product and process innovation, shared their business success and described their partnership with Grain Farmers of Ontario at the March Classic.
With funding from the Grains Innovation Fund, Griffith was able to explore new formulations for their products and test new processes to allow them to increase their use of Ontario wheat while also reducing the use of chemical ingredients such as dough conditioners.
"Our business is based on the science of food," says Neate. "We want to be able to communicate effectively to consumers so they understand what's in our products."
The company now sources 96 per cent of its wheat supply from Ontario and is able to maintain the consistency, safety, and efficiency of its products.
JENNIFER MOSS
"What made you smile today?" That's not likely something you've asked someone before, but Jennifer Moss, Cofounder of Plasticity Labs, researcher, and bestselling author of "Unlocking Happiness at Work", says it's a question you should be asking your family every day.
Recent research shows farmers are facing stress, anxiety, depression, and even emotional exhaustion. To cope, "we need to
change the locus of control and understand what is in and what is out of our control," says Moss. "What small changes can we make every day to reduce stress?"
Moss recommends focussing on simple actions that can provide complex benefits. And she refers to the seven traits she has seen in happy, healthy, high-performing people. These include hope, efficacy, resilience, optimism, gratitude, empathy, and mindfulness.
Hope is about goal setting, planning how to achieve it, and taking action. Even setting a small goal each day, such as making your bed, can significantly influence how you feel about yourself.
Gratitude is what Moss calls the gateway drug to happiness. We need to notice, acknowledge, and appreciate others. Once a week we should say thank you to someone.
Mindfulness can help us through the most stressful times we face. Moss calls it meeting chaos with calm. We need to notice what is happening around us and replace our primal negative responses to stress with more rational ones. Instead of pushing people away, we need to spend more time with friends and family.
PETER MACKAY
As a federal politician for nearly 20 years, including roles as the minister of national defense and minister of foreign affairs, Peter MacKay is familiar with the changing global political landscape and the importance of trade for the agricultural sector. He believes in the competitive advantage we have with strong trade agreements and the positive reputation of Canadian produced agricultural products.
But he notes our reputation — whether it's for justice, social values, or quality food production — can be easily tarnished.
"We have to hold dearly to what we have, to preserve and promote our institutions, the fundamentals of what has always made our country strong. And in my experience what has made the country strong is working people, and where you will always find working people is on farms," he says. "I want to hear more pushback from our government when there are accusations made against canola or any other agricultural product. When those accusations are made it does reputational harm." •