Agricultural and cultural connections
AALP CLASS 17'S JOURNEY THROUGH SPAIN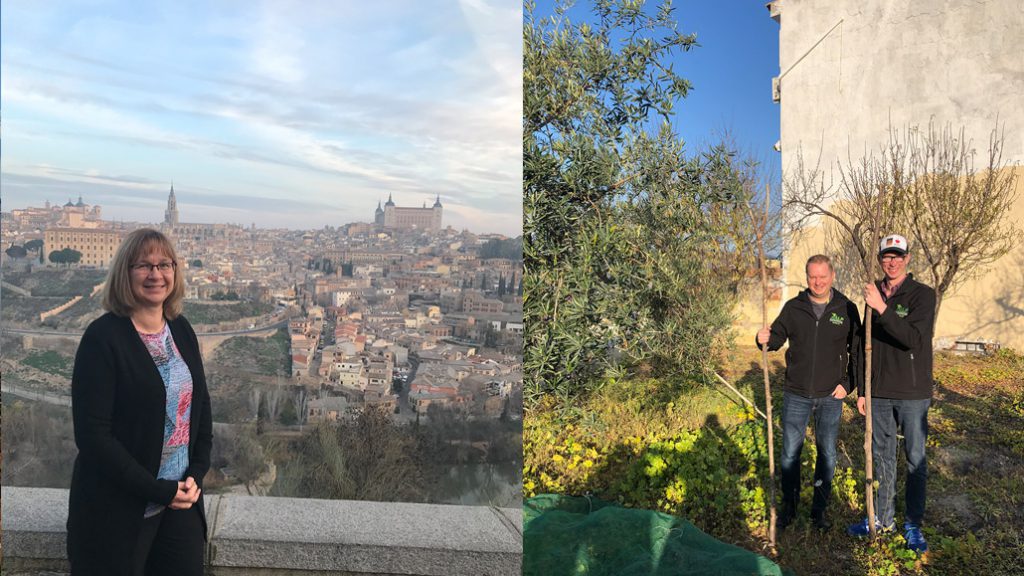 SOMETIMES YOU JUST need to enjoy an experience — look at what is around you, take a deep breath, and soak in the environment — and not worry about taking a picture.
That's a lesson Brendan Byrne learned during an international study tour to Spain, the last component of his involvement with Class 17 of the Advanced Agricultural Leadership Program (AALP).
"With the old cobblestone roads and cobblestone alleyways, you just found that if you put down your phone and stopped to look around you could easily feel like you were transported to an earlier time. The history really became something that when you left, you really felt like you had felt the history of Spain," says Byrne.
Byrne is the vice chair of Grain Farmers of Ontario's Board of Directors and the director for District 1 (Essex). As a grain farmer, Byrne knows about growing crops; but he saw AALP as an opportunity to learn more about other types of farming and other agricultural businesses as well as a program to develop additional leadership skills.
Brenda Miller-Sanford, Grain Farmers of Ontario's manager of administration, was also a member of AALP Class 17. She participated in the program for many of the same reasons as Byrne.
"I was at a point in my life that I was ready to take on a new challenge and be challenged," says Miller-Sanford. "It was an opportunity to broaden my perspective on agriculture beyond the grain industry, gain some new tools or ways of doing things in both my professional and personal life, and make new contacts."
For her, experiencing Spain's past struck a chord. "Ontario is so young! Here if we see a building that is 100 to 150 years old, we think it is old. But there, churches built in the 13th century are still being used as churches today; construction started in the 700s on the mosque we visited in Cordoba; we stood by a statue of Christopher Columbus and learned that in the nearby cathedral is where he is buried. The history is amazing."
EXPERIENCES
The two-week international study tour included stops in Toledo, Granada, Almunecar, Motril, Costa Del Sol, Malaga, Seville, Cordoba, and Madrid. The Class learned about micro-climates in each region that create ideal growing conditions; such as in Costa Del Sol where the mountains prevent it from getting too hot in the summers, allowing for vegetable and fruit production. The program featured tours at several farms, agri-businesses, and agriculture cooperatives.
"Cooperatives are a common business model from production, processing, packaging, and distribution for both small and large operations in Spain," says Miller-Sanford. "We saw this with dairy, pork, vegetable, and fruit production. When we asked why this is, the common response was, 'we are better together.'"
One stop that stood out for Miller-Sanford was an Iberian hog farm. "The black Iberian hogs forage on acorns which produces a unique flavour in the meat — it's a traditional process that has changed little over the centuries. It's very controlled and has a traceability process that started in the 90s."
For Byrne, a stop at an olive oil museum and modern processing facility was an unexpected highlight of the tour.
"They took us through how they used to press olive oil. It's not something I was that interested in prior to, or had any background on. Then they took us over to their newer facility, and it looked just like our grain facilities. A wagon could just pull over and empty out the olives into a pit and they went up a conveyor belt and then into the processing plant," says Byrne. "It made a connection for me. They might not be doing the same type of cropping we do here, but there are ways to connect the two. What they are doing is very similar, and recognizable to what we do at home — just with a different crop."
The Class also stopped at the Canadian Embassy in Madrid which offers free services for Canadian businesses who want to export into the Spanish market or will support research that will also benefit Spain.
LESSONS
According to Gabrielle Ferguson, AALP program director, Spain was chosen for the international study because of the depth of history in the country and the many cultural and agricultural learnings that were possible. Spain has been managing cultural change, is experiencing labour shortages and production challenges, is addressing environmental concerns, and is protecting niche markets and opportunities within its borders while also being an active trading partner within the European Union.
"We tried to visit locations that showed the diverse nature of agriculture," says Ferguson. "There was often this pull in two different directions — opulent culture and the simple gatherings of bread and wine and fruit. The places we picked to go gave us a sense of that contrast from the city and the country and the coast."
Ferguson notes the AALP international study tour is designed to give the participants a shared learning experience that deepens their network and connection to each other. It also provides a comfort level with the similarities and differences of another country and offers a fresh perspective on how agriculture works.
"Agriculture is the first business to come into any society and everything else layers on top of it. By understanding that the agri-food sector and rural communities are evolving together in response to many pressures, we can proactively provide solutions to others trying to adapt instead of merely being reactionary," says Ferguson.
The experience of participating in the AALP program and the international study tour will have long-lasting effects both professionally and personally for Miller-Sanford.
"It was an interesting journey. I've gained confidence in my abilities, I've learned more about the diversity of agriculture, and I'm leaving with new tools to be a more effective leader."
Byrne says AALP opened his eyes to new perspectives.
"Sometimes we get a little isolated in our operations and caught up in the day to day. When you go out and see different ideas, different ways of living, different thoughts, it opens your own eyes and you think when I go back home maybe I can add to my operation, or try something new. We often do things without knowing why, just because it is the way we have always done it. The AALP experience opens you to new ideas."
APPLICANTS WANTED
Class 19 applications open in November 2020
The Rural Ontario Institute (ROI) is looking for applicants to fill Class 19 of the Advanced Agricultural Leadership Program (AALP) which begins in September 2021.
AALP is an 18-month experiential executive leadership program, coordinated by ROI, featuring seminars, North American and international study tours, and small group projects. Anyone of working age can apply and it doesn't matter what sector of the agriculture industry you are involved in.
"The skills we focus on are the ability to navigate complex conversations, managing conflict, understanding yourself and others, working with media, the dynamics of teamwork. Through issues analyses, we focus on digging deep to explore multiple perspectives, engage in diverse opinions, and understand viewpoints," says Gabrielle Ferguson, AALP program director.

The two-part application process includes an online application (essentially a series of questions to understand you and your experience); and an in-person interview. "Both parts require an honest expression of yourself and your desire to be in the program," says Ferguson. "The best student is someone whose gut is telling them they want to make a difference."
For more information or to apply for AALP Class 19, go to www.ruralontarioinstitute.ca/aalp/nor or contact Gabrielle Ferguson at gferguson@ruralontarioinstitute.ca.