4R Ontario Certification Program
PROGRESS UPDATE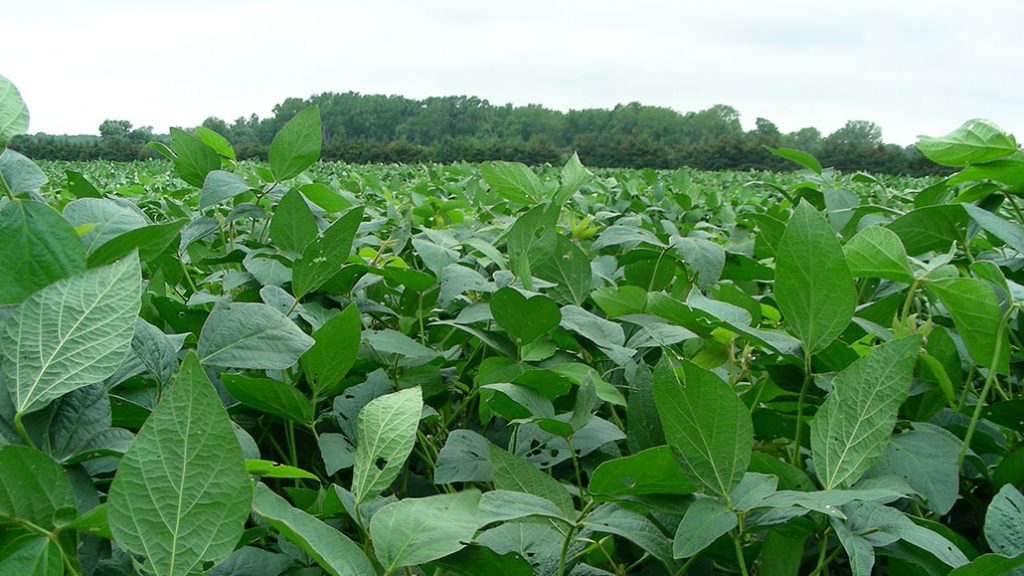 SINCE THE INCEPTION of the 4R Ontario Certification program, momentum has been gaining throughout the province. The 4R Ontario Certification program was launched in 2018 and has made significant achievements in certifying retailers and gaining support from farmers.
As of June 2020, 17 southern Ontario agri-retail facilities have completed and passed the 4R Certification audit to become 4R Certified.
The agri-retail facilities are:
• AGRIS Co-operative (Cottam, Dutton, Stoney Point, Thamesville, Tupperville, Wheatley)
• FS PARTNERS (Ayr, Delhi, Drayton)
• Setteringtons (Cottam)
• Holmes Agro (Orangeville)
• Sylvite Agri Services (Blenheim, Kent Bridge, Mitchell, Norwich, Putnam, Silverhill)
WHAT DOES IT MEAN TO BE 4R CERTIFIED?
Agri-retail facilities which are 4R Ontario certified have aligned their business practices with the sustainability principles of 4R Nutrient Stewardship, as verified by 37 auditable standards. These standards ensure farmer customers are receiving science-based recommendations of best management practices (BMPs) under 4R Nutrient Stewardship that are proven to reduce environmental impacts while improving yields and economic return.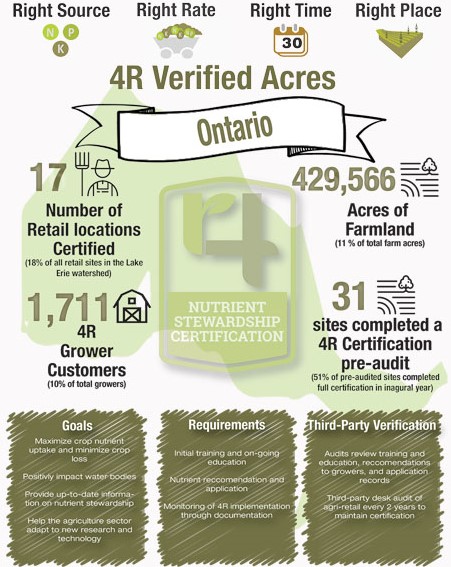 To get to this point, certified facilities have worked to commit their business operation, staff, and customers to achieve 4R Ontario Certification. These facilities have successfully passed a third-party audit, conducted by the Agri-Chemical Warehouse Standards Association (AWSA), that assures certain practices are followed with training and education, nutrient recommendations/ applications, and specific documentation.
FARMERS
More than 1,700 farmers in southern Ontario have been advised by a 4R Certified agri-retailer. This translates to nearly 430,000 acres under 4R nutrient stewardship, accounting for approximately 10% of southern Ontario's total cropland.
Farmers who work with 4R Ontario certified retailers are farmers who have taken the concept of Right Source @ Right Rate, Right Time, Right Place® to the next level. These farmers have a customized plan to fit each field's unique climatic, soil, cropping, and operational conditions. The 37 auditable standards fall on the responsibility of the agri-retailer, however, farmers must also follow certain BMPs to ensure their advisor can make the most accurate nutrient recommendations and application. Some of these BMPs include ensuring soil tests are conducted at least once every four years and ensuring the location of sensitive features (such as a creek or well-head) are known about when applying nutrients.
If you are a farmer who thinks they follow the base 4R Principles of Right Source@ Right Rate, Right Time, Right Place® and follow a customized plan to fit each field's unique climatic, soil, cropping and operational conditions, talk to your local agri-retailer to find out how your acres could be counted and ask if they are working towards 4R Ontario Certification. •