Coping with the unexpected
HEALTH, RELATIONSHIPS, AND MARKET INFLUENCES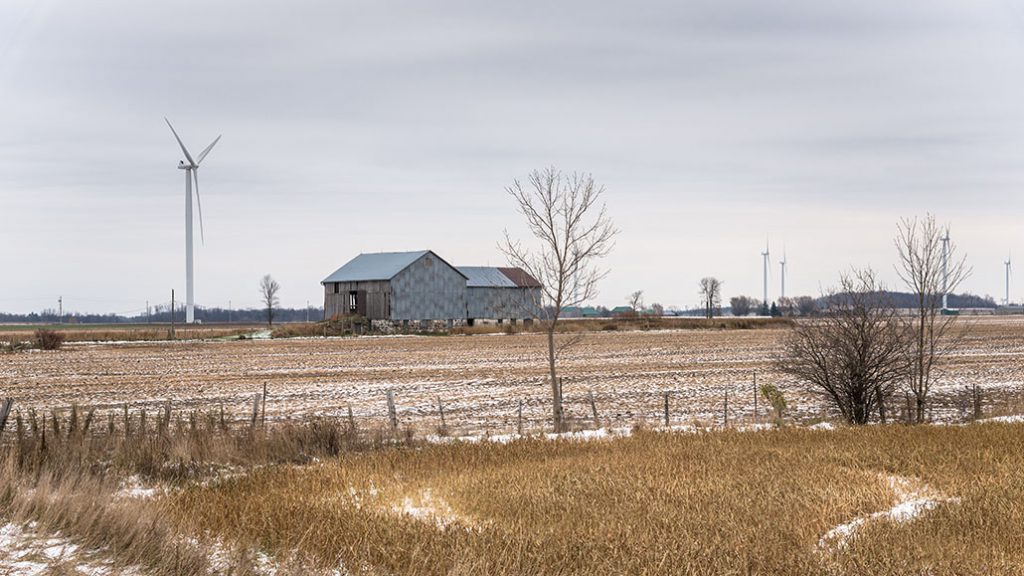 WHEN KELSEY BANKS began making payments on her grandparents' 100-acre Orangeville farm a few years ago, she was excited about the future. She was finally pursuing her dream of becoming a farmer, a role she planned to combine with her work as a full-time agronomist. But in December 2019, the proverbial monkey wrench appeared.
Two days before Christmas, Banks had a seizure, an unexpected trauma that landed her in the hospital. She was diagnosed with pneumonia. The doctors sent her home with a handful of medication and hopes for a speedy recovery.
At that time, Banks and her family hadn't finalized all of the details around succession and farm goals planning, but with the holidays at hand and Banks' unexpected health issues, they decided to shelve any further discussions for the moment.
Weeks later, in a follow-up appointment with an ear, nose, and throat specialist, it was recommended that Banks get an MRI, given that pneumonia doesn't typically cause seizures. The news was not good. The doctors discovered a malignant tumour on her brain. From that moment forward, treatment would come first, and farming and agronomy second.
Banks and her brother have big plans for the farm. While her brother hopes to raise beef cattle, she plans to grow you-pick pumpkins. Currently, most of the acres are devoted to share cropping. Having the sharecroppers to rely on has been "a real blessing," Banks says.
Similar to many farm families, talking about succession and farm goals had been difficult for Banks, her dad, and her brother. As much as they thought they had covered most of the 'what-ifs', Banks' cancer diagnosis was an unknown they hadn't foreseen.
"The one issue I really wish we had sorted out ahead of time was if Dad, Liam, or I ever got sick, what would the plan be?" Banks says. "We just never talked about it because none of us thought about getting something like cancer and what that meant."
Banks is not alone. In fact, she is just one of many who responded to a request for stories from farmers on coping with the unexpected. Their stories, in some cases, are nothing short of heartbreaking, but they provide valuable lessons to those who want to avoid similar pitfalls.
ILLNESS
In one shared story, an eastern Ontario grain farmer, who has asked to remain anonymous, was hit with a medical condition that landed him in the hospital for nearly two months. He put an action plan in place almost immediately. He had someone take over the books, and a team of family and friends volunteered their hands at harvest. The farmer was able to manage the rest of the business from his hospital bed, contacting salespeople, financial advisors, and service providers by phone or email.
The farmer attributes much of his success to his employees in whom he has great trust. But he also attributes it to the strong business relationships he's built over the years. When there was an opportunity to meet face to face, he took it. And because they were able to put a face to his name, they were happy to help him from afar. With the help of many hands, he never lost his ability to oversee the farm.
DEATH
When Bernie Benoit lost his wife in a car accident in 2002, overnight, he went from breadwinner to caregiver. Benoit grows corn, soybeans, wheat, and sometimes white beans on his 100-acre farm in South Huron. He also custom applies fertilizer and pesticides, mostly on row crops. Immediately following his wife's death, Benoit hired his brother to take over the custom work. His wife's family did most of the farm work. He became the sole caregiver to their four young.
"It was a huge learning curve," said Benoit. "I had to learn just about everything from meal prep, grocery shopping, laundry, healthcare, and school work. It was a challenge."
His wife wasn't just the primary care provider. She also kept the books, a task that Benoit finds challenging, but she did well. As Benoit shifted his focus to the children, anything business related became secondary.
"Because of that, I wonder if we would have more aggressively managed the business for growth or profitability instead of just going along with the status quo," he says.
While the business coasted along, Benoit got little help from insurance. The couple had life insurance on their operating debt, but only for Benoit, not his wife. "The life insurance payout was used exactly to do what it was meant to do, carry on life without that one person," said Benoit. "It was a poor substitute."
For the most part, though, Benoit wishes he had known more about his wife's role and responsibilities. "There were so many details about my own kids I didn't know, it's embarrassing to admit that," he says.
To help him cope with his new role as primary caregiver, his friends and family created a support network that taught him how to do laundry, prep meals, and clean the house.
"These people became my teachers and advocates," he says. "If I had a question about the kids' healthcare, I could and did call the ones who were nurses for advice."
"Today, 18 years later, none of these people can do any wrong in my mind," he adds. "I am forever in their debt."
Benoit has since remarried, and he and his wife have another child together. He offers this advice to young families in the early stages of life: "Don't be that workaholic; take time to be involved with your family."
DIVORCE
Sometimes, there aren't enough helping hands to pull you up when you need them. Sometimes strength fails and you need an entirely new contingency plan. This was the case for Darryl Boersma, a grain farmer from Mount Brydges.
Four years ago, Boersma returned home from a family holiday in the Netherlands to an empty house. His wife of 13 years and their three children were gone. Boersma said he was completely blindsided. He had thought his marriage was pretty good. His wife, however, was unhappy with her life's direction and decided it was time to move on.
"Needless to say, I struggled with it, and still do to a certain degree," he says. "It hurt. I felt thrown away, and that hurts."
Boersma remains single and shares custody of his three children with his ex-wife. A separation agreement and court order were finalized, which hurt financially, but Boersma is grateful that he is able to continue farming.
While the business was secure, Boersma's mental health was on shaky ground. A year after his wife left he tried to take his own life. He survived but landed in hospital.
"Thankfully, that's behind me at this point," he says. "I'm moving on in life and things are getting better."
But 2020 hasn't been much kinder to Boersma. Lockdown was a struggle.
"I don't think I'm the only person in this boat, but it's lonely," he says. "I have my kids, but I have them half the time, I feel even more lonely these last eight months than the three years I was single before that."
"That is not a really fun thing and I'm really dreading if they lockdown everything again," he says. "I fear for how that's going to affect my mental health."
While Boersma can't control external events, he can take some control over how he deals with them. In order to ward off some of those potential issues, he has put a mental health action plan in place. He meets with a counselor once a month. Each week, he also meets with an online support group for men who have gone through divorce or separation. Sometimes they talk about their day-to-day struggles; other times they discuss how they could have handled past situations better.
"You know these men aren't going to judge you because they're going through the same thing," he says. "It's been very helpful."
Part of Boersma's contingency plan also involves building new friendships. Despite the current environment and social restrictions, he has been able to establish new friendships through social groups online. With a plan in place, Boersma says he feels better equipped to deal with future distress.
GLOBAL EVENTS
Globally, farmers have been whacked and walloped by wildfires, market instability, disease, drought, hail, and frost, not to mention the global COVID-19 pandemic. The only thing that has been certain is uncertainty.
While you can't prepare for everything, seventh generation grain farmer Mark Huston says you can set yourself up to better weather the storms.
This year has been tough, says Huston, who grows corn, soybeans, and winter wheat on 1,350 acres in Chatham-Kent and is the director for Grain Farmers of Ontario District 2 (Kent). The first shock came when the ethanol market collapsed as travel came to a virtual standstill.
"Grain farming in Ontario has been different the last couple of years because the challenges we're starting to see are from outside the farm, more so than they have been previously," says Huston, pointing to rail strikes, propane shortages, and the loss of the Chinese soybean market.
"How we learn to cope with those challenges, I think, is something we're going to have to watch really closely as we move forward," he adds.
Huston says their ability to cope is due in part to security provided by the farm's previous generations. Recognizing opportunities in the marketplace, they expanded when prospects arose. They invested in on-site grain storage, which has allowed them to hold out when prices are poor, and they have invested in larger equipment to deal with tighter planting, spraying, and harvesting windows.
"You always try and set yourself up to be able to be prepared for things that are unexpected," he adds. "If the farm is more stable and has more of a financial footing, then it's able to withstand some of those hits."
PREPARATION
Farm Life Financial Planning Group founder and family enterprise advisor Darrell Wade knows firsthand the consequences of not planning for the future. When Wade's father died unexpectedly in 2000 from complications to a routine colonoscopy, there was no succession plan in place. As a result, his family lost the farm. Since then, Wade has been passionate about helping Ontario farm families plan for the unexpected.
Working closely with farm families, Wade helps to clarify their vision of success and establish key objectives in four fundamental areas. First, he addresses family matters, facilitating discussion on everything from core values to future goals to roles and responsibilities. Then he focuses on farm finances and the financial wellbeing of those entering, growing, and exiting the business. Then they talk succession and how to best transition the next generation, first into a leadership role, and eventually into ownership. Finally, he assists in estate planning by putting plans in place to secure the farm's future.
"We want to help farm families identify potential roadblocks or challenges ahead for both the family and the business," says Wade. "We help families have the difficult conversations about what is most important for the future."
"Being prepared is the best practice for multi-generational farm families," he adds.
Preparation is the key to long-term success. And while 2020 has been a whirlwind of a year, it has provided valuable lessons in terms of crisis management and hopefully it prompted a few conversations to answer some of those 'what if' questions you haven't been able to ask in the past.
NEED HELP?
The Government of Ontario offers a number of support programs to help farmers mitigate risk, find labour, cope with stress and more.
Ontario's Risk Management Program (RMP) helps producers manage risks beyond their control, including fluctuating costs and market prices.
AgriStability protects producers from income declines caused by production loss, increased costs or market instability.
Production Insurance (PI) protects producers from production losses caused by natural hazards, such adverse weather, disease and pests. Production losses due to COVID-19 related labour disruptions will be insured under the 2020 program.
Enhanced Agri-food Workplace Protection Program. On October 13, 2020, the governments of Canada and Ontario announced a $26.6-million investment to further protect Ontario agri-food workers during COVID-19 and minimize disruptions to Ontario's food supply chain.
Farm Property Class Tax Rate Program. Ontario farmland owners may be eligible for a property tax reduction through the Farm Property Class Tax Rate Program.
Web job portal. OMAFRA's recently launched web portal connects workers with potential employers, ensuring primary producers and processors have access to the labour they need to operate.
Mental Health for Farmers – First Aid Kit. The Ontario government has launched a public awareness campaign, as well as a First Aid Kit that highlights mental health challenges faced by farmers.