Strong leadership
2020 WOMEN'S GRAIN SYMPOSIUM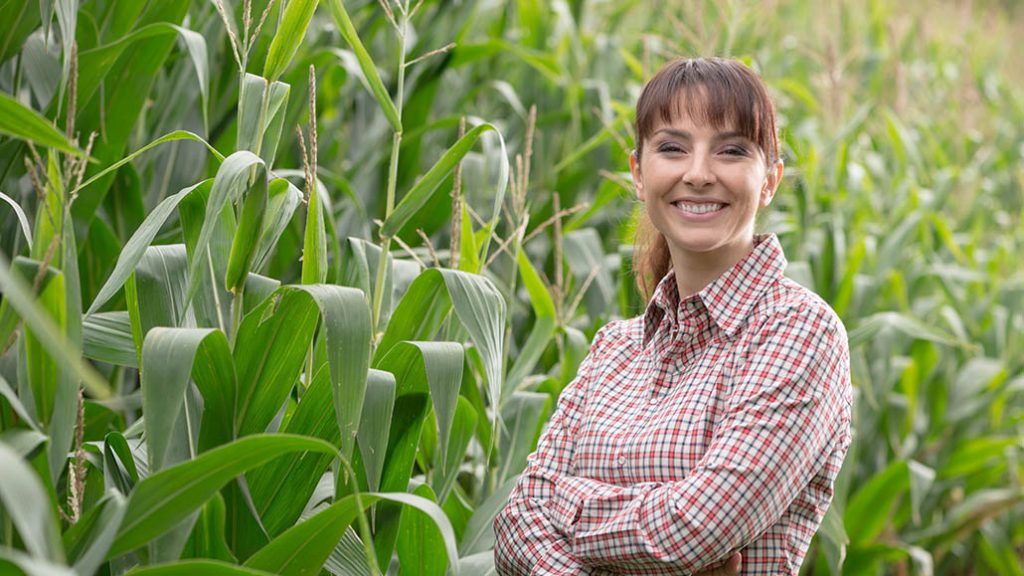 THE THIRD GRAIN Farmers of Ontario Women's Grain Symposium was held at the end of November 2020. Due to the COVID-19 pandemic, the event was held online during three morning sessions that focused on resiliency, mental health, and media relations.
"We feel it is very important to engage female farmer-members," says Mel Reekie, manager of Member Relations. "And despite the challenges of rural internet and the different dynamic of being online, we wanted to keep a connection and dialogue open with them."
Reekie notes the relevance of the topics helped to keep participants engaged and based on feedback she has received, the multi-day schedule with shorter sessions was well-received by participants juggling work and family responsibilities.
The three speakers chosen for the event were women — an intentional decision to make the sessions more relatable for female-farmers.
RESILIENCE
The first session focused on leading with resilience, with Kelly Ann McKnight, author of 'The Resilience Way'.
McKnight defines resilience as 'the ability to manage through unexpected difficulties and take on challenges of your own design so that you can build an extraordinary life … on your own terms.'
This means being able to take risks, deal with obstacles, and get others to want to follow you.
However, she emphasizes the need to be kind to yourself, and ask for support when you need it. There is a balance between seeking help and offering help and we should do both in order to protect our emotional well-being. It is important to reflect on how you are feeling and recognize how your emotions affect your reactions and behaviour.
McKnight says that your credibility as a leader comes with behaving in a manner that is in line with your values.
"We all have different things that matter to us, and there is not a right or wrong set of values," says McKnight. "From a standpoint of understanding yourself, I think it is critical that you understand what your values are and recognize they may be different from other people's values – and that's ok."
Your values are key to personal clarity, and give you the confidence to manage when things go wrong. Focusing on your physical and mental health will give you the strength to accomplish your goals.
MENTAL HEALTH
Women in agriculture often juggle farm work with an off-farm job, household chores, and family demands. They experience increased levels of depression and anxiety and decreased levels of general wellbeing and satisfaction.
But, women are more willing to look for helpful strategies and act as agents of change.
Lauren Van Ewyk, of Wellspring Counselling Services, is a registered social worker and a farmer. She has a unique understanding of the stress of crop production, the stigma of mental health issues within the agricultural community, and the barriers to seeking help in rural areas. During the second session of the Symposium, Van Ewyk was clear in her message: "Don't sit in silence. Find someone to talk to."
She offered advice on how to recognize the signs of a mental health issue (such as increased substance abuse), know when to seek help, how to practice self care, and how to release stress.
"We've all had a time when worry feels like it can take over," says Van Ewyk. "and we have to learn to take those thoughts captive and ask ourselves, is there a reason for this or is there proof of this. Excessive worry is a sign we need to talk to someone and come up with a different plan."
Prayer and meditation are helpful to recognize that we are cared for and encourages hope. Van Ewyk says your faith and your family heritage can give you strength during difficult times.
MEDIA RELATIONS
The third and final session of the Symposium focused on media relations with Crystal Hyde of Scout Communications Inc. It is becoming more important for farmers to tell their story to the public and the media is one way of getting that story out. But not everyone is comfortable talking on the record with little time to prepare.
Hyde provided guidance on how to respond to a media request, the questions to ask to make sure you understand the deadlines, goals, and expectations of an interviewer before the audio or video recording begins. She encouraged everyone to show their personality during an interview, have confidence in their knowledge and personal story, and stick to their message. Hyde also reminded everyone that it is ok to say, 'I don't know'.
"Being mis-quoted is a risk of any interview, but the best way to manage that is to be prepared," says Hyde. "You want to be able to deliver the message you want to deliver."
This article profiles a Member Relations event. •