Managing SDS
IS SOIL DEVELOPING ITS OWN DEFENSE?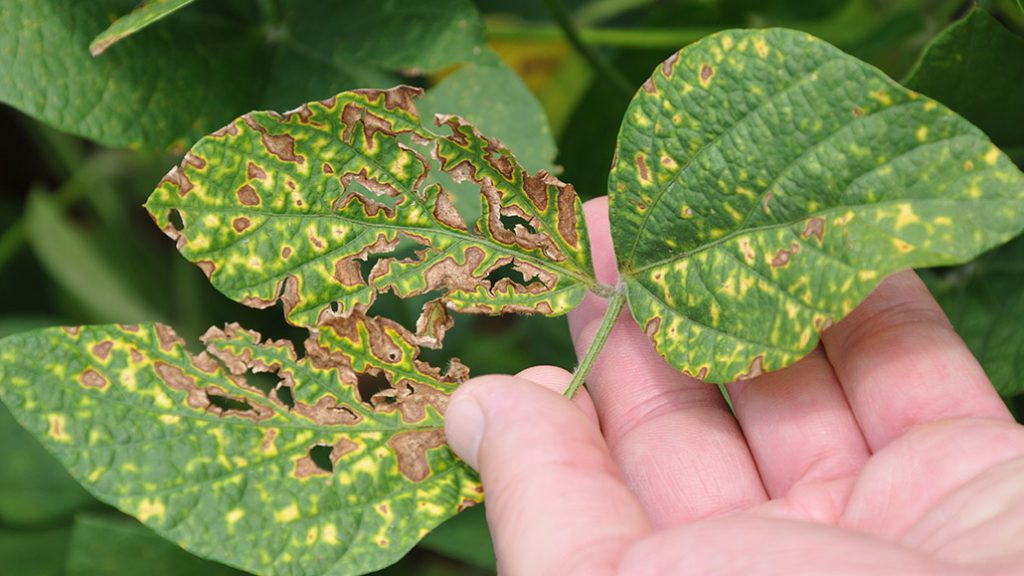 SOIL MICROORGANISMS FROM a long-established, continuously cropped soybean field in Essex County may hold a key for managing sudden death syndrome (SDS).
SDS is a leading yield-limiting soybean disease. It's caused by a soilborne fungus that can result in root rot and leaf scorch.
The Essex County field is the first place SDS was found in Ontario, in 1997. Now, a research team led by Harrow-based Agriculture and Agri-Food Canada field crops pathology research scientist Owen Wally and Albert Tenuta, field crops pathologist with the Ontario Ministry of Agriculture, Food and Rural Affairs at Ridgetown, believe that microorganisms in the field's soil may have evolved and are suppressing the disease.
"The soil appears to be antagonistic towards the disease," says Wally.
He notes that the key is that normal crop rotations — the kind that bring so many economic and environmental advantages to crops and farmers — were not implemented in this field. Soybeans were grown there year after year. As a result, the microorganisms' defensive efforts against SDS were not interrupted or dulled by the presence of other crops.
COMPARISONS
The researchers are now comparing the Essex County field's soil to fields in Kent and Elgin counties where SDS has become evident. They are trying to determine if the Essex County soil can be used as an inoculant against the disease in other fields, how long it takes to establish suppressive traits, how long it lasts, and how it is affected by various crop rotations.
"It's an exciting finding during a year when many lab studies were put on hold because of the COVID-19 pandemic," says Wally.
Controlling SDS is becoming increasingly important. The disease is spreading further — mainly through soil erosion and by farm equipment — moving from southwestern Ontario where it originated in the province, to its north-central and eastern parts. Researchers say it is now infecting heavier clay soil. Before, it was found mainly in lighter sandy soil.
"As more soybeans are grown outside traditional areas, the more the disease appears there," says Wally.
Control efforts are progressing. The researchers are working with DNA-based technology to help determine SDS presence in the soil. Results of a soil microorganism analysis that reveals SDS would help estimate the likelihood of a soybean crop succeeding there, and whether farmers should select SDS resistant varieties.
Such varieties are being developed by plant breeders at AAFC facilities in Harrow and Ottawa, as well as at the University of Guelph's main campus and Ridgetown Campus.
Wally says weather in the 2020 growing season is suspected to have given rise to some unique soybean disease events, particularly soybean wilt. He says it's seen once a decade or so, likely caused by latent fusarium spores that lie dormant until conditions are right for their release — in this case, large amounts of precipitation followed by long dry periods.
"Work-wise, 2020 was a different kind of year, and so was the growing season," he says.
Laboratory analysis work for most researchers was significantly reduced in 2020 for safety reasons related to the pandemic. Wally and Tenuta gathered about 80 field samples; they look forward to having a broader reach in 2021.
This article features research funded by Grain Farmers of Ontario. •