National recognition at Guelph
RESEARCHING THROUGH A DIFFERENT LENS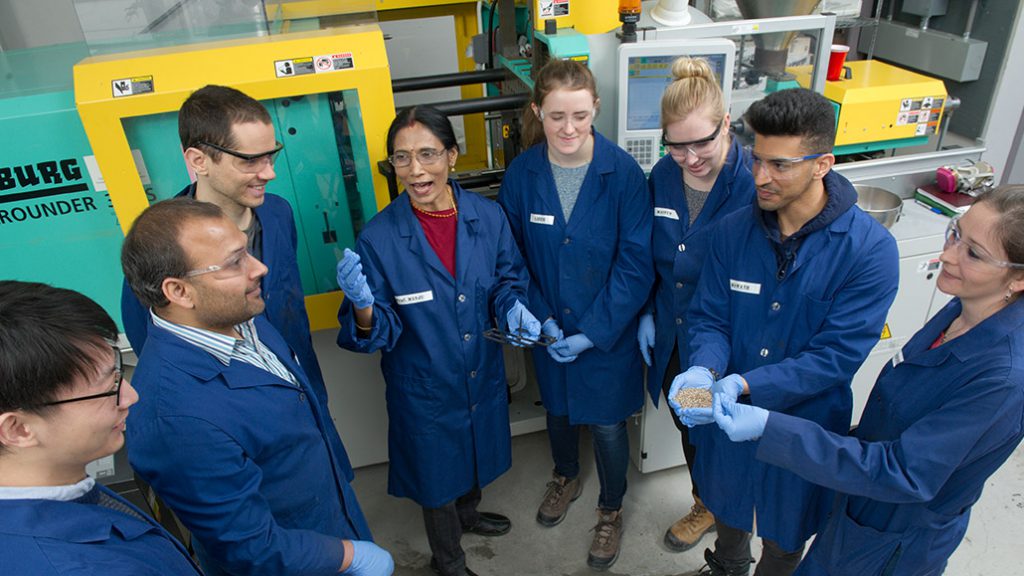 CROP BY-PRODUCTS or co-products — wheat straw, Miscanthus fibre, distillers' grains and corn stalks, among them — are still considered waste in many circles. But University of Guelph School of Engineering professor Dr. Manju Misra is trying to help society, farmers, and a new generation of graduates, see them through a different lens.
To Misra and others at the university's Bioproducts Discovery and Development Centre (BDDC), what we've traditionally called waste material has huge potential for further use and greater profitability.
And her track record suggests she is right. Her research has received more than 32,000 citations and numerous awards, and she's contributed to more than 50 patents and five licensed eco-friendly technologies that are in the marketplace. In 2018, she and professor Dr. Amar Mohanty, Director of the BDDC, received the Natural Sciences and Engineering Research Council (NSERC) Synergy Award for Innovation.
IMPACT
Now, for her efforts, Misra has been named one of the Canada's Most Powerful Women of 2020 by the Women's Executive Networks (WXN), a national organization that celebrates the advancement of women. She is recognized among 13 other women in the science and technology category, sponsored by Manulife, for being what WXN calls "an internationally renowned scientist whose career has made an extraordinary impact in sustainable materials research to mitigate climate change and support the circular economy."
"In a difficult year, we've been inspired by Canada's highest-achieving women who unite those around them and help us all rise above our challenges. These powerful women continue to lead the way, which is why it's important to celebrate their achievements," says Sherri Stevens, WXN owner and CEO.
Through her career, Misra, a native of India, has been a champion for female empowerment and women's rights.
"My story shows how an immigrant scientist can advance and contribute," she says. "Canada is providing more and more opportunity for us women to use our critical thinking skills to solve problems and make discoveries that can benefit people all over the world."
PROJECT SOY
The Ontario Soybean Growers' Association, a legacy organization of Grain Farmers of Ontario, was one of the earliest sponsors of Misra's research at Guelph. Along with NSERC, the organization supported a 2009 study entitled "A new class of engineered green composites from soy meal/soy milk stalk hybrid and non-structure controlled soy-based bioresins."
Ontario grain farmers who have followed the university's Project SOY competition over the past 24 years will be aware of some of Misra's activity. Project SOY, started out as a contest to reward students who develop creative uses for soybeans. In the competition's early days, students focussed mainly on the oilseed itself. But around a decade ago, entries started trickling in that used the whole plant. Last year, the contest was expanded to include all bioproducts, prompting the name change to Project SOY-plus.
The nature of the changes coincided with Misra's and Mohanty's arrival at Guelph and the emergence of bioproducts research on campus. All Project SOY student teams require a faculty mentor, and since 2010, the duo has helped students win 19 awards (out of 23 entries), the most of any advisors involved in the competition.
The products students developed include: an edible soy protein isolate called Soyfit; SoyaSeal, a biodegradable soy protein lining for paper cups; a nanofibre wound dressing called SojaSkin; Soy PZT, a foam product for the auto sector; and InSoyLater, a flame-retardant insulator.
"Project SOY-plus is an excellent program, and students love the opportunity to develop and test their own ideas," she says.
SUSTAINABILITY
Misra, who holds a joint appointment in the university's School of Engineering and Department of Plant Agriculture, began making headlines back in 2011 when the fledgling BDDC started developing materials used as substitutes for conventional plastics in a variety of products for industry.
"Our main premise of these programs is based on sustainability and using renewable resources, substituting petroleum-based materials with new carbon sources," she says. "When blended with plastic, these resins reduce the amount of plastic needed in materials, lowering production costs, and extending biocomposite use into new markets. We want to reduce waste and create a circular economy by facilitating the continuous re-use of bioresources."
One of its first products was called biobins, a name meant to emulate blue bins, the standard for recycling. These biocomposite storage bins, combined post-consumer plastic with natural plant fibres — in this case, switchgrass grown on a Huron County farm. Biobins came to be used by Canadian Tire and Home Hardware and helped establish BDDC as a leader in bioproduct development.
At the biobins' unveiling, Misra said products from post-consumer plastics and natural fibres such as switchgrass, oat hulls, or wheat straw reduce industry's carbon footprint, lessen dependence on fossil fuels, and open new markets for Ontario farmers and manufacturers.
Biobins were followed by the world's first fully compostable coffee pods in 2015, made from waste coffee bean skins from McDonalds Corp. In an interview, Claudio Gemmiti, senior vice-president of innovation and strategic growth at Club Coffee which commercialized the pods, praised the BDDC's efforts.
"People throw around the term 'leading edge' a lot (but) BDDC is exactly that," he said. "They are doing the fundamental work to enable the shift to a more renewable economy by finding ways to replace traditional petroleum-based plastics with ones made using plant and agricultural substitutes."
Most lately, the BDDC created a bio-composite resin using biocarbon (made from coffee chaff) used by Ford Motor Company to make headlight housings for the prestigious Lincoln Continental.
Every semester, dozens of students are involved in BDDC's work. Misra is proud that many of her trainees are now in careers in industry, government, and academia, and some progressing to leading positions in their field.
"They've involved in areas that are linked to sustainability in their own work, which is great to see," she says.
And she hopes the WXN award is inspirational, particularly for prospective female researchers.
"By this recognition I have received, may many young women be encouraged not only to seek higher education but to pursue studies in science and engineering disciplines in order to make their own passionate contribution to a better world," says Misra. •