Resistance management
USING THE TOOLS WE HAVE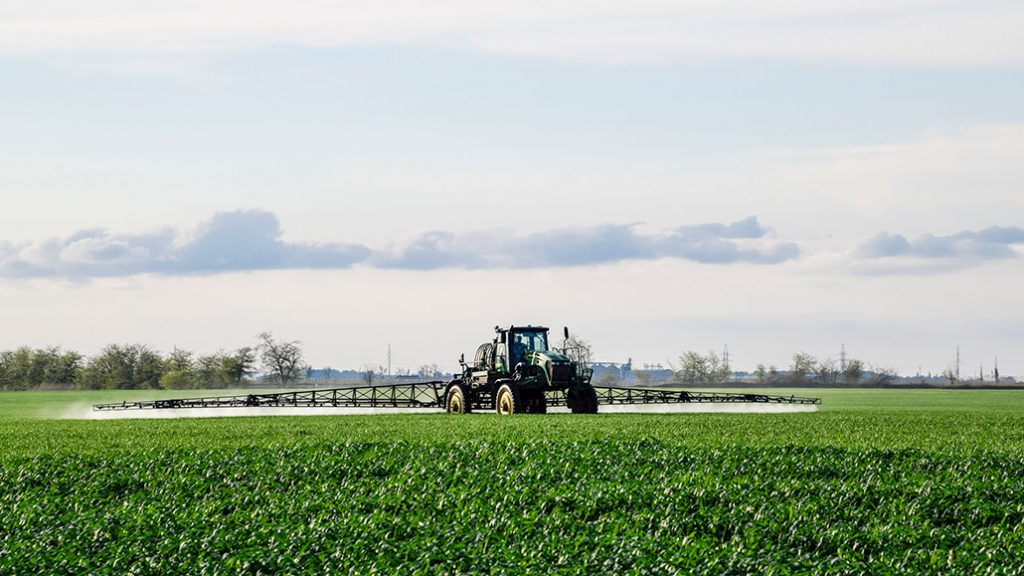 RESISTANCE ISSUES IN crop production are a very real and persistent problem. Resistance can be found in weeds, insects, and diseases across the province. Integrated pest management encompasses several methods to slow the spread of resistance.
WEEDS
One of the most common and widely talked about resistance issues is herbicide resistant weeds. According to Manage Resistance Now, a resistance management resource created by CropLife Canada, "herbicide resistance costs Canadian growers an estimated $1.1 to $1.5 billion annually due to increased herbicide use and decreased yield and quality".
Farmers can manage resistant weeds a lot better than they currently may be. Rotation of crops helps suppress or better manage some weed populations. Rotation of herbicides, not just the herbicide name or manufacturer but the actual herbicide group is imperative. Not using the same mode of action more than once a year is a critical step to reducing resistance in fields. A suggested practice is to use tank mixes with two or more products that give control, with different modes of action. Be sure to follow the label recommendations, use the rates that are recommended, paying particular attention to the timing and water volume as they factor into the control of the weed species.
It is imperative to scout after spraying. If weeds that you thought should have been managed are not, perhaps there is a resistance issue on your farm.
INSECTS
Insect resistance is becoming more of an issue across the province and country. A changing climate, migration patterns, overwintering ability, available host weeds, and Bt resistance are all factors affecting this problem. Native insects can be seen increasing their range, and invasive species have "crossed the border" and are causing detrimental effects in some cases. Drastic yield losses can occur if the pest is not identified in a timely manner.
A common method to control insect pests is insecticides.
Tracey Baute, field crop entomologist with the Ontario Ministry of Agriculture, Food and Rural Affairs (OMAFRA) says that "even though insecticides may only be sprayed once per year, the same active ingredient is used year after year."
It is imperative to rotate insecticide active ingredients every year to help mitigate resistance. Bt traits have in the past had wonderful success managing some insect pests, but in some cases are now showing some breakdown, as in the case with the corn rootworm Bt.
As we move forward, farmers and agronomists alike will need to really be aware of what insect pressure they have in their region and specific fields when choosing what to plant, while also keeping a look out for pests moving into the area. Rotation, proper scouting, and management is imperative to help mitigate insect resistance problems.
DISEASES
Everyone wants a healthy crop, and diseases can have a large impact on the health of crops. Combining physical, chemical, biological, and cultural strategies for disease control can maximize plant health and therefor yields.
"A well planned 'integrated disease management program' which incorporates variety/hybrid genetic resistance, disease control products, crop rotation, scouting and other practices is critical to maintaining the effectiveness of the 'tools' and reducing resistance risk," says Albert Tenuta, field crop pathologist with OMAFRA.
Management and monitoring of high-risk areas along with mitigating crop stresses are also valuable tools that can be included in your plan. All tools can be integrated together to lower the incidence of disease. When using a seed treatment or spraying a fungicide, it is imperative to scout to determine the need for the disease control products. Some predictive models can be a great asset to determine when scouting should occur.
As a suggestion, when travelling from farm to farm or area to area, try to do a thorough clean out of equipment, leaving any plant matter behind in the field prior to moving to help slow the spread of resistance.
When managing resistance, diligence pays. Keep on top of weeds, insects, and diseases in your field and monitor conditions on a regular basis. Grain Farmers of Ontario has a number of resources and links to other resources posted in the agronomy section of www.gfo.ca. There are also a number of apps that Grain Farmers of Ontario has supported, particularly the Pest Manager app that helps identify, map, and find integrated management options for weeds, diseases, and insects (https:// gfo.ca/about/mobile-apps/).
Manage Resistance Now is also a helpful resource with videos, factsheets, and articles on common integrated pest topics https://manageresistancenow.ca/.
It is imperative to keep the tools that we have to control various pests in field crops. All methods of resistance management must be applied and followed to steward the technologies that we currently have access to. Without them, in some situations there are not a lot of options. The benefits of the tools that we have available far outweigh any challenges found in trying to properly utilize them. Will we be farming the same in five or 10 years? Farmers have to do the best that they can with what they have, following integrated pest management for preservation and success on farm, now and into the future.
Laura Ferrier is an agronomist with Grain Farmers of Ontario. •