Field observations
SPRING 2021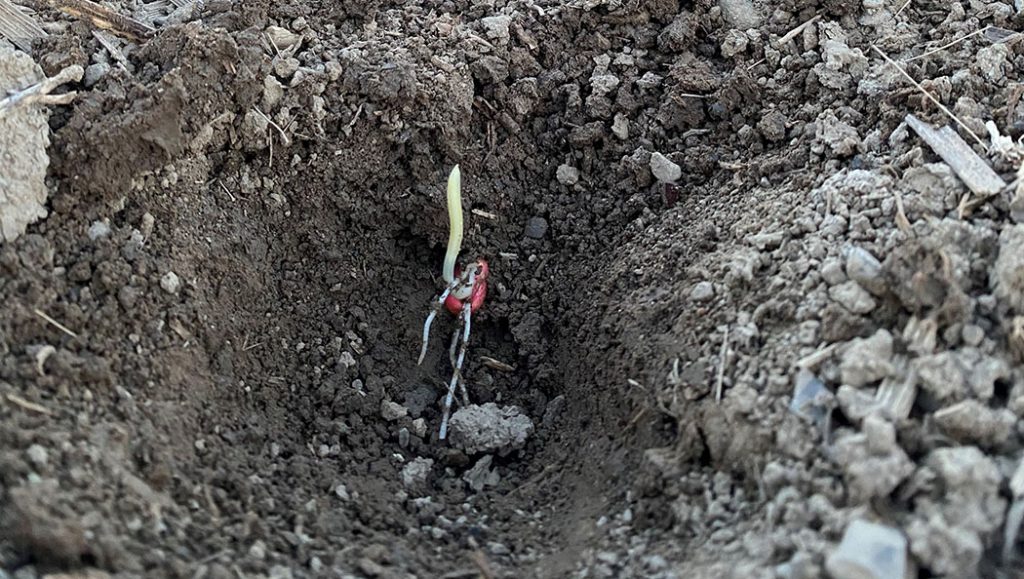 May 14, 2021
The weather has turned the corner this week from spotty rains, cool temperatures, and light frosts to where we are now experiencing drier, warmer conditions that are hastening planting progress across the province. With the ideal forecast of sun and heat over the weekend and into next week, we will see the final touches of corn planting completed and the first crop of soybeans will be reaching planting completion into next week. Most acres should have the opportunity to be planted into ideal conditions as farmers will not be pushed by the concern of rainstorms, rather, seed may be looking for moisture and we will need to make sure seed beds are not in the position of being too dry.

Corn

Corn planted in early April has emerged, while later April plantings will be spiking through the ground this weekend. If you planned on a pre-emerge application, but are still in need of getting the herbicide applied, make sure no corn will be emerged by the time of spraying.  Dig for seed to see how far the coleoptile is from the surface. If you have plants cracking the ground, change your application to early post emergence and make sure your herbicide program allows for application on emerged plants –  some do, some do not. Pictured is corn planted on April 27, 2021 that has received 140 crop heat units (CHUs) since planting. Corn will be emerged within 40 more CHUs accumulated in the next day and a half.

If you are still planting corn, remember to plant into moisture and 2.5-to three-inch depth is ok if you need moisture. Also do not fluff the soil but keep the seedbed firm to retain the moisture.

Soybeans

Soybean planting has begun in earnest this week. As the weather holds favourably over the weekend and into next week we will experience rapid planting progress.

The increase in daytime and nighttime temperatures will drive CHU accumulation resulting in rapid plant growth (both weeds and crop). Burndown herbicide applications will now see faster acting herbicidal activity as plants are developing quicker as temperatures rise. Some weeds, such as winter annuals have continued to grow during the past few cool weeks. Canada fleabane has already progressed and is ready to bolt with these warmer temperatures. Be timely with your burndown as bigger weeds are harder to control and may need some additional measures to have effective control.

Double crop soybeans are a common conversation in some areas. Many are asking if double crop soybeans are an option this year following the early planted wheat last fall. With the last couple of weeks, wheat growth has really slowed down with the cool days and nights. The date of wheat harvest and the location in the province will determine a lot. Aim for seed maturity that is one full maturity group shorter than your area, but check with your seed dealer on what they suggest and what is available. Best success is with narrow row width and higher seeding rates as plant growth will be limited as plants will not branch and getting ground cover quickly is essential to maximizing yield. Target a population of 250,000 seeds per acre on 7.5" row width. The planting date should be considered as well as your average frost dates, as the yield potential will drop considerably if soybeans are planted too late and frost comes too early. Early to early-mid- July planting dates are the cut of for many areas. It is a risk, and those that have tried it in the past know that it all depends on moisture conditions or if the rains come in time to germinate the soybeans. Some years are great and some are a flop. If it does not work, consider it a good cover crop

The need for weed control in double crop soybeans will be less, as in theory one pass would still be needed to control weeds. Most annual weeds emerge during May and June. If double crop soybeans are planted in July weed pressure should be considerably less, but is dependant on soil moisture and rainfall. Limit the investment in weed control and make sure to use row width and population to help control weed pressure as well.

Winter wheat

There has been little progress on spraying wheat due to the cooler conditions with night frosts limiting the ability to safely apply product. If spraying is being done in cool conditions, many have focused on only using one product in the tank to prevent wheat injury. Second applications of nitrogen have been applied especially where flag leaves are starting to emerge. Wheat that has been burnt by frost, nitrogen application, or herbicide/fungicide tank mixes are recovering – some fields don't look very nice but yield impact should be fairly minimal. Burn from a fungicide/herbicide application can impact yield so use caution when applying in cold weather. Be sure to speak with your agronomist to find out which herbicides are easier on wheat if temperatures continue dipping towards zero.

Wheat in Ontario is around the second node (GS31-32) up to flag leaf emergence (GS37, flag leaf just visible). Wheat has moved quite slowly this past month with the cold temperatures. Even if it has been warmer, the nights have still been quite cold.

Cereal leaf beetle has been spotted in Simcoe County. The pest manager app is a wonderful source of information on all pests. It can be downloaded here. Grain Farmers of Ontario supports much of the research that is used in the app. It is applicable for pests, weeds, and disease and is updated regularly based on current research data.
May 7, 2021
Light scattered showers across the province have slowed down planting this week. Rains have been patchy allowing some areas to continue where others have been on hold. Where possible, corn and soybean planting has continued when the seed bed is fit. Estimates on planted acres range from five to 70 per cent complete for corn and 10 to 15 per cent complete for soybeans, but progress within regions is still highly variable.
Winter Wheat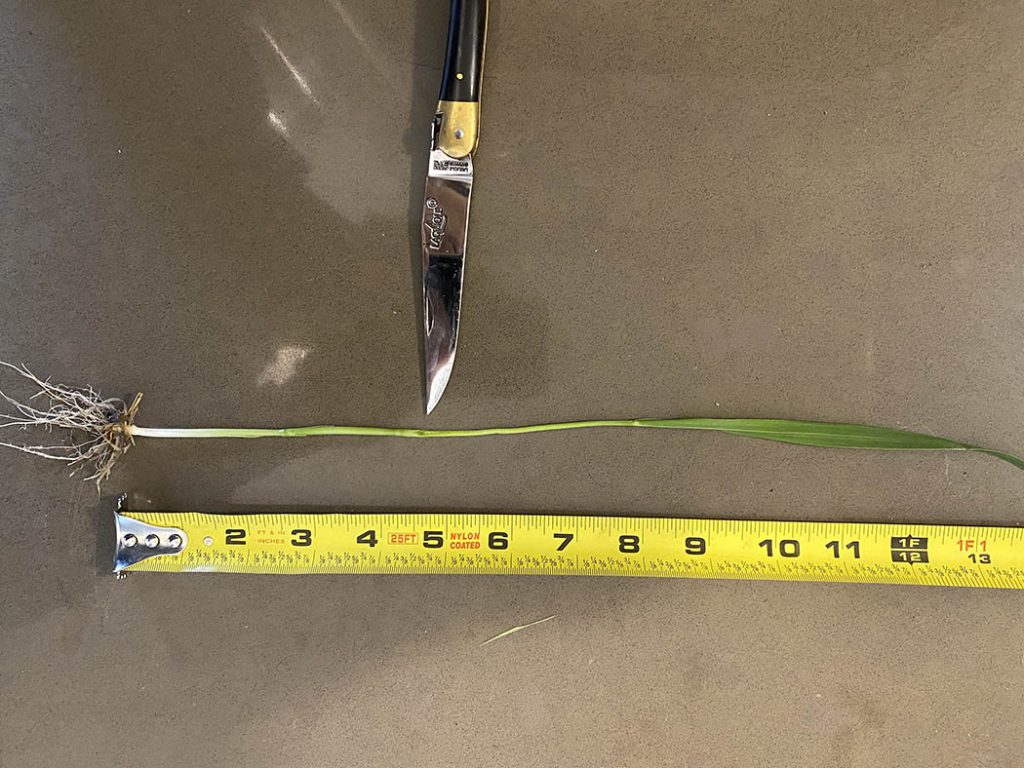 Wheat is progressing nicely, but with recent cold temperatures, growth has slowed down. Some fields that received snow a couple of weeks ago were flattened a bit but are slowly bouncing back.
If your area stays wet, be on the lookout for wheat diseases, there are still reports of powdery mildew and Septoria north and east of the London area. The rain received this week is favourable for stripe rust, it typically arrives on storm fronts and arrives in southwestern Ontario mid-May, although this year looking south at the spore source in the U.S. it is not looking like a huge threat at this point.
Flag leaf timing is getting close in those early planted fields in the deep southwest of Essex County. Herbicide applications need to cease by flag leaf as not to cause head injury.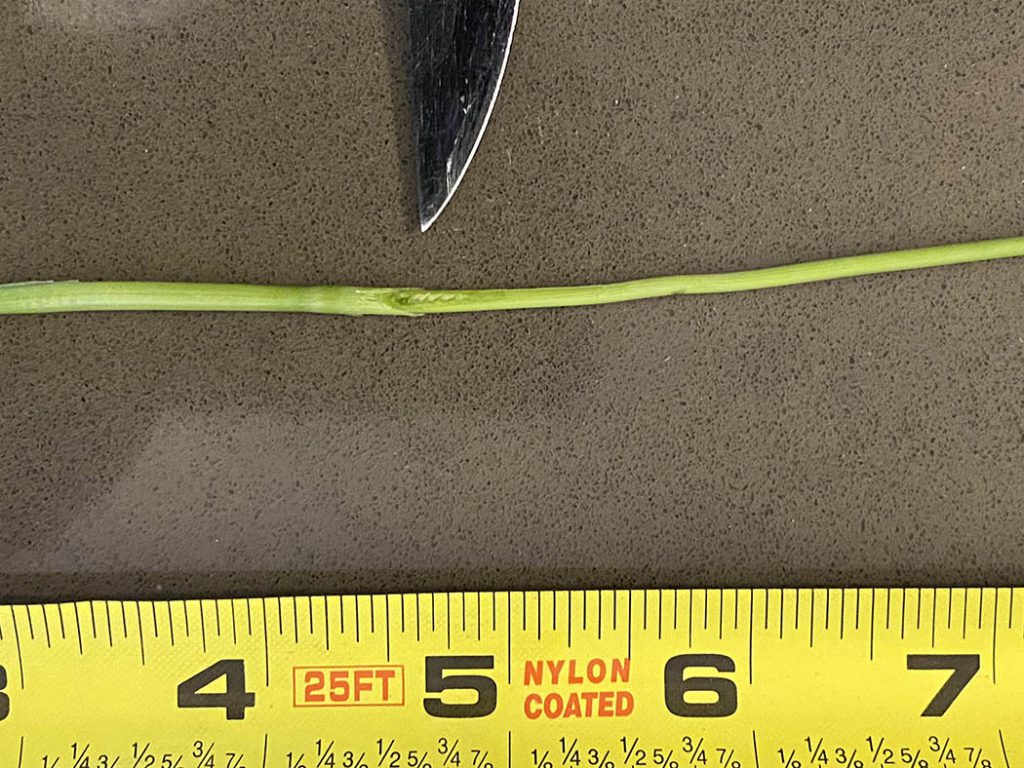 Corn and Soybeans
Some very significant acres have been planted for this early in the spring. There are still many to go, and patience is still key as it is still early for many areas to be planting. In the middle of May 2020, we saw ground that firmed up quite hard after planting as heavy rains and snowfall chilled the seed and firmed up the clay ground around them. As of now, we have not had that hard, pounding rain that causes the soil to become compacted. Current conditions of the seed that was planted seven days ago have had 100 crop heat units (CHUs) and look great. The radical is growing freely and is 1.5 inches long with the plumule starting to emerge from the seed. Emergence from the ground typically takes 180 CHUs. Warmer weather next week will allow much of the planted corn to emerge. Some really early April corn may already be emerging. In northern Ontario, corn is just beginning to be planted.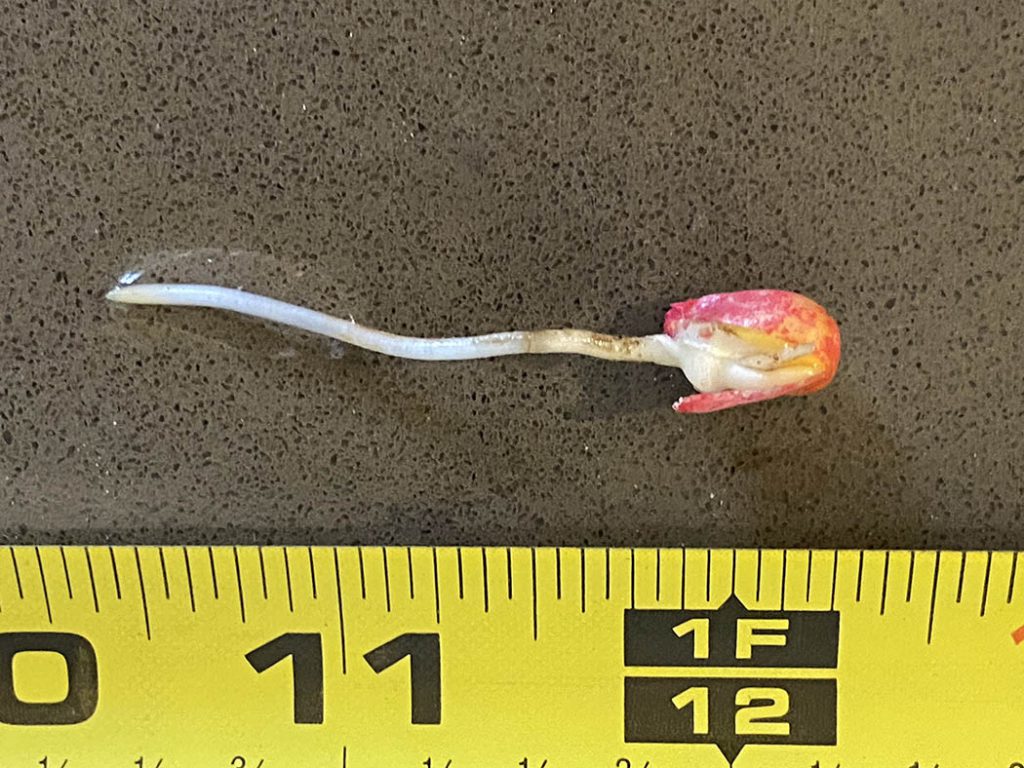 Black cutworm has been seen in some traps in Ontario. For more information on Black cutworm view this article from 2017 by Tracey Baute for damage description and thresholds.
For corn and soybeans that are planted already, the potential injury from soil applied herbicides goes up under cold conditions. In cold weather, the plant doesn't grow as quickly, so it takes longer for the plant to metabolize the herbicide. Also, some herbicides create a layer on the soil surface, as plants emerge, cooler weather slows emergence through the herbicide layer allowing for longer exposure which may cause damage under cooler conditions. As temperatures increase, plants will grow more rapidly and will grow out of the injury and metabolize the product with no impact on yield. In general, we have seen warmer daytime temperatures than last year, but it still has been quite cool at night.
Next week is forecasted warmer and hopefully conditions open for the continuation of planting.
Other
Shortages on fertilizer have been minimal and manageable, mostly just due to the logistics of an early spring; shipments are on time for a normal year. If you are trying to identify weeds or send pictures of your plants for recommendations or guidance, taking a quality photo helps a lot. Doug Young at the University of Guelph Ridgetown Campus has created a short video on the best ways to photograph weeds and crops.
April 30, 2021
This week started out with some beautiful planting weather which contributed to a great start to the planting season. Some areas of the province had scattered showers that had some equipment shut down by mid to late week, while others were able to continue their planting progress.
Winter Wheat
The wheat crop looks good, with a large portion of the acreage having at least the first application of Nitrogen (N) on currently. Some fields that had an N application close to the frosts last week are showing some burn, but the wheat will grow out of it with limited impact on yield.
Timing for plant growth regulator (PGR) applications is upon us as most of the crop is at the 30 to 32 growth stage (starting stem elongation, first node). If you are mixing in a fungicide or herbicide with the PGR remember to watch temperatures and read labels to ensure you are using the appropriate tank mix partners. As with all spraying, ensure you have rinsed the tank and lines out well when changing to a new product in the sprayer, especially if putting down a corn herbicide or other non-wheat products that will damage the crop.
Some wheat in the Grey/Bruce area, which looked good in March, has been terminated due to snow mould impacts, cold injury and even wireworm in some cases.
Some wheat has been showing manganese deficiencies, predominantly in the sandy and loamy soils. There have also been some N deficiencies, Zinc deficiencies on clays, and some sulphur deficiencies as well. Be sure to get out and scout so you can take corrective action if needed.
Corn and Soybeans
Planting had a great jump this week as many corn and soybean planters were rolling. We are just at the beginning of May and have the entire month ahead of us. The first t wo weeks of May are considered the critical planting window that most farmers can expect to plant and achieve 100 per cent of their yield potential. This is a nice change compared to the last few years that saw many planting delays into June in some pockets.
When the ground has been fit to work, it has worked up well. With the lower soil moisture content that much of the province is experiencing, it is best to limit the depth of tillage and the number of passes as to conserve the moisture in the seed bed. The best seed beds are the stall seed beds that were prepared last fall or the ones where a light tillage pass has cracked the surface but left the seed bed at two inches firm and moist, just right for the seed to take in water and start the growing season.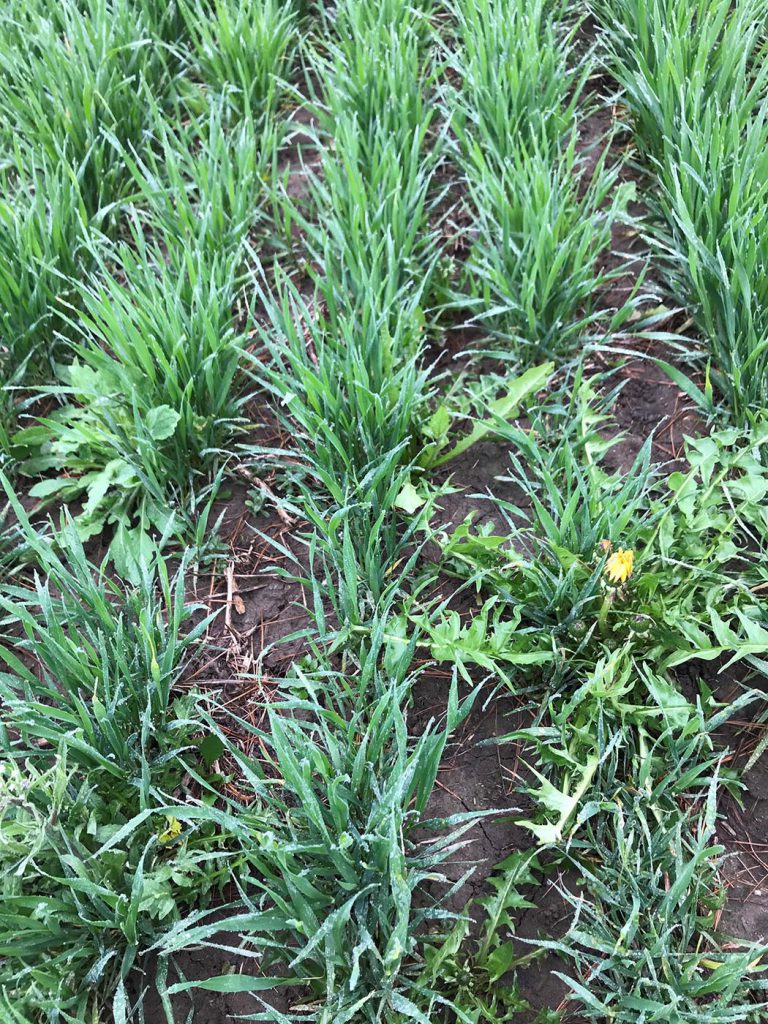 Lots of fertilizer and manure has been getting spread and ground getting worked. Remember the 4Rs when applying fertilizer- the right product, at the right rate, in the right place, and at the right time.
A few acres of soybeans have been planted, but most farmers will be focusing on corn right now. For soybeans that were planted early to mid April, most of them are just beginning to emerge.
Weeds
It has still been a bit cool and wet for some areas to begin spraying herbicides. In many areas, once annual weeds get further emerged, there will be some spraying of herbicides as the weather cooperates. Winter annuals are growing quickly. Watch that they do not get to a stage that they are too large to control easily, adjust rates to get good control.
---