Ontario Wheat Harvest Survey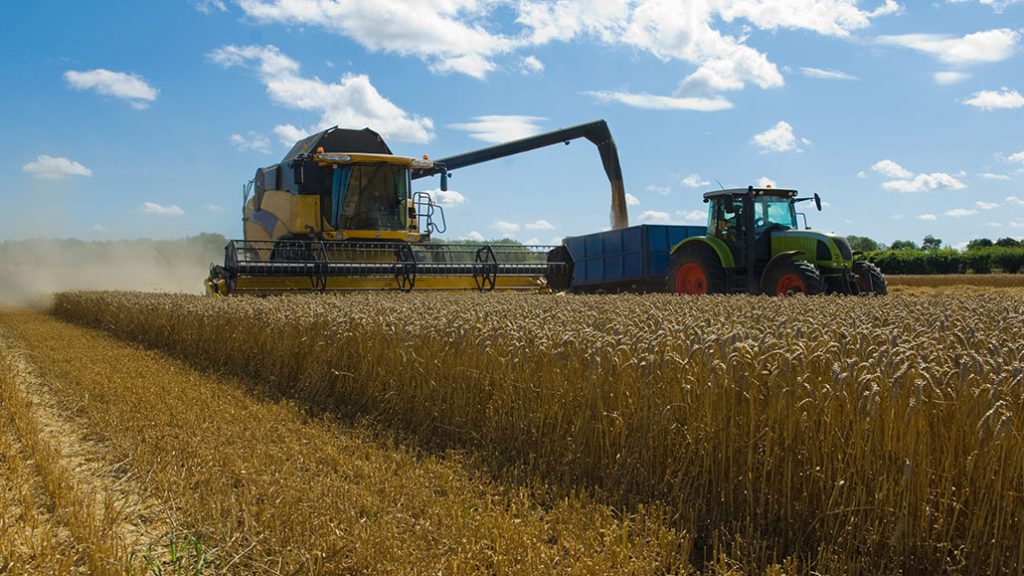 EACH YEAR, GRAIN Farmers of Ontario facilitates the collection of wheat samples from across Ontario. The intent is to provide farmers and the grain supply chain, including wheat millers, an average representation of wheat quality in each region and overall, for the province.
This sampling program provides an indication of average quality across the regions and is not a definitive number related to quality from every field or truck load. The goal of the program is to collect a representative number of samples from each region to match the production in each area and to represent across the different wheat classes grown. For example, during 2021 collection, 83 per cent of all samples collected have been soft red winter (SRW) which approximately matches how much SRW is produced in Ontario.
Multiple classes of wheat are grown and marketed in Ontario due to the size and varied geography of the province. SRW is the predominant class of wheat grown in Ontario, followed by hard red winter (HRW), hard red spring (HRS), and soft white winter (SWW). Each of these classes have different uses based on their unique quality specifications and functionality. On average, domestic milling accounts for 21 per cent of wheat produced in Ontario, while the total international export market that is used for milling is 33 per cent.
Ontario produces, on average, a 2.3 million tonne wheat crop. Nearly 1.3 million tonnes is destined to be milled for flour while the rest is used for animal feed.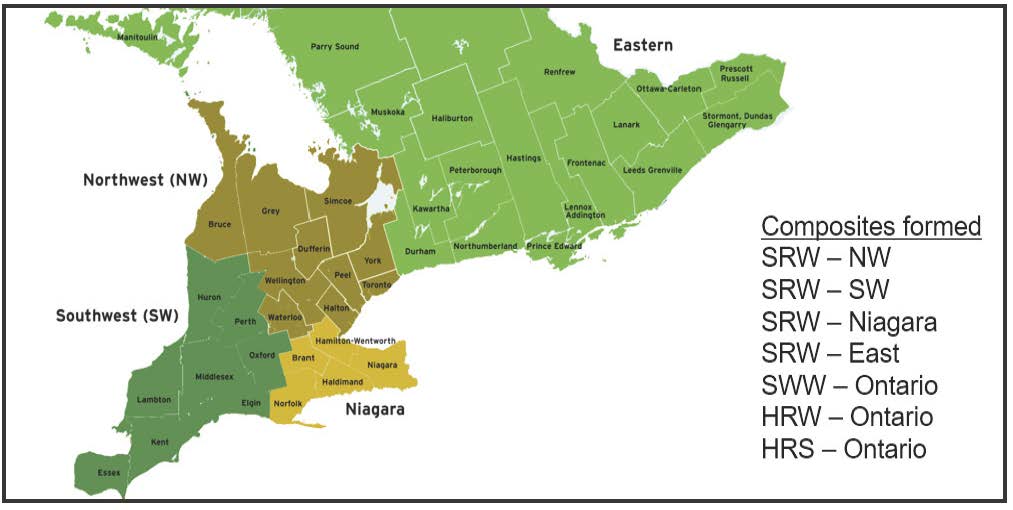 SAMPLE COLLECTION
Grain Farmers of Ontario works with grain elevators across Ontario who oversee the actual collection of wheat samples during the harvest period. Samples are collected throughout the harvest period to give an indication of the wheat quality as the season progresses. These samples are sent to SGS Canada's lab in Hensall where they receive grading and additional tests such as falling number. Grain Farmers of Ontario aggregates and publishes this information at https://gfo.ca/ market-development/exporters/ontario-wheat-quality/ which are online within roughly 14 days of the harvest date.
One of the challenges brought on by the COVID-19 pandemic has been ensuring the safety of staff — both those picking up sample bags and the participating elevator staff. Grain Farmers on Ontario started using sealed collection tubs that are left outside at elevators allowing for contactless delivery. Additional safety precautions such as wearing masks and wiping the containers with sanitizer also played a key role in ensuring everyone's safety.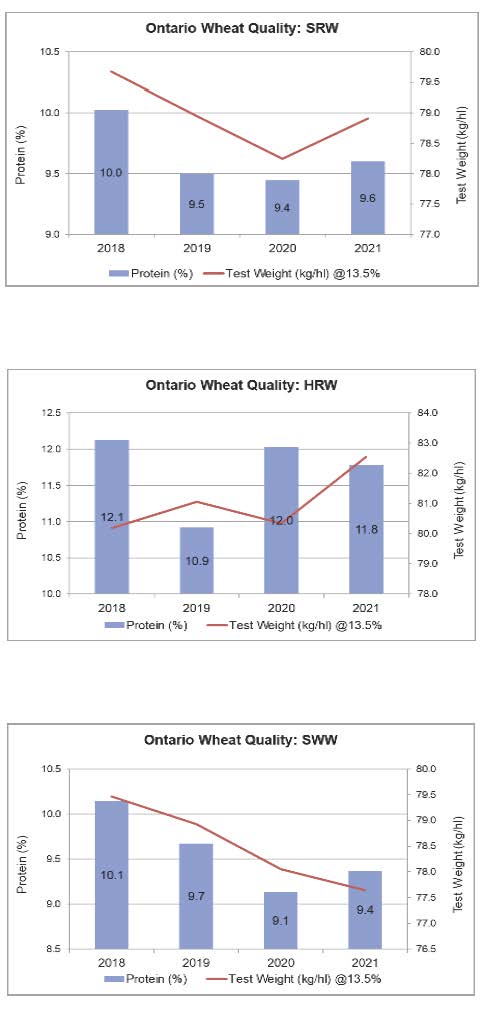 2021 RESULTS
The 2021 harvest produced variable quality results from across the province with falling number a concern. The grading completed by mid-August graded the majority of wheat a Number 2 or better with protein across the classes flat to higher than last year. However, the falling number, an important test that helps to identify structural integrity of starch, is more variable due to extensive rains during July as farmers tried to harvest the crop.
Providing this timely information to both farmers and industry helps to find ways to best utilize the crop available in different regions.
BUILDING A COMPOSITE SAMPLE
Once all individual grain samples are graded, composites are formed to be sent to the Grains Analytical Testing Laboratory in Guelph for further testing. Since the majority of wheat grown in Ontario is SRW, enough samples are collected to create representative composites for four regions. This allows for a more precise understanding of the wheat quality from each region for SRW. Composites for SWW, HRW, and HRS are formed for all of Ontario and represent the entire province.
The seven composites formed represent the quality that a flour mill would expect to see each year. Since flour mills have certain quality specifications they require, the composites are built to match this. Over the previous five crops years, the majority of wheat produced in Ontario reached milling specifications so nearly all samples collected were able to be used for milling composites. We rely on experts like Paolo Santangelo at the Grains Analytical Testing Laboratory to provide the most accurate input to provide information to buyers of Ontario wheat.
WHEAT TECHNICAL BULLETINS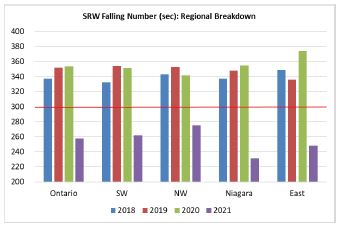 The grains lab completes milling and baking tests on the seven formed composites allowing for the creation and distribution of technical bulletins to the wheat industry. Flour millers typically are switching to milling new crop wheat by the start of October each year and prior to that is when the data is normally posted. The technical bulletins include information specific to the different classes of wheat which require unique tests as bakers ultimately use them differently. For example, soft wheat is tested by baking cookies and measuring the spread and height; hard wheats are tested for their bread baking ability including volume and height of the loaf.
The Ontario Wheat Harvest Survey plays an important part in ensuring both farmers and end users understand the functionality of Ontario wheat in both good and challenging years.
Justin Shepherd is the market development coordinator for Grain Farmers of Ontario. •