Plant-based popularity
OPPORTUNITIES FOR FOOD-GRADE SOYBEANS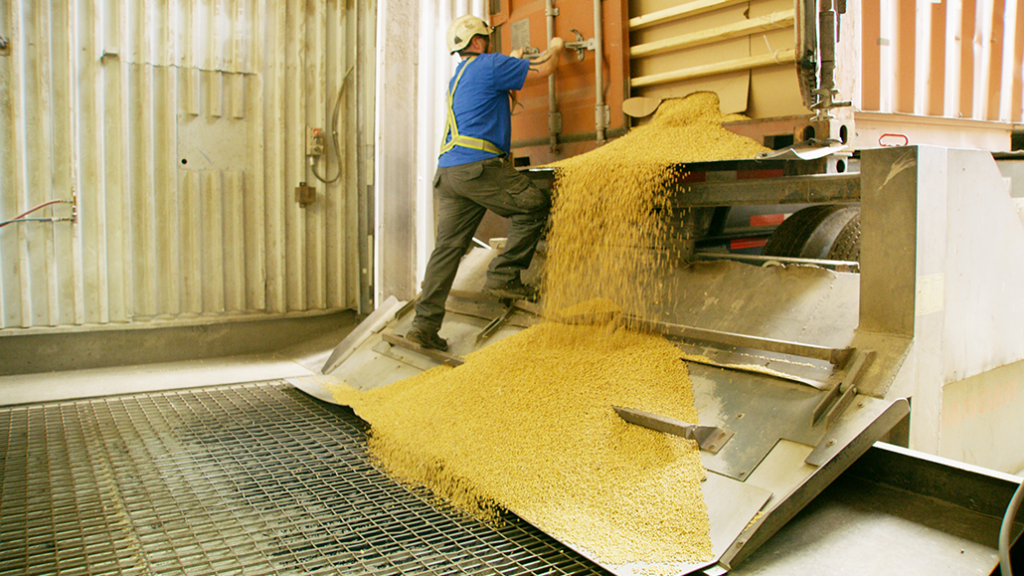 IT'S AN EXCITING time for food-grade soybean farmers in Ontario, and with a new processing plant to be built in the province or somewhere close-by here in Eastern Canada, more Ontario grain farmers may choose to grow this version of the crop in 2022 and beyond.
Right now in Ontario, out of the three million acres of soybeans grown, about 700,000 are currently food-grade. "That's been relatively stable in recent years with incremental increases due to growing demand from Asia," says Brian Innes, executive director at Soy Canada. "To put it context, most of the 700,000 acres of food-grade soybeans would be Identity-Preserved (IP), but some genetically-modified (GM) soybeans are also used in food products."
It's an outstanding success story for Canadian agriculture, says Innes. "We have this extremely strong, dedicated sector for a premium product, having built expertise all along the supply chain from the farm right through to many keen overseas customers. We have longstanding relationships with many importers in Japan, but also ship IP soybeans to companies in China, Taiwan, Indonesia, Thailand and Vietnam."
And the food-grade soybean market is also growing domestically as well. "We think this market has strong potential with increasing interest in plant-based foods, not just from vegetarian and vegan consumers, but flexitarians who consume meat but are increasingly seeking to balance their total protein needs with a larger proportion of plant-based sources," says Dana Dickerson, manager, Market Development, for Grain Farmers of Ontario.
Dickerson points to a recent Ernst & Young report commissioned by Protein Industries Canada which finds that 43 per cent of Canadians intend to increase plant-based foods consumption, with 15 per cent intending to eat less meat. "Soy protein is a strong contender to service this demand," she says, "as amongst plant proteins, it provides the highest percentage of protein per calorie, and it is one of the few commonly-available complete plant proteins containing all essential amino acids in significant levels."
PLANT ON THE WAY
Within the next 18 months, at least one new processing plant that will receive food-grade soybeans will be built in Ontario or somewhere nearby in Eastern Canada. This means some of the rest of the three million acres of Ontario soybeans not currently food-grade — those that go for oil processing to Hamilton, Windsor, Quebec or overseas — could be converted to food-grade in future, as could acreage currently being dedicated to other crops.
"This will certainly make a difference in demand," says Innes. "We only process about a third of the soybeans we grow. It's 50 per cent in the U.S. If we look at our existing 700,000 acres of food-grade soybeans in Ontario, they represent more value, from the perspective of breeders, farmers, transporters and processors. If we add more processing, it's going to step up value for everyone along the chain."
The plant will be built by Canada Protein Ingredients (CPI-IPC), a new plant protein company, and its partners. The $27.3 million project, supported with $7.3 million from Protein Industries Canada, will result in an innovative proprietary process to produce high-quality and highly sought-after soybean protein ingredients and soybean oil that comply with non-GM and Organic labelling standards.
Project partner Semences Prograin will develop and test new non-GMO soybean varieties optimized for Canada's growing conditions. It is the largest private value-added soybean company in Canada, with a plant breeding and 'soyfood' analysis lab in Quebec, and a seed and IP production network in Quebec, Ontario and Manitoba.
CPI-IPC CEO Jim Millington says the first phase of its Eastern Canadian plant operation will require 25,000 MT soybeans per year. "We have a relationship with Prograin and Sevita and all non-GMO soybeans will be ""The IP premium will be established by Prograin and Sevita and will depend on the strength of the varieties as well as regional competitive factors."
DJ Hendrick International and Agrocorp Processing will assist in developing, testing and marketing the new plant's end products to international markets. DJ Hendrick has developed more than 100 crop varieties. Agrocorp Processing operates four pulse processing plants in Canada. Its parent company Agrocorp, based in Singapore for over 25 years, has a product range that includes a wide variety of pulses, pea protein, wheat, sugar, cotton, rice and food ingredients.
WHAT IT TAKES
As with any premium product, food-grade soybean production requires some additional effort. Innes calls the changes that growers of commodity (oil-grade) soybeans who wish to switch to food-grade will have to make 'enhancements' to their existing processes. For example, growers must stay on top of their weed control, and make sure harvest is managed carefully to ensure purity and quality.
"For those willing to put in a bit more effort, it's well worth it for Ontario soybean growers to consider contracting for food-grade," says Innes. "Ontario and Canada have excelled in food-grade production and at this point we have an outstanding reputation. There's a pride in producing a premium product. And for growers interested in getting more return from every acre of their land and every hour of their time, food-grade production is a very good option compared to other commodities. No matter what the price of commodities, the premium for food-grade has remained steady."
Innes notes that right now, premiums for food-grade soybeans vary depending on the contract, exporter and variety, but they are generally in the range of three to four dollars per bushel over soybeans grown for crushing. •