Marketing to Mexico
A GROWING DEMAND FOR ONTARIO WHEAT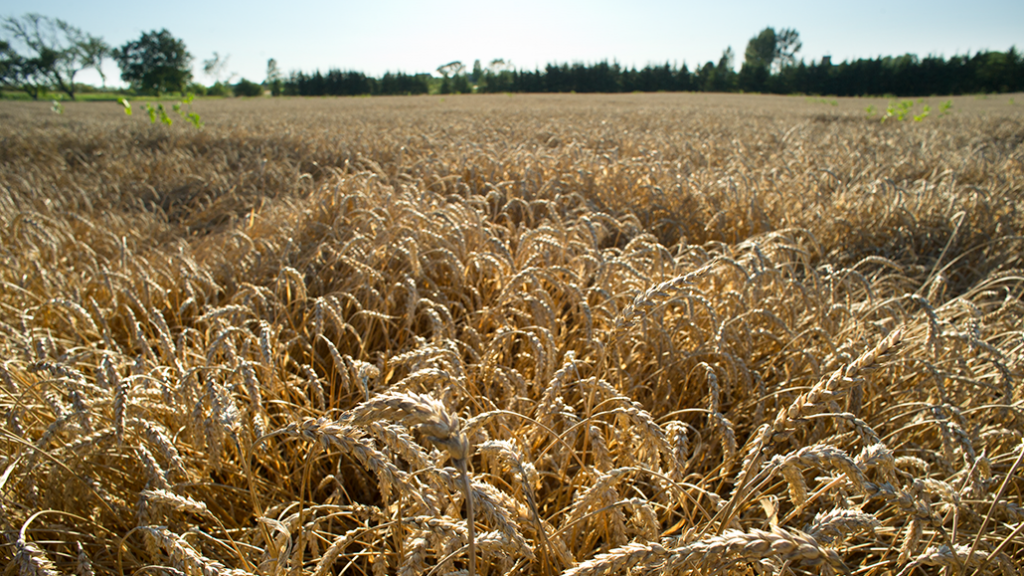 MEXICO HAS BEEN an important export destination for Canadian grain for many years. While the country has traditionally demanded western wheat classes exclusively, it ranked as the top export market for eastern wheat in the last crop year.
What prompted this new and growing market opportunity? In short, the quality and consistency of Ontario wheat caught the attention of Mexican millers.
Luis Cortes, technical and operations deputy director at Grupo Trimex, Mexico's largest milling company, first learned about Ontario soft red winter wheat at a Canadian International Grains Institute (CIGI) meeting in Winnipeg in 2017. A long-term buyer of U.S. soft wheat, he was looking for alternate sources with better consistency when CIGI connected him with the market development team at Grain Farmers of Ontario.
"We learned about the quality of past crops and started asking suppliers to bring samples to the lab in Guelph to be tested," says Cortes. "To our surprise, most of the samples had a very good quality level so we started asking for quotations."
Soon after establishing pricing that was competitive with midwestern U.S. soft wheat, Grupo Trimex received their first vessel of Ontario wheat.
CONSISTENCY WINS
Cortes had previously associated Canadian wheat with the hard, high protein classes ideal for industrial bread making, but milling Ontario wheat proved that good quality softer, lower protein wheat could also be sourced from Canada. It is primarily used in cake, cookie, cracker, and tortilla flours.
While Mexico still imports U.S. wheat and has also developed relationships with Russia, France, and Ukraine, Cortes is continually impressed with the shipments he receives from Ontario.
"Regarding quality and consistency, we are 100 per cent satisfied with Canadian and Ontario wheat," he says. "Crop quality can vary from year to year but we now know that any time we need soft red winter wheat, we will find it in Ontario for sure."
Lisa Nemeth, director of market support and training at Cereals Canada, says quality and consistency are key for millers serving industrial customers.
"Industrial bakeries require more consistency in the flour that they receive because they are setting automated equipment to perform based on quality," she explains. "They need the product to be predictable, and in Canada, we're highly known for shipment to shipment and year to year consistency."
Similar to many other countries, Nemeth says that Mexico is experiencing an evolution that makes grain consistency even more relevant in their market. As the economy improves, people become more interested in new types of foods and demand more pre-packaged foods. This shift drives the need for more industrial level baking and as a result, the importance of wheat consistency increases.
LOGISTICAL OPPORTUNITIES
Daniel Ramage, director of market access and trade policy at Cereals Canada, notes that Mexico is an important market for Canadian grain because of the country's size, economic importance, geographic proximity, and strong trade relationship history.
"Canadian wheat exports into Mexico are a mix of different classes but eastern classes are important and are growing in terms of proportion of our export basket," he says.
According to Canadian Grain Commission data, 264,000 metric tonnes of Canadian eastern soft red winter (CESRW) wheat was exported to Mexico in the 2020/2021 crop year, representing 41 per cent of total Ontario wheat exports. This is a significant change in the marketplace given that no Ontario wheat was exported to Mexico prior to 2013.
"In recent years we've seen exporters taking advantage of opportunities in the marketplace and logistical efficiencies by marketing combination vessels where they're selling Canadian western red spring classes and then adding Canadian eastern classes that can serve a different purpose," explains Ramage.
Nemeth says millers rarely use one type of wheat in a flour so buying a combination vessel from Canada would allow someone like Cortes to receive different levels of protein in one shipment and not have to find as many alternate sources.
"It is very desirable for millers to buy different classes at one time because when they're blending the wheat or resulting flour, it gives them the opportunity to meet quality specifications for their customers," she explains.
For example, a large mill could be producing one or more bread flours using hard, high protein wheat, a cookie flour using softer, lower protein wheat, and also blending the two to meet the requirements of specialty flours.
FUTURE OUTLOOK
Looking ahead, Cortes says growing markets will require Mexican millers to continue to import significant volumes of grain and look for new and alternate sources. He plans to continue to buy wheat from both eastern and western Canada but notes that the cost of logistics will likely continue to fluctuate and sometimes be a challenge.
"When sea freight costs increase, bringing U.S. wheat into Mexico by rail is cheaper than loading a vessel in Canada; but depending on logistics worldwide, sometimes rail is very expensive," he says.
While Grupo Trimex does not currently use hard red winter wheat, Cortes has read about it and believes it will suit some of their milling needs. He is interested in confirming a supplier that will export this class to Mexico.
Ramage expects to see continued growth in the Mexican market driven by forecasted population growth. He says Canada will continue to supply the market and foster customer relationships through efforts like the Latin America segment of Cereals Canada's new crop missions. Grain Farmers of Ontario representatives present detailed information about Ontario crops at these annual meetings. This year, Nemeth says the presentations will be recorded and available for online viewing by any market with interest. •