Seed development: wheat
BREEDING THE RIGHT CHARACTERISTICS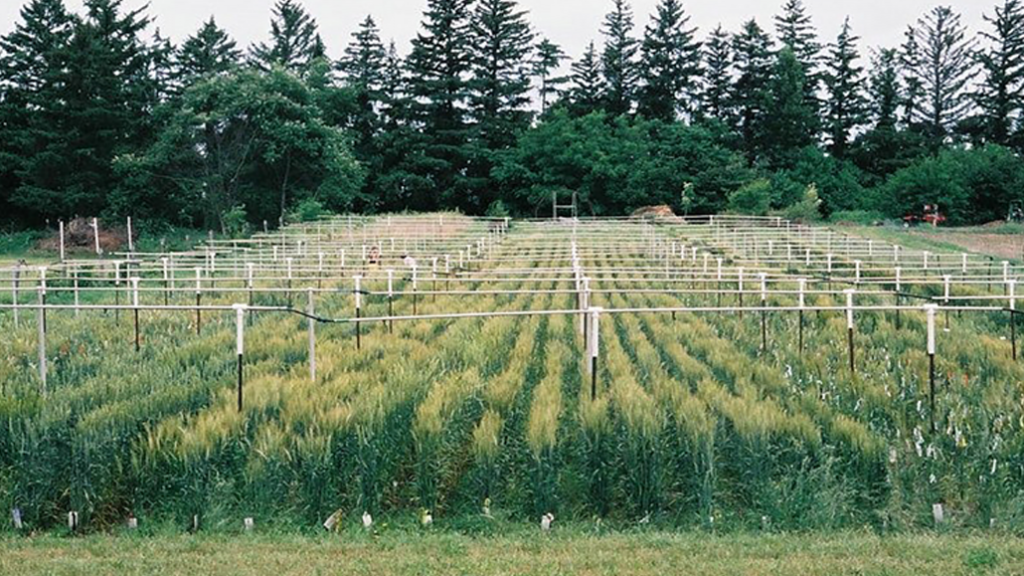 BREEDERS TAKE SEVERAL factors into consideration when developing a new wheat variety, such as yield, quality, standability, and disease tolerance. Each class of wheat grown has its own characteristics and management requirements. Approximately 85 per cent of wheat planted in Ontario is fall planted while roughly 15 per cent is spring planted.
Dr. Ljiljana Tamburic-Ilincic is a recognized wheat breeder by the Canadian Seed Growers Association (CSGA), she is the Ontario Cereal Crop Committee (OCCC) disease coordinator, and is a research scientist based at the University of Guelph Ridgetown Campus. She has a focus on creating new soft red wheat varieties for Ontario.
When Tamburic-Ilincic embarks on the journey of breeding a new wheat variety it can take up to 10 years; however she hopes for it to be a bit shorter using double haploid technology to get homozygous (where an individual inherits the same alleles for a particular gene from both parents) lines sooner in perhaps six to seven years.
"Choosing the right parents before the cross is probably the most important decision," says Tamburic-Illinic.
Yield, fusarium head blight (FHB) resistance, and quality are all important for the cross to have good potential, along with lodging and winter survival. When Tamburic-Illinic is thinking of parents she usually looks for a good adaptive yield for North America, wheat from other regions is also useful but usually the quality is not there — and then the cross would need to overcome this hinderance.
In terms of breeding, a first cross will be created, and a progeny developed. For the first cross, one plant will be the female, and another the male. The pollen is taken from one plant to fertilize the other, and a paper bag is placed around the fertilized plant. The seed is then harvested. This is the F1 generation.
The target is to have 100 lines from one cross as this gives a good opportunity to select promising looking plants. Tamburic-Illinic outlines that they don't want plants that are too tall. They look for plants that have heading dates that work for Ontario, and good winter survival. All plants are planted outside, in small single rows.
LATER STAGES
In the later stages of testing, yield and 1,000 kernel weight come into play, usually in the fifth or sixth generation — or in the case of double haploid technology use, four years after the line has been developed. It is important to compare the new lines with what is currently available. The new potential line needs higher yields than the check and needs to be supported by the OCCC.
Lines are evaluated for resistance to Powdery mildew, Septoria, and Rust (leaf, stem, and stripe). Tamburic-Illinic shared that usually leaf diseases can be controlled with a fungicide application but in being a breeder she needs to bring in resistance. Once there is a good package for leaf disease resistance, then the team can be more specific and look for quality and select progeny. They aim to roughly have 25 lines advance from the single cross which they will investigate further. In general, the aim is for a shorter straw plant with a high yield, however some farmers want straw so it is important to keep in mind if it checks all the other boxes and still is taller than it may advance.
Tamburic-Illinic manages the FHB nursery in Ridgetown, where they inoculate wheat and screen for symptoms along with DON content in the grain. "Even if the line has a good yield, but is susceptible it will not be supported by the OCCC," says Tambuirc-Illinic.
Through looking at more agronomics and quality, the aim is to get down to about 10 lines, which have advanced from a single cross. Selected lines will be tested in areas 1 (Ridgetown/Tupperville), 2 (Palmerston/ Elora), and 3 (Winchester/Ottawa). Once this process finishes, the wheat lines enter further testing and will then be planted from Ottawa to Harrow in 10 different locations.
"At the end of the day, when we select lines, we don't know where they might do the best. We are so lucky to have University of Guelph locations across the province where we can usually have trials in multiple locations to see how lines perform in different areas," says Tambuirc-Illinic.
TRIALS
The wheat will then be placed in the OCCC performance trials.
Once the variety has been approved by the OCCC and registered with the Canadian Food Inspection Agency (CFIA) it will be put into seed increases, trying to get breeder seed available for when a seed company purchases the variety. During the breeder seed increases, the field gets inspected by the Canadian Seed Growers' Association (CSGA) and once criteria have been met, they can license and approach seed companies to purchase the seed. As with many of the university and government breeding programs, SeCan has the first right of refusal.
Breeders need to manage curve balls that the weather or other conditions might throw at them. Tamburic-Illinic highlighted that they have multiple locations, in one year they may lose one location but other areas that are close by can be exceptional. They do save seed in coolers, and if something happens, they have some insurance and can replant a location if required.
"The sooner the grower harvests soybeans the sooner they can plant wheat. In many cases a long season soybean is planted and then wheat planting is delayed, and it influences everything, yield pest pressure," says Tamburic-Illinic. "The goal is to always have improved wheat available for the grower."
Two of her varieties (Marker and UGRC Ring) were registered in 2013 and are still strong contestants in the field.
Laura Ferrier is Grain Farmers of Ontario's agronomist.
ADDITIONAL SCREENING
Looking through another lens of wheat trials and supply, Ellen Sparry, general manager with C&M Seeds, receives seed from breeders usually at the F5 generation and up. It is then entered into their own screening trials to see how the variety performs. A massive amount of data is collected in years one and two. Depending on how it looks in the first year will determine how many locations it is placed in the second, usually contracting plots across Ontario in three to four locations, and then heading onto the registration process if it looks like a winning variety.
"Eighty per cent of anything we do is actually thrown out- that is the goal. Very thorough notes help decide what advances and what is dropped," says Sparry. "About a thousand lines are tested at the beginning. So, that leaves around 200 lines that we move forward one way or another. It only takes one year of disaster for a producer to decide that a great variety isn't good anymore, so it is critical to make those tough cuts when those conditions happen, before those varieties hit commercial status."
Typically, an advancing variety will see two to five years of testing and growth in C&M Seeds' program. There is a lot of effort going on behind the scenes before the wheat seed even hits the field and again once harvest is complete.
Beginning with a 2.5-acre amount of breeder seed, the seed goes through five stages of pedigreed seed, which would lead to having enough quantity to launch a variety.
When asked about the situation with a tough fall and dealing with poor weather when putting in trials and seed plots, Sparry says they get innovative. "We may try to frost seed- but a good seedbed is required. The aim is to not have a lost year and be a year behind, even if there is an open window in November we would put in trials and seed plots regardless."
They also have seed production fields across the province, and contracts with different seed cleaners. The idea is to spread-out risk as much as possible.
When talking about seed treatments they look at what diseases are common across the province and what active ingredients are available to manage the threats. Seed treatment trials are run by C&M Seeds. Justification is required for what they are treating seed with, and they are always looking for new options.
"The Ontario cereal industry is very cooperative; industry, university, and Agriculture Canada all work well together to make sure that good products get into the hands of growers. It is a small industry, and everyone wants the best for the grower," says Sparry. •