Grains on the Go
NEW CONSUMER OUTREACH PROJECT A HIT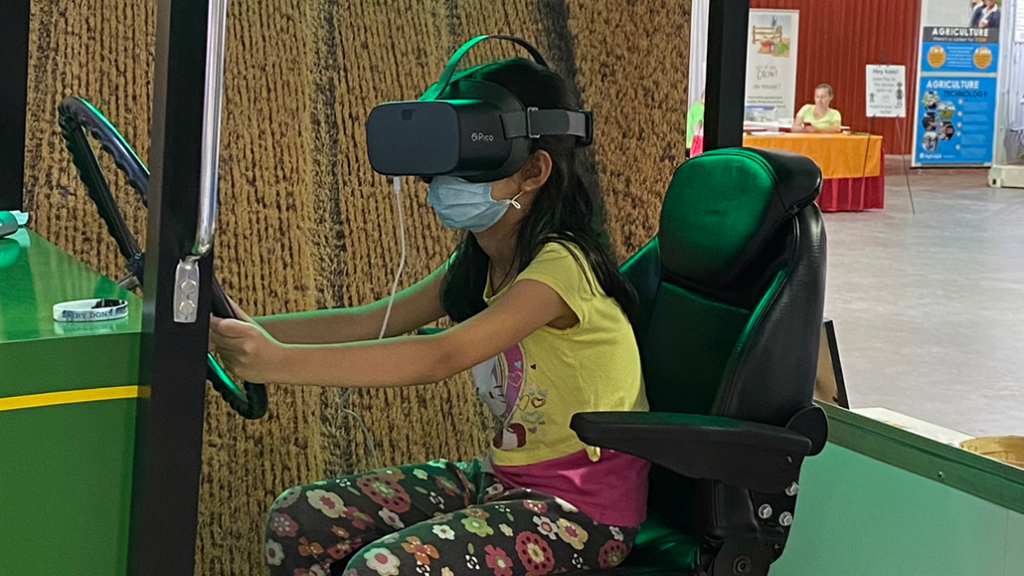 IF THE LONG line-ups and big smiles were any indication, the 360° virtual reality combine experience in the new Grain Farmers of Ontario "Grains on the Go" trailer was a big hit this summer. Kids of all ages were enthusiastic about the opportunity to see what it was like to be a real Ontario grain farmer.
Launched at the 2022 March Classic, the Grains on the Go trailer was featured at summer events including Canada Day celebrations in Ottawa, the Honda Indy, the Canadian National Exhibition (CNE), and the 2022 International Plowing Match.
The virtual reality experience is just one of many interactive, high-tech features of the consumer outreach project. Sitting in an actual combine seat, visitors wearing a virtual reality headset can get a real-life, first-hand perspective of a farmer combining soybeans.
At the CNE, the virtual reality experience served as a launching point for conversations around grain farming, how farmers care for the environment, and how grains are grown in Ontario.
"The virtual reality experience is the best place to have conversations with consumers," says Aaron Curtis, a grain farmer from Grand Valley, Ontario, who helped run the exhibit at the CNE. "While the kids are in the seat, it gives me a chance to talk to their parents."
GOOD IN EVERY GRAIN
The Grains on the Go trailer builds on the success of Grain Farmers of Ontario's Good in Every Grain program, which includes several consumer and educational outreach projects.
"We want to tell the story of grain farming and how it impacts every part of our lives, from our dinner tables, to the environment, to the products we buy in the store," says Victoria Berry, manager of communications at Grains Farmers of Ontario. "The Grains on the Go trailer allows us to share all the good news stories about grain farming by taking our message out to where our consumers are, and is a very eye-catching display that draws people in."
The fully-accessible trailer, which is smaller, lighter, and easier to tow than its predecessor, the "Growing Connections" trailer, has several features in addition to the virtual reality that can educate consumers while entertaining them — including trivia, videos, and interactive displays. The trailer highlights the five grains — barley, corn, oats, soybeans, and wheat — and the Ontario farmers who grow them. Grain Farmers of Ontario staff and farmer-member volunteers are always on hand to answer questions from visitors.
FUTURE PLANS
The Grains on the Go trailer will travel to consumer-focused events throughout the year, including the Royal Agricultural Winter Fair. But it will also complement the successful Good in Every Grain program Good in Every Classroom, which provides curriculum-linked resources and information for Ontario teachers. The Grains on the Go trailer will travel to schools, giving thousands of Ontario school children the opportunity to learn more about grains and grain farming.
"The growth of our Good in Every Classroom programming is a direct result of the demand for our educational resources," says Berry. "Agriculture is not specifically part of the Ontario curriculum, but we've been able to develop resources that link grains and grain farming to what's in the science, technology, social studies, and math curriculum, for example."
Find out more about the Good in Every Grain program, including the Grains on the Go trailer and Good in Every Classroom resources, at www.GoodinEveryGrain.ca. •