Processing capacity growth
INVESTING IN NEW OPPORTUNITIES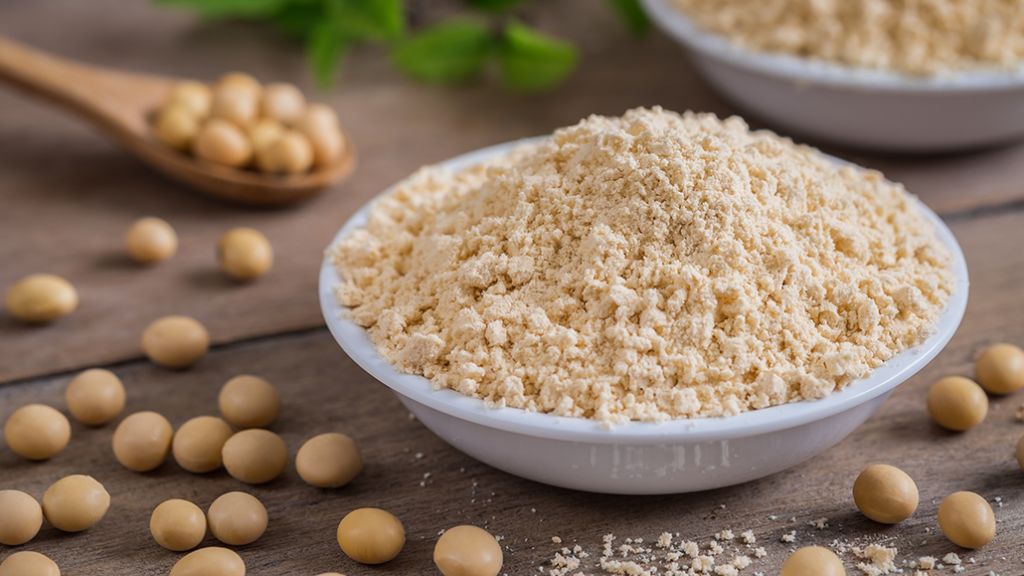 GRAIN FARMERS OF ONTARIO identified protecting and growing markets as one of the key strategic goals in their 2021 Strategic Plan. One of the ways to achieve that goal is to advocate for and invest in growing diversified domestic markets through the development of value-added processing and new end uses of Ontario-grown grains and oilseeds.
The Grain Farmers of Ontario's Grains Innovation Fund invested in a domestic project in 2021 that will create new opportunities for domestic soybean processing, supporting local growers and Ontario's economy.
NEW TECHNOLOGY, NEW OPPORTUNITIES
In July 2022, New Protein International (NPI), Huron Commodities, and Hensall Co-operative's Animal Nutrition Division announced a joint venture that will combine their expertise to optimize a propriety clean-label soy protein processing method. NPI will build and operate a demonstration-scale facility to test, refine, and optimize its proprietary hexane-free processing method, BioPur. Located in Sarnia, Ontario, the facility is uniquely situated between Toronto and Detroit, two North American food processing hubs, and in an agricultural area well-known for growing high-quality and abundant soybean crops.
BioPur incorporates CO2 extraction and bio-based solvents in place of hexane. With investments from partners including Proteins Industries Canada and the Grain Farmers of Ontario's Grains Innovation Fund, the $11.2 million project will help meet the growing demand for non-GMO, sustainable plant-based foods and ingredients. The NPI plant will be the first-of-its-kind processing facility in Canada to manufacture soy protein isolates, soy protein powders, textured soy proteins, and soy powders — ingredients used in consumer products such as baby formula, athletic supplements, and plant-based food products.
"This exciting project… is an important step toward bringing sustainable soy protein production to Canada," says NPI chief operating officer Mark Hamelin.
Huron Commodities, a global provider of custom-sourced grain and seeds projects such as IP soybeans and non-GMO crops located in Clinton, Ontario, will provide soybean varieties for testing, while the Hensall Co-operative's Animal Nutrition division, based in Hensall, Ontario, will test and provide feedback on the ingredients' by-products.
Beyond the pilot testing phase, NPI plans to build a full-scale commercial plant that will help meet the growing demand for plant-based proteins — the global plant-based food market is expected to reach an approximate $250 billion in sales by 2035 — presenting a tremendous opportunity for Canadian-grown soybeans.
"Consumer demands around food production are constantly evolving, and Canada's plant-based sector needs to evolve and adapt alongside them — whether that be through the types of ingredients we use, the varieties of crops we utilize or the processing methods we develop," Protein Industries Canada CEO Bill Greuel says. "Removing hexane from soy protein processing while adding value to the rest of the soybean crop is the kind of innovation that will help us keep pace with what consumers want while also helping Canada meet its economic goals related to plant-based food and ingredients."
Grain Farmers of Ontario's investment through the Grain Innovation Fund helps to meet the organization's strategic objective of growing market opportunities for Ontario growers. "Over half of Ontario's soybeans are exported," says Paul Hoekstra, vice president of strategic development at Grain Farmers of Ontario. "Increasing innovative processing capacity here at home creates valuable new diversification opportunities for local farmers."
THE GRAINS INNOVATION FUND
The Grain Farmers of Ontario Grains Innovation Fund is an annual grant program designed to support organizations utilizing or marketing Ontario grains to expand market opportunities with new and innovative projects. The fund, established in 2010, has supported more than 50 industry projects spanning product development, processing pilots, marketing campaigns and product showcasing activities.
The fund allocates up to $150,000 annually across all projects. Projects that meet the eligibility criteria can receive up to 60 per cent of the cost of their project up to a maximum of $50,000. A successful applicant will utilize at least 40 metric tonnes of barley, corn, oats, soybeans, or wheat per year. The most successful project applications are creative, innovative, achievable, and impactful, with a clearly articulated delivery plan. The project must also meet at least one of the following criteria:
Open new markets for Ontario grains or grain residues
Expand the use of, and demand for, Ontario grains or grain residues
Promote Ontario grains or grain residues as the best choice
Support development of novel value-added products derived from Ontario grains
Increase the value (premiums) of Ontario grains or grain residues
APPLY NOW!
Applications are accepted throughout October. They are then reviewed and selected by the Grain Farmers of Ontario Market Development committee, and successful project applicants are notified in December and January. Successful applicants will be required to enter into a formal agreement with Grain Farmers of Ontario.
Grain Farmers of Ontario invites prospective applicants to engage with the Market Development team at an early stage to discuss their ideas and seek feedback. The application form can be accessed at www.gfo.ca/market-development/ and submitted to Dana Dickerson, manager of market development, via email at ddickerson@gfo.ca.
PROJECTS SUPPORTED BY THE GRAINS INNOVATION FUND
Identifying and commercializing new product applications for by-products from Ontario soybean-based tofu production
Marketing an Ontario wheat-based pelletized straw for animal bedding and garden use
Promoting the influence of Ontario grains in Ontario corn-fed beef in the Japanese market
Transforming bran by-products from milling wheat into a new sustainable cat litter product
Developing and marketing an innovative new soybean-based tempeh product
Promoting upcycled grain food products through an upcycled food festival
Testing new processes for creating cleaner label food products made with Ontario grains •