Drone spraying
AGRONOMIC INFORMATION FROM ONTARIO'S CROP SPECIALISTS
REMOTE PILOTED AERIAL Application Systems (RPAAS), or drones, are making their way onto many farms as a valuable tools for spreading cover crops, scouting, and more (though pesticide application in Canada by drones is currently not permitted). Here is a look at some of the must-dos for piloting or using a drone on your operation.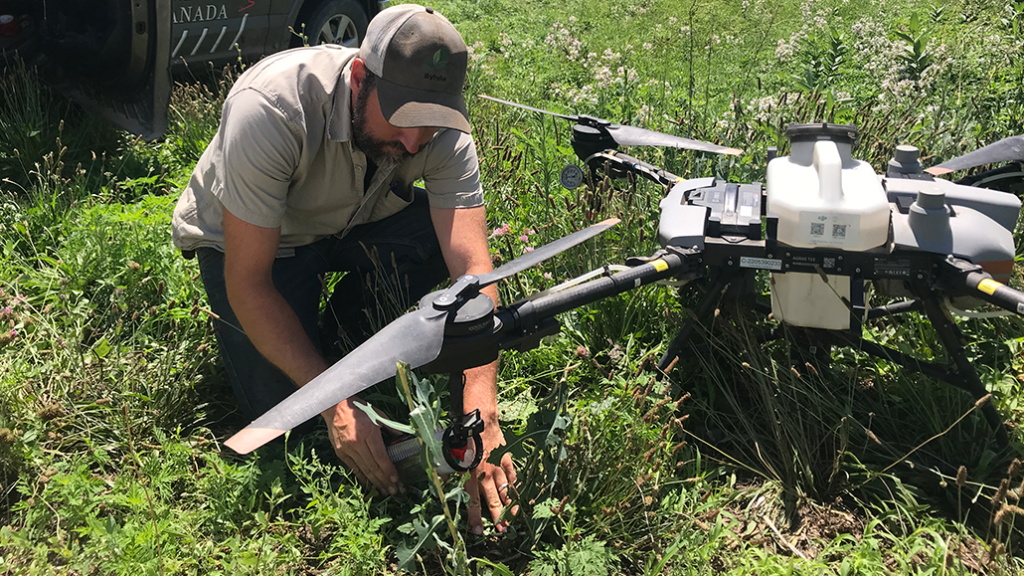 REGISTRATION AND CERTIFICATION
Pilots must register their drone (online for a $5 fee) and display that number on the drone (per Section IX of the Canadian Aviation Regulations). Further, Transport Canada requires pilots to obtain a Basic Operations certificate for drones weighing 250 grams to 25 kilograms. This certificate allows the pilot to fly:
• Outside controlled airspace
• Over 100 feet above people
• In Visual Line of Sight (or in contact with someone in VLOS)
• Over 1.8 kilometres from heliports
• Over 5.6 kilometres from airports
Transport Canada's TP15263 document describes the required knowledge for Basic Operation. The $5 exam allots 90 minutes to complete 35 multiple-choice questions; you need 65 per cent to pass and can retake it after 24 hours. Note you will encounter new questions randomly drawn from their database. I took a $100 Canadian online course to help me prepare for my exam, and I am glad I did.
Your certificate does not expire, but according to CARs 901.56, pilots must successfully complete the following within 24 months preceding any flight:
• Testing/issue of their pilot certificate (Basic or Advanced).
• A Flight Review
• Any of the recurrent training activities set out in section 921.04 of Standard 921 (Proof of Recency)
When flying, the pilot must carry the Certificate and Proof of Recency (if pertinent).
RECORDS
Every owner of a remotely piloted aircraft must keep certain records, and they must be with you while flying. These records must be transferred with the system if it changes hands:
• The name of the pilot(s) and crew involved with each flight, noting the time and date (keep with you while flying for 12 months).
• Detailed records of any maintenance, modification or repair of the RPAAS, including who did what and when (keep with you while flying for 24 months).
For more information, read the full article Droning On and On — RPAAS Pilot Certification in Canada at www.sprayers101.com. •