Growing our grains markets
EXCITING MARKET DEVELOPMENT ACTIVITIES AT GFO
market development is a key pillar of Grain Farmers of Ontario, focussed on providing value to farmer members through premium prices and developing new demand for Ontario grown corn, wheat, and soybeans.
The market development committee of seven, including three directors and four delegates, along with additional supporting staff members, was formed in 2010. The activities of this committee center on consumer education and industry partnerships.
making connections
Consumer education involves initiatives like the BuySmart tabletop display and brochure produced this spring by the GFO communications team and the "Grains in your Life" exhibit at the 2010 International Plowing Match and upcoming Royal Agricultural Winter Fair. GFO provides education to consumers to help establish connections between the products they buy, the foods they eat, and the work and importance of Ontario's grain farmers. An understanding and respect between the urban public and grain farmers is invaluable.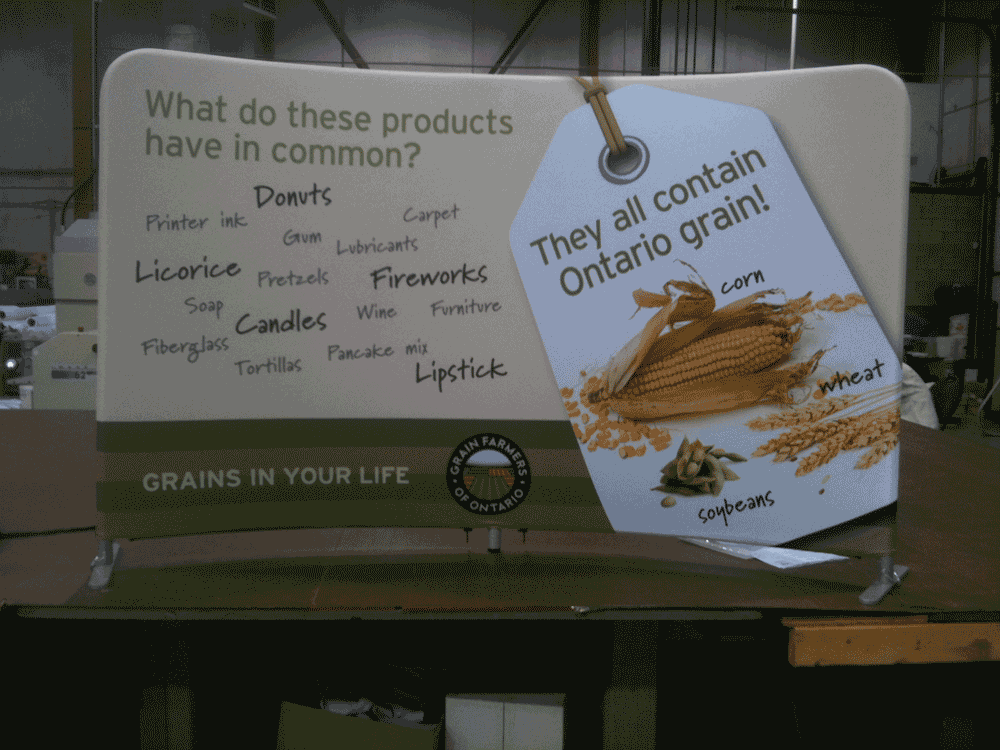 industry partnerships
Of equal importance is fostering our relationships with industry partners. These relationships develop through face-to-face meetings and networking events and are reinforced through mutual interest in opportunities and support.
In June, GFO hosted a "Grow the Grains Markets" industry day in Guelph to forge new relationships and reinforce current ones by expressing our commitment to market development for Ontario grains. The day was a success with a strong attendance of industry representatives from the food processing, industrial products and renewable fuels sectors.
Among additional companies, those attending this event were invited to apply for an opportunity to partner with GFO. Support for selected projects would take the shape of financial assistance, market access (GFO's network of relationships), access to other funding opportunities and partnerships, and help connecting with researchers and institutions.
Specifically, GFO requested applications for projects that:
• expand the use of, and demand for, Ontario grains,
• promote Ontario grains as the best choice,
• identity preserve varieties for novel uses,
• and/or increase the value (premiums) of Ontario grains.
Several interesting applications for project support were submitted by the end of July. The market development committee evaluated all applications based on a number of pre-established criteria. The committee was looking at what direct impact the project would have on GFO's farmer members; would the project increase returns to farmers or increase the use of Ontario grains? Also under consideration was whether or not the project demonstrated return on investment for the industry as a whole, such as  improving infrastructure or creating a new processing facility.
The committee was pleased to accept two projects from this first review. As market development can be highly competitive, details of these projects are currently confidential. But, as the projects develop, GFO will share as much information as possible with our members.
a success story
In 2007, the Ontario Wheat Board, one of GFO's founding organizations, ran the "Wheat Innovation Support Fund". This fund was created to provide financial support and expertise in the areas of product analysis, pilot scale trials and packaging techniques for Ontario-based companies producing wheat based products. Eligible companies were required to use Ontario wheat flour as 50 percent or more of their total ingredient mix.
Out of the Wheat Innovation Support Fund grew a strong relationship with Pita Gourmet. The Mississauga-based company was in the process of developing a new product called the pita bagel. "Our goal was to develop a bagel with a lighter texture than conventional bagels," says Jerry Chizick, Vice President of Handi Foods Ltd. "The pita-bagel has a moist and light core with a crispy crust and is made with a blended flour (50 percent Ontario wheat, 50 percent Western wheat)."
Discussions began in 2008 and the maximum grant amount of $25,000 was provided to assist with testing and development costs. Pita Gourmet successfully launched the pita bagel in June 2010. The pita-bagel, sold under the Gourmet Pita brand name, is currently available in Longo's, Sobeys Atlantic, and Metro/Food Basics Ontario and Quebec grocery stores.
"We are excited to see this project come to fruition and are happy to see consumers enjoying more Ontario wheat products," says Barry Senft, CEO of GFO.
The company's success continues with the recent addition of a new processing line and other new products in testing – further expanding the use of Ontario wheat flour.
moving forward
Market development is an on-going initiative. GFO has established strong relationships with key industry players to ensure new ideas and projects are brought to our attention and supported when necessary. With the goal of securing a sustainable future for Ontario grain farmers, it's important that GFO foster these relationships and encourage new opportunities for corn, wheat, and soybeans. Applications for the "Grow Your Grains Market" support initiative closed in July; however, requests for support are always accepted and evaluated by the market development committee.
For information about GFO's Market Development programs visit www.gfo.ca.
To see the "Grains in Your Life exhibit", visit the Royal Agriculture Winter Fair, or look for the upcoming article in the December issue of the Ontario Grain Farmer. To have the BuySmart tabletop display and brochures at your local fair, contact the GFO office. •