Spring Wheat Challenge winners
WINNERS SHARE THEIR MANAGEMENT PRACTICES
there is NO doubt that growing spring wheat in Ontario is not for the faint of heart. Battling moisture and adverse weather conditions, Ontario farmers work hard to manage their spring wheat crops to ensure the highest yield and the most favourable quality.
"We wanted to bring some focus back to spring wheat," says Jaye Atkins, GFO's Vice President of Strategic Development of the decision to run the challenge in the province. "Although we have had a few challenging spring wheat years, we know we have excellent growers and we wanted to highlight that," he continues.
The challenge attracted a modest number of 29 registrants.
Although numbers were not exceptionally high, GFO is pleased with the participation. "This is the first year of the challenge and there are less acres planted to spring wheat compared to some of the other crops," explains Atkins. "Considering the acreage of spring wheat in Ontario, we're very pleased with how the inaugural year of the challenge turned out."
The challenge was made possible by a generous and exclusive sponsorship from Bayer CropScience.
geographical winners
As the contestants in the challenge were split into two distinct geographic zones – west and east – two sets of winners were awarded at two separate Spring Wheat Challenge Banquets. Three prizes in each zone were distributed. Grand prize winners with the highest yield in both the east and west received a cash prize of $1,500, the second prize winner in each zone was awarded $750 and the third prize winners received $500.
western winner: morley trask
Western Ontario winner, Morley Trask of Alma credits his yield of 83.72 bushels to the land and the season. "It's just good land. It's heavy ground but it's tiled," he says. "That field typically yields about 65 bushels per acre. I attribute it to the warm start it got," continues Trask.
Trask planted his wheat early, getting it in the ground on April 9. The wheat was planted after silage corn which is a deviation from Trask's typical management practices. "We usually plant after soybeans. But, we had a bad winter for hay and I needed more grass, so that's why that field had to come up for wheat," he explains.
The winning field on Trask's fourth generation farm received two cultivator passes before being planted with Sable seed and was sprayed with Proline.
Second place in the west was taken by Bill Nater of Mitchel who planted Sable and achieved 82.79 bushels per acre. Cor Van Gaalen from Clinton scooped up third place with the variety Hobson and his 74.26 bushel per acre yield.
eastern winner: john nanne
With a yield of 74.52 bushels, John and Beth Nanne of Pakenham have been crowned the eastern grand prize winners of the Spring Wheat Challenge.
John Nanne attributes the weather along with his careful production practices to this year's big win. "The big thing is the weather," he says. "We got the right rain at the right time."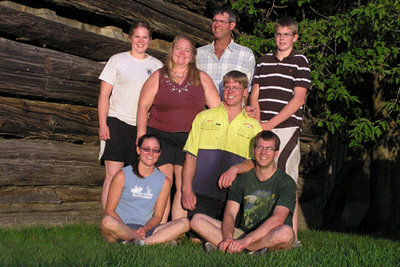 John Nanne and his family
Nanne planted his wheat after soybeans and used specific tillage practices on the field. "We now till the field diagonally once in the fall after beans for two reasons: perennial weed control and improved distribution of soybean residue," he explains. The field was cultivated lengthwise in the spring after an application of urea.
Similar to Trask's practices, Nanne's field was also planted early – April 6 – with Sable and was sprayed with Proline at heading. Nanne had an early harvest and took the wheat off at 15 to 17 percent moisture.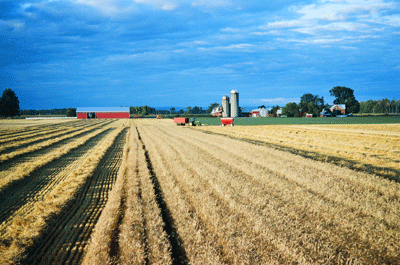 John Nanne's farm
Jockbrae Farms Ltd. of Carlton Place received second place in the east with a field of AC Brio yielding 71.12 bushels per acre. Third place was awarded to Appaulo Farms Ltd. from Carp with 59.42 bushels per acre.
managing for quantity and quality
According to Peter Johnson, Cereals Specialist with the Ontario Ministry of Agriculture, Food and Rural Affairs, these two top growers are on the right track in their management practices. "Planting early had huge benefits this year," he says. "The other key component is the best possible fungicide applied at the right time," he continues. The final thing that Johnson emphasizes is an early harvest.
Clearly, Nanne and Trask, along with the   rest of the winners of the challenge, benefited from both a good year and good management. •