Low potassium is limiting soy yields
ONTARIO SOILS ARE LOW IN POTASSIUM AND YIELDS ARE SUFFERING
this past growing season, hundreds of thousands of soybean acres showed potassium deficiency in the province and there is no doubt that this deficiency is limiting yields.
With insufficient fertilizer applications across soybean acres, it comes as no surprise that deficiencies seem to be getting worse every year. According to a survey conducted by the International Plant Nutrition Institute in 2010, 20 percent of Ontario fields tested 80 parts per million (ppm) or less for potassium. Trials have shown that a value less than  100 ppm for potassium will reduce soybean yields. It's estimated that only about half the amount of potassium removed by crops is being replaced annually with fertilizer and manure.
After nitrogen, potassium is the largest nutrient absorbed by soybean plants. A large portion of this nutrient is stored in the seed and therefore, removed from the field each year at harvest.

Potassium deficiencies will severely cut soybean yield potential, especially when other stresses impact plant health. Potassium influences nodule formation, as well as the plant's ability to resist diseases and insects; soybean aphids reproduce much more quickly on  plants low in potassium.  The nutrient also plays an important role in stalk strength and lodging resistance, influences the uptake of carbon dioxide, photosynthesis and the regulation of stomata opening in the leaves. Ultimately, low soil potassium leads to poor soybean yields.
identifying deficiency
Potassium deficiency symptoms appear as yellowing around the leaf margins. The nutrient is mobile within the plant so symptoms are often seen first in the older leaves because the new growth will rob the older leaves of the nutrient (see photo 1).
PHOTO 1: POTASSIUM DEFICIENCY APPEARS AS YELLOWING OR BROWNING OF LEAF MARGINS OFTEN ON THE OLDER LEAVES FIRST EARLY IN THE GROWING SEASON.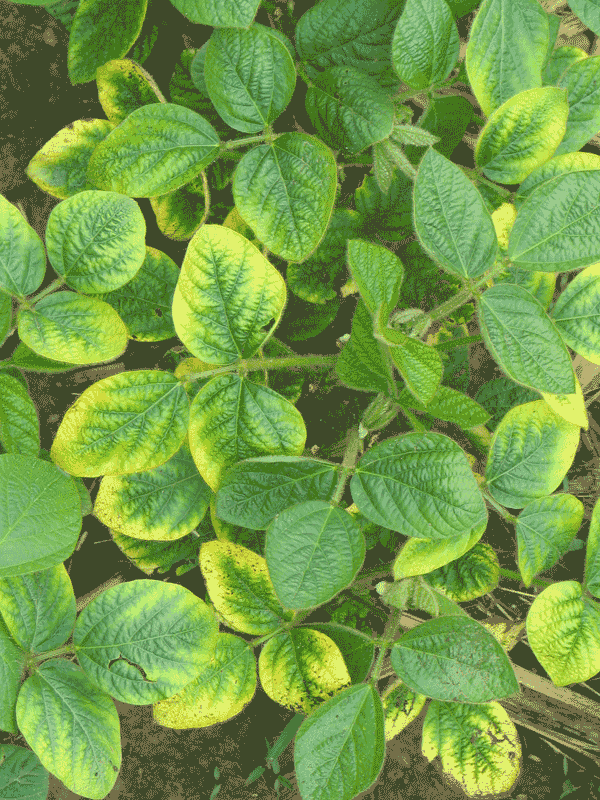 Later in the growing season symptoms may appear on the top growth (newest leaves) because the pods start to rob all available potassium to fill the seed (see photo 2). 
PHOTO 2: POTASSIUM DEFICIENCY SYMPTOMS ON NEWER GROWTH IN A FIELD WITH A SOIL TEST OF 87 PPM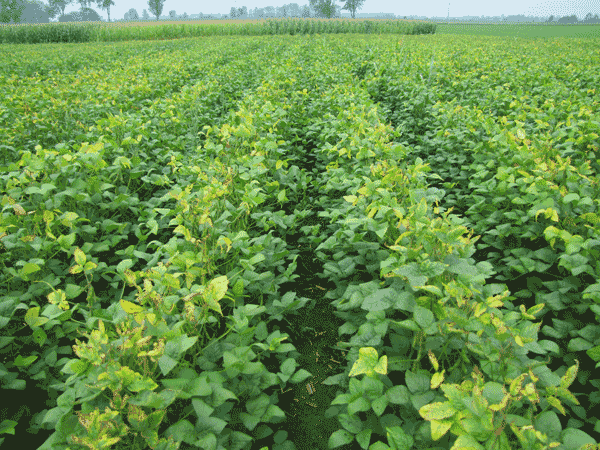 As the pods grow they become the greatest user of postassium, even more than the new leaves. Many Ontario fields showed this kind of yellowing in 2011. Photo 3 was taken at the same location as photo 2 where 125 pounds of actual potassium fertilizer were applied. No symptoms are evident.
PHOTO 3: NO VISUAL SYMPTOMS IN SAME FIELD WITH 125 LBS OF ACTUAL K APPLIED.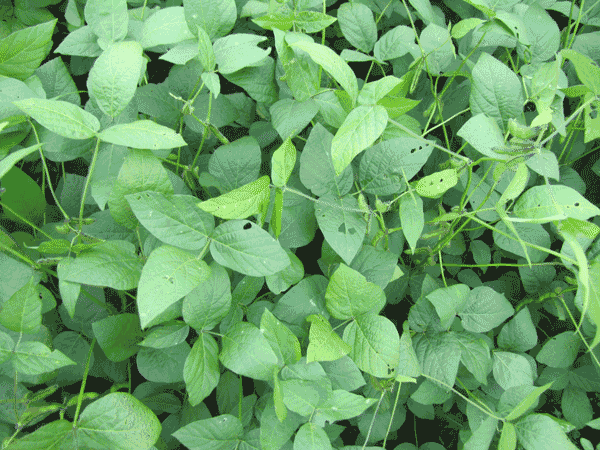 factors affecting availability
Determining true deficiency can be challenging as not all fields that show symptoms are truly soil deficient. Potassium moves to the root by diffusion. Diffusion can only move the nutrient small distances and only if sufficient moisture is present. A root system that is not extensive and healthy will not reach available potassium. Poor root growth due to dry conditions or soybean cyst nematode (SCN) will severely hinder uptake. This is why fields that have SCN often show potassium deficiencies.
In 2011 many fields showed symptoms not only because soil test levels are becoming critical but also because root growth was limited early in the growing season due to dry conditions. Once rain came in August, small roots could not keep up with the increased demand of the rapidly growing leaves and pods.
Although there is considerable potassium in the soil, only one to two percent of the soil's potassium is readily available for the plant. About 10 percent is "slowly" available depending on a number of factors that influence the uptake of potassium. These include:
Soil temperature – As temperatures increase the rate of diffusion and root growth also increases, making the potassium more available.

Soil aeration – Under poor aeration caused by soil compaction, the low oxygen level in the soil decreases the uptake of the potassium.

Soil moisture – When conditions are dry, the movement of the nutrient in the soil to the root is slower. Low moisture also results in more of the potassium becoming fixed in unavailable forms.

Clay and organic matter – Soils that are low in clay or organic matter retain less potassium. Sandy soils may need more frequent applications of the nutrient than other soils.
A soil test is the only reliable way to know if a field is truly low in potassium or only showing stress-induced deficiencies. Symptoms may also indicate soybean cyst nematode feeding on the roots so, when taking soil samples ask the lab to look for SCN.
fertilizer recommendations
Fall is an excellent time to broadcast potassium for next year's soybean crop since it does not leach in the soil. It's also acceptable to apply potassium in the spring but do not place fertilizer in contact with soybean seeds (in furrow). The seed is very sensitive to fertilizer salts. A planter with a separate attachment for dry fertilizer may be used to place the fertilizer two inches to the side and two inches below the seed. Banding actually provides the highest return for each fertilizer dollar but most soybean seeding equipment is not set up for banding.
TABLE 1: PHOSPHATE AND POTASH RECOMMENDATIONS FOR SOYBEANS BASED ON OMAFRA-ACCREDITED SOIL TESTS
Sodium bicarbonate
Phosphorous Soil Test (ppm)

Rating

1

Phosphate (p2o5) Required kg/ha

Ammonium Acetate Potassium Soil Test (ppm)

Rating

Potash (K2O) Required hg/ha

0-3

HR

80

0-15

HR

120

4-5

60

16-30

110

6-7

50

31-45

90

8-9

40

46-60

80

10-12

MR

30

61-80

MR

60

13-15

20

81-100

40

16-30

LR

0

101-120

3-

31-60

RR

0

121-150

LR

0

61+

NR3

0

151-250

RR

0

 
 
 

251+

NR2

0

100 kg/ha = 90 lb/acre

1 HR, MR, LR, RR, and NR denote, respectively, high, medium, low, rare and no probabilities of profitable crop response to applied nutrient. Profitable response to applied nutrients occurs when the increase in crop value, from increased yield or quality, is greater than the cost of the applied nutrient.

2 For a nutrient that has an "NR" rating by soil analysis, the application of this nutrient in fertilizer or manure may cause problems due to reduced crop yield or quality. Phosphate additions may jeopardize water quality. Potash additions may induce magnesium deficiency on soils low in magnesium.
The potassium fertilizer recommendations  below in Table 1 are very conservative and will not build soil tests so higher rates should be considered when possible. However, if soil tests are adequate, extensive Ontario research has shown no soybean yield gain with "extra" dry potassium fertilizer.  If a field has not been soil tested in a few years, it's well worth the time and money to do it.  •