THE NEXT PHASE
as a certified Crop Advisor it has been interesting to participate in the evolution of crop management in Ontario and many CCA's have watched and waited for global positioning systems (GPS) to lead farmers to the "next step". Consultants working with livestock farmers and the provincial Nutrient Management Act have demonstrated that GPS is a good compliance tool to document where soil samples have been taken in fields that have a history of manure but this doesn't help farmers become more profitable.
Then, yield monitors were introduced for combines and again we are watching as  farmers and crop specialists try to make sense out of multiple years of yield maps. There are some fields with multiple yield maps where high yielding areas match  from year-to-year, however many farmers and crop consultants are frustrated with the lack of correlation between the yield maps and potential management zones. However, two precision agriculture techniques have found success in Ontario.
variable rate lime
Grid sampling to determine soil pH allows  farms with low soil pH's to apply different rates of lime with a prescription map and a lime spreader equipped with a variable rate application system. Lime is now frequently applied only were the soil pH from the grid soil sampling indicates that it is required.
auto steering
The adoption of GPS systems with auto-steering components has been very rapid in Ontario as these systems work  efficiently and provide up to 10% savings on seed, fertilizer and pesticides simply by reducing the over-lap of the field equipment on passes down the field. The accuracy of these systems, especially the RTK systems, is truly amazing to those farmers who began their farming careers on a tractor without a cab, eating dust while cultivating fields with 10 to 15-foot cultivators.
In the year 2012, we see that the last 10 to 15 years have simply been a time of preparation of equipment, skills and understanding that gives farmers the ability to variable rate nutrients, seed and pesticides in real time on any field. In fact, Agri-Trend Geo Solutions Inc., a leader in precision agriculture in western Canada, states that "quality precision management programs through multiple field operations has shown combined net returns of over $30/acre". The process is to look at all agronomic efficiencies across the field and precisely applying macro and micro fertilizers, pesticides, irrigation water and any spot treatments.
variable rate technology (VRT)
VRT is a simple concept that takes natural or man-made variability in a field and treats the variable areas differently so that the whole field becomes more profitable. The challenge is to find the best method to document the variability so that the management areas can be mapped and inputs varied according to the map.
The creation of Management Zones in each field is the starting point. There are several sources of information that will assist in  mapping these zones in a field:
1. Bare Soil Images – aerial images or soil maps
2. Topographical Maps – from GPS data files
3. Electrical Conductivity (EC) Maps – mobile machines can accurately map EC levels
4. Farmer Experience – if a farmer has experience with a field this is very important
5. Yield Maps – the multiple year yield maps are used after other methods define areas of soil organic matter, drainage, topography, etc
6. Remote Imagery – real time images of crop growth or pest problems and drainage issues
mapping using the new swinglet cam
This new technology tool, developed in Europe, has the potential to create aerial maps in high resolution (up to 5 cm/pixel) with ease. Thanks to artificial intelligence, this 80 cm wingspan aircraft, flying and landing by itself, will automatically capture images of a field and create a geo-referenced map. It will also document crop pest problems, poorly drained areas, eroded areas, etc. The on-board digital camera can also take images that can be mapped with Normalized Difference Vegetative Index (NDVI) technology to show the vegetative index of a field — a measure of plant growth, vegetative cover and biomass production from satellite data.
THE ELEGANT DESIGN AND 80CM WING SPAN OF THE SWINGLET CAM ALLOWS EASY TRANSPORT IN STURDY CASE.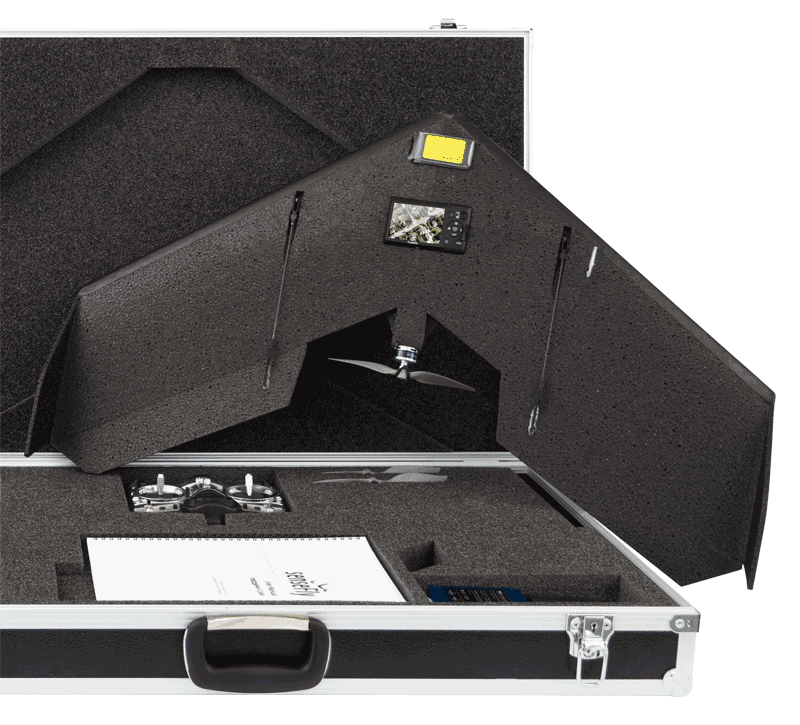 FOR PHOTO TAKING, THE AERIAL SHOT OVER THE POOL, THE SWINGLET CAM PROVIDES HI-RESOLUTION AERIAL IMAGERY.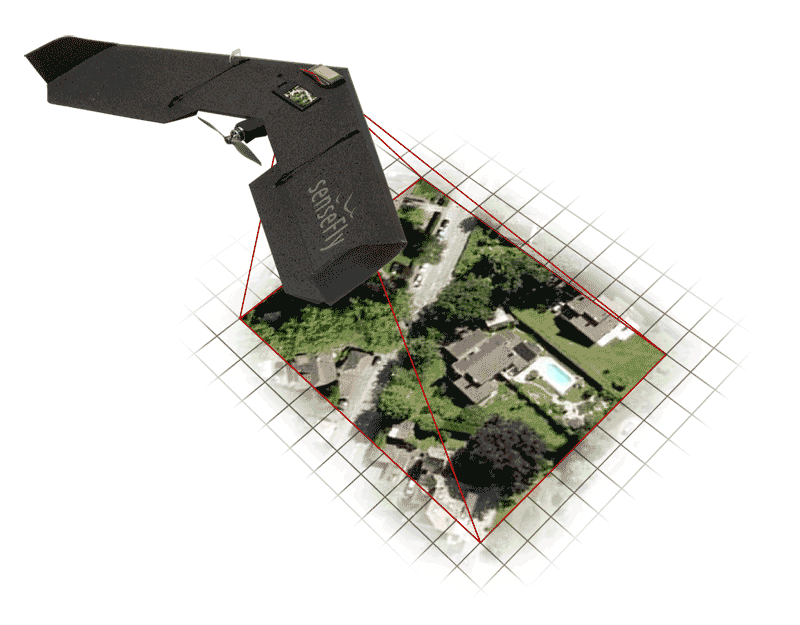 Felix Weber, owner of Ag Business & Crop Inc. from Palmerston, and the distributer of the Swinglet CAM in Canada has considerable experience with the use of the aircraft and post-flight services to create maps. Felix explains that software will "mosaic stitch the over-lapping pictures into one high resolution map" and this map can be used to produce an NDVI zone map that will show differences within the field from soil texture, crop growth and density. The NDVI map will also show differences from pest or crop health problems in the field depending on the timing of the flight and pictures.  An added bonus is that the swinglet CAM can locate "special crops" planted by visitors to your farm.
   
Another benefit of working with the swinglet CAM is the option to use its Near-Infrared (NIR) camera which can identify crop health more concisely. Felix comments that the swinglet CAM can be easily transported from field to field without disassembly so it can be ready for action with a prep time of about five minutes for flight planning.
The season for precision agriculture is here. Several companies have made significant investments in VRT and are jockeying for position in this next growth area for crop management. Certified Crop Advisors will play a major role in this area as the prescription for each field must be prepared by an experienced person who understands the field variability and the role of each nutrient, pesticide and management technique required to help each farmer become more profitable on every acre.
Steve Redmond is a Certified Crop Advisor who operates Redmond Agronomic Services, an independent crop and nutrient management consulting business based in Lucan, Ontario. •