A hybrid of two farming cultures
A MIX OF PRACTICES EQUALS SUCCESS
when bert von westerholt set foot on Canadian soil in July 1977, he was 18 years old, fresh out of high school, and with the ambition to farm. Having grown up on a farm in native Germany, von Westerholt had experience, though he was new to farming in Canada.
Today, from the farm he's built near Harriston in partnership with his brother, he reflects on the growth and changes he's encountered over 35 years of farming here. The path hasn't always been rainbows and sunshine, but von Westerholt was often able to overcome challenges by blending the two farming cultures he knew.
The 250-acre plot of land near Harriston where von Westerholt got his start had been purchased by his father in 1973 and was being rented out. At that time, the original farm in Germany would not be enough to sustain one, or even possibly two brothers farming so the family had shifted their focus internationally.
When von Westerholt arrived in Canada he was tempted to establish a cow-calf operation. However, after working the first few years on other farms, including a 150-head beef farm in Milton that happened to cash crop 5,000 acres, von Westerholt was hooked on growing crops. So together with brother Egon, who had also immigrated, the von Westerholts started to concentrate on their farm in the early 1980s.
Adapting to their new country wasn't easy, but the von Westerholts were determined to make it work. "My father encouraged us to look and learn from what the other neighbours were doing," said von Westerholt. "Then after a while if we felt we could do something different we should try it."
So in 1983-84, von Westerholt became  involved with some farming friends to grow red wheat in Ontario, a crop he felt then held a lot of potential for growers. Around the same time, von Westerholt noticed that the machinery available locally was not geared towards the intensive field management he wanted to do with crops such as wheat, barley and oats. So, von Westerholt started importing European machines for himself and others to use.
At that time, GPS navigation for farm equipment was relatively unheard of in Canada and Germany, though von Westerholt was aware of machines in Europe that had tramline navigation systems installed, so he brought tramline grain drills to Canada too.
PHOTO: BERT VON WESTERHOLT IN FRONT OF A TRAMLINE GRAIN DRILL BROUGHT OVER FROM GERMANY.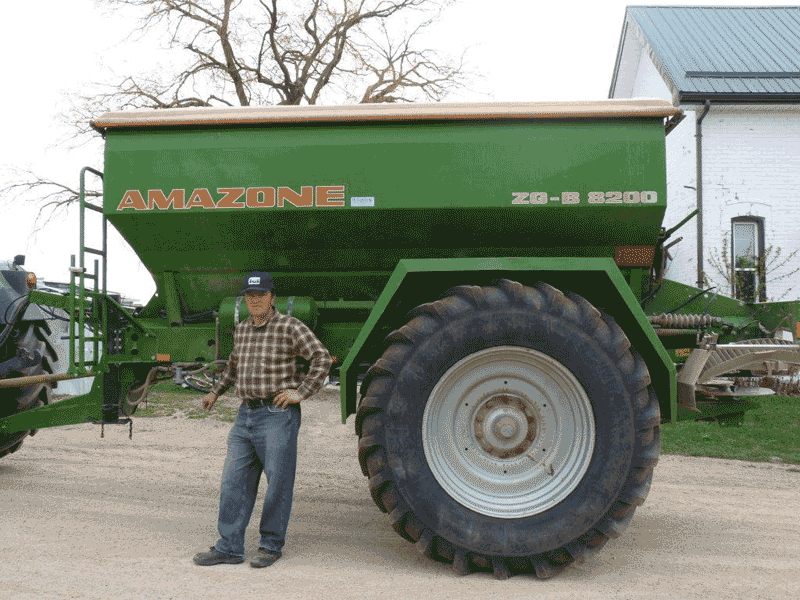 "With the European drill, we could move from planting wheat in 7.5 inch-row spacing to 3.5 inch and do it with more even distribution than the North American machines could," said von Westerholt.
Despite these advances, von Westerholt was frustrated that Canadian growers did not have all the fungicide and other chemical options that European farmers had, so he encouraged the farm organizations and the chemical companies to push for more licensing for fungicides. 
"As growers, we did all we could to manage our crops with input fertilizers and other tools, yet without the fungicide options our yields were really being hampered," he says. While it took two decades of persistently pushing, von Westerholt says the fungicide issue was finally resolved in the early 2000s.
"Today it's not an issue anymore," he says. "We either have the same chemical options as the Europeans, or we get them within a year or two."
Despite the tremendous yield increases von Westerholt was gaining with his style of intensive farm management, prices were still really low in the 1980s.
The real reckoning point came in 1989. Von Westerholt recalls what it was like to travel back to Germany when the Berlin wall opened up. "Prices were so low then we were ready to pack it in and go home," he says, noting that year corn was selling for $80 per tonne in Canada, while German farmers were paid the equivalent of $240-250 per tonne for their corn. The brothers considered shipping corn to Europe, but the duties were just too high to leave any room for profitability, they even looked at farms in East Germany where they could establish, but the poorly regulated environment was not for them.
They decided to continue building opportunities in Canada. Von Westerholt says the turning point came around 1994 with the introduction of the provincial GRIP program – Gross Revenue Insurance Plan – which paid higher subsidized prices. "At least we got our cost of production out, and from then on things were way better," he says, noting wheat prices were around $140-150 per tonne.
Today the brothers farm 5,700 acres growing a wide variety of crops, including wheat, corn, soybeans, barley, oats, canola, and cranberry beans. Their land is spread in two regions about 70 kilometers apart, with one third of the land on Lake Huron and two thirds in the Harriston area. That means they're always moving machines on the road, so they opt for the higher speed tractors that allow them to cover the distance faster.
Von Westerholt says they try to crop in areas before moving on, to limit the amount of traveling back and forth. Though he adds this is more difficult now that the Harriston farm is tile drained, which means it's ready at the same time as the land on the lake.
When asked to compare and contrast the two countries he has grown to know, von Westerholt rhymes off a number of factors. Canadian cash croppers rely on world prices, while Europeans are subsidized; by March in Germany most farmers are on the land, while in Canada there's nothing going on until mid-April; by embracing Bt varieties in particular, North American farmers have made bigger advances with corn than farmers in Europe; Canadian farmers have more freedom than European farmers facing stricter rules and regulations, especially environmental. 
"The advantage is we can do more here before the regulations come," says von Westerholt, adding there's a 15- to 20-year lag on the incorporation of similar environmental regulations in Canada.
Canadian farmers are more open and share more, says von Westerholt. He describes how in Germany a farmer would never consider relocating from one region to another. "They couldn't survive," he says, mentioning the differences in dialect between regions that make communication a challenge, and the more private nature of farmers and less supportive environment for new neighbours.
There are also opportunities for farmers in the two countries to learn from each other, von Westerholt believes. "Canadians are way more advanced with their no-till practices, though German farmers are starting to catch up." Until now, no-till wasn't as common in Europe where corn prices had been historically higher.
In contrast, von Westerholt believes German farmers spend more time figuring their cost of production – and this influences their approach to the value they place on land purchases and rent.
"Today, our farm land prices are unrealistic and out of reach," he says. "Land in this area sells for $10,000-12,000 per acre. Even with the high interest rates in the 1980s it was easier to buy land then at $800-1,200 per acre compared with now."
He describes how his sister, who lives on the family's original farm in Germany, advertised for farmers to rent her farm land. "She received three bids from farmers and all offered the exact same amount of money for rent," he says. "Here, there would have been three different amounts offered."
"We tend to follow our emotions more and not use the logic of our cost of production calculations," he says. "It's so easy to get caught up in not wanting to lose a farm, that each time you bid higher and rent no matter what the cost."
Looking ahead, von Westerholt hopes to sustain what they have. He's also keen to explore other specialty crop markets. "We have to look for new markets so that we can cushion ourselves a bit," he says, adding they don't want to become dependent on any one crop. With a teenaged son and nephew also hoping to farm, von Westerholt says the next generation will likely continue the farming tradition that's been in the family since the 12th century. •