ORGANIC FARMER VERSUS ARMY WORM
instead of looking out over green acres this year, Richard Blyleven is getting used to looking at dirt. Army worm decimated the organic corn and hay fields on his farm near Cayuga, Ontario this season. Blyleven began the transition from conventional farming to organic farming about ten years ago, primarily to produce feed for his organic egg operation, but also to take advantage of market premiums. This year, however, premiums won't be enough to recover the yield losses  he's experienced.
Blyleven planted his corn around May 12 this year. "It looked good," he recalls. "I was on track to have a pretty nice crop". On June 11, army worm invaded his area and his prospects changed almost instantly. "All my neighbours are conventional farmers so they were able to spray, which made my farm a prime destination for the army worms".
PHOTO 1: THE MOIST STRIP THAT STOPPED THE ARMY WORMS – TO THE RIGHT, BARREN CROPLAND, TO THE LEFT, HEALTHY CORN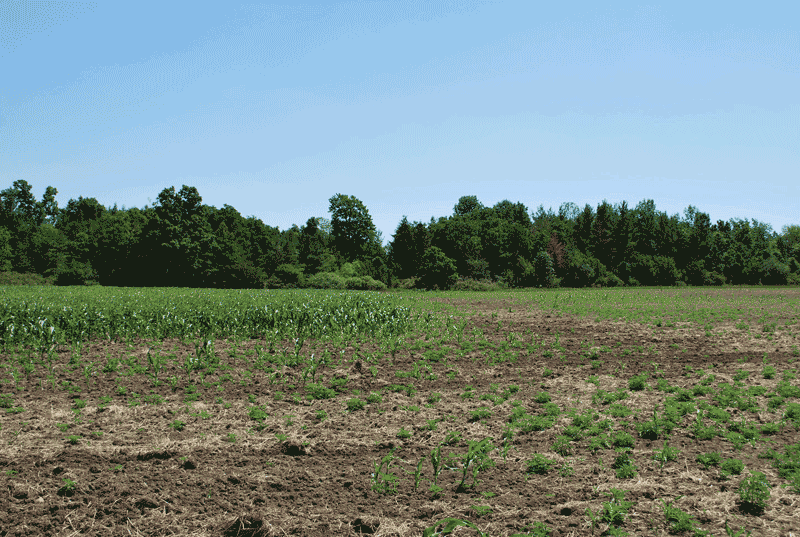 The worms munched on Blyleven's corn and hay fields for three days; and as an organic farmer, Blyleven didn't have many effective tools to stop them. The worms destroyed about 50 percent of his hay crop and 75 percent of his corn crop. Typically, Blyleven achieves about two-thirds the yield of his conventional neighbours. This year he expects to achieve about a quarter of that two-thirds.
The only corn that survived was in an area the army worms simply couldn't reach. "We had significant moisture around June 11 and there was a particularly wet strip through our corn field," explained Blyleven. It's easy to see where the wet strip is because on one side is barren land and on the other are lush corn rows. "It seems the army worms weren't able to cross that strip of moisture," says Blyleven with a smile.
PHOTO 2: RICHARD BLYLEVEN AND HIS REMAINING CORN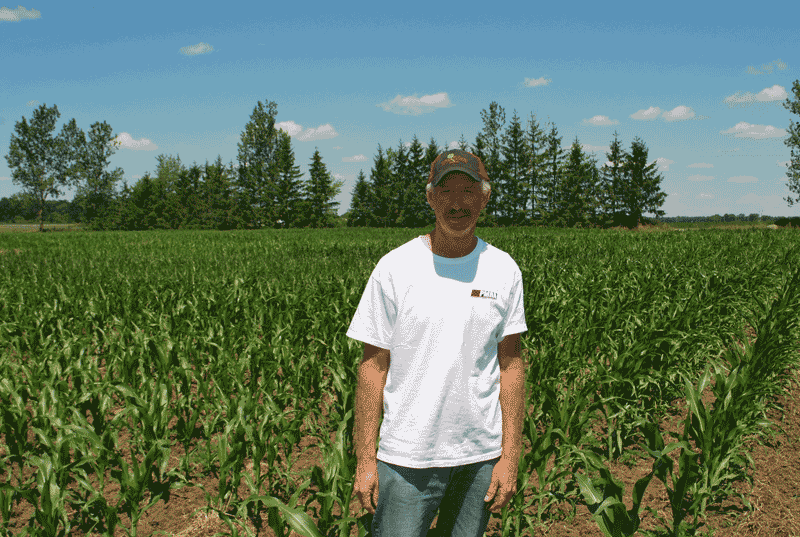 With so much loss, it's fortunate that Blyleven is an optimist. "The silver lining is I won't have to pay any income tax", he laughs. And when asked how he plans to rebound from this, Blyleven quoted the famous Red Green – "you gotta keep your stick on the ice!"  •