Growing beyond subsistence farming
PART 1 – EXPOSURE-4-DEVELOPMENT TOUR
my week in Kenya began in a slaughterhouse and ended surrounded by roses. They were fitting bookends for an eye-opening journey, filled with the challenges, frustrations and hopes of farmers and agriculture in a country with so much potential and too few structures in place to help realize it.
For six days, I bounced, slid and at times sputtered down the highways and back roads of Kenya with a bus load of fellow agricultural journalists from around the world. The trip, known as the Exposure-4-Development media tour, was organized by Agriterra, a Dutch organization working to build capacity with farmers and farm organizations across Africa.
From the capital region of Nairobi to the cradle of colonial settlement in the Central Highlands, and through the magnificent Rift Valley, we met with farmers, extension workers, processors, social entrepreneurs, and bankers. What emerged was a snapshot of Kenyan agriculture today, a glimpse of the future that could be, and a taste of the challenges that Kenya's farmers will face getting there.
Agriculture is one of the primary drivers of the Kenyan economy. Despite an alarming lack of infrastructure, it accounts for 25 percent of the country's gross domestic product (GDP), and employs 75 percent of working age Kenyans. Cash crops like tea, coffee and tobacco dominate exports along with a horticulture sector that supplies roses and other flowers to European and American markets.
subsistence farming
When it comes to food production, however, farmers are struggling to grow beyond a history of subsistence farming. In many ways, production here is a glimpse back in time. It is an industry dominated by small hold farmers with less than five acres, where labour is largely done by hand – whether it's breaking ground, planting, weeding and harvesting, or gathering forage and milking dairy cows.
The livestock sector is supplied largely by the Massai, a tribe of nomadic pastoralists who range throughout southern Kenya and northern Tanzania with their cattle, sheep and goats.
Cereal production is synonymous with maize, the main food crop in Kenya and much of East Africa. Maize accounts for 90 percent of the cereals planted, while wheat, sorghum, barley, millet and rice account for the other ten percent.
Despite a persistent demand for maize, margins are very slim. A lack of storage capacity, poor transportation infrastructure, and price volatility are major barriers, but the biggest challenge to overcome is changing the attitude towards farming.
"Growing maize is not a business; it's a way of life. People believe this is all that is available to them," says Justus Monda, vice chair of the Kenya Small Scale Cereal Growers and deputy national chairman of the Kenya National Federation of Agricultural Producers (KENFAP). "This is a concept that we need to change. Farming should be a business, and for it to be a business there are channels we need to follow."
PHOTO: JUSTUS MONDA, VICE CHAIR OF THE KENYA SMALL SCALE CEREAL GROWERS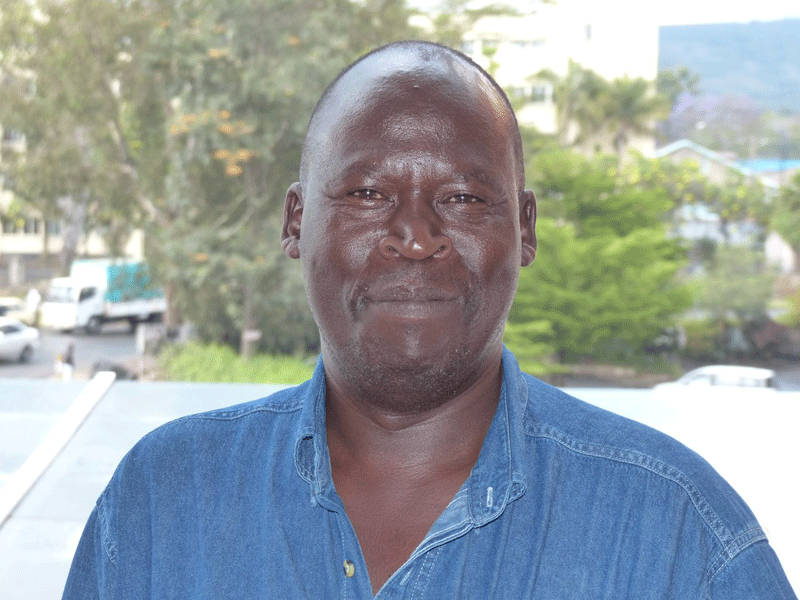 changing systems
Under the colonial system, markets were managed by the colonial government. Following independence, the national government continued to play a significant role. In the '80s and early '90s, the government entered into protocols with the World Bank without involving the farmers and preparing them for what the structural adjustment meant for them.
"I see it as a problem at two levels," Monda explains. "At the government level, we inherited a colonial system where markets across the board were structured under the same system. When the market opened in the name of liberalization, farmers didn't understand the new marketing channels."
"On the side of the farmers, we have not reconciled our thinking to see what we can do, how competitive we can be, how we need to organize in order to meet the current status," he adds.
Recently, small groups of farmers have been banding together to form "self-help groups" – miniature cooperative-style groups that are negotiating contracts with schools and other institutions to buy their maize before they plant.
Monda grows maize and sorghum on his 2.5 acre plot, and has established contracts with three schools in his region to supply maize. These arrangements give him greater control of his crop planning and prices. He also works with other farmers in his area to ensure he can get the quality and quantity of maize required by the schools.
"If you produce first and then discuss price when the produce is ready, that's not business, it's subsistence. This is the cycle we have to break," he says.
According to Monda, there are two things that need to be addressed in order for the cereals sector to move forward – food security for small scale producers and a business model that works in the current context.
"For the last ten years the Kenyan government has tried to see if the systems can be structured to accommodate a changing world. This is why organizations like KENFAP look at what are the gaps that the farmers need to fill in order to compete in the global market. We need to be organized locally and nationally so we can move out beyond the borders," he says. •