THE STORY BEHIND THE PICTURE
former junior hockey player Justin Dorland has learned that, as an eighth generation farmer, working with the land and animals runs too deep in his blood for him to leave it.
PHOTO: Justin Dorland is one of this year's 'Faces of Farming'. Grain Farmers of Ontario sponsored his page in the 2013 calendar produced by Farm &?Food Care Ontario.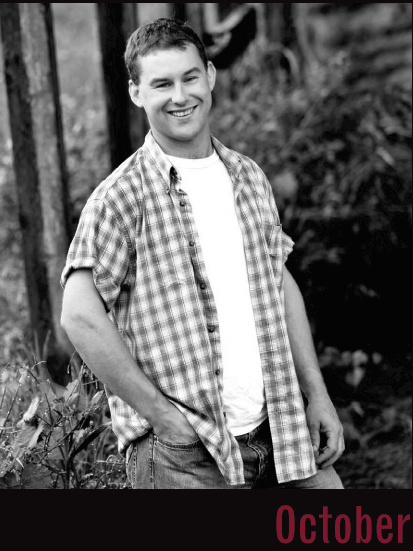 Following high school, Dorland took a year off to play junior hockey and study computers. He then shifted to studying agronomy at university which began his journey back to the family dairy farm. This year, Dorland is featured in the 2013 Faces of Farming Calendar published by Farm & Food Care Ontario. His page is sponsored by Grain Farmers of Ontario.
"Farming wasn't always the path I thought I would choose after high school. I tried a few other things, but in the end I returned," says Justin.
Following his 2005 graduation from the University of Guelph, Dorland decided to work off-farm for three years at a local farm supply store as a dairy nutritionist. This experience has also helped back on his family farm.
He believes the opportunity to work off-farm between finishing school and returning to farming is important to help gain experience in different areas.
The farm which Dorland returned to has a long history with his family. It was established by his ancestors in 1827, and has been owned by his family ever since. Dorland is the eighth generation of his family to work on the farm. 
Along with farm responsibilities, Dorland has become involved in various agricultural organizations. He is taking part in the Grains in Action program run by Grain Farmers of Ontario. He is the president of the Quinte Soil and Crop Improvement Association. Growing up, he was actively involved in the 4-H program and while at the University of Guelph, he held various positions on the class executive.
Dorland is married to Jennifer, who he met at the University of Guelph. Jennifer was raised on a beef and cash crop farm, still operated by her parents. The couple has two young daughters, Lauren (3) and Audrina (1).
When he can find some spare time, Dorland continues to play hockey and ball hockey. 
Although farming may not always have been the career Dorland saw himself choosing, he is happy to be working in an industry he has so much dedication and passion for.
"Farming came naturally to me, partially from growing up on the farm and helping my parents, and partially from having such a strong family history in it," says Dorland. "I'm glad to now be raising my own family here."
The Faces of Farming Calendar is still available at TSC stores across Ontario or from www.farmfoodcare.org. •