Out-yielding the competition
SPRING AND WINTER WHEAT CHALLENGE WINNERS
growers that were outstanding in their field were honoured in the 2012 Yield Challenge created and hosted by Grain Farmers of Ontario.
Meghan Burke, who coordinates the program, says the competition is all in good sport and recognizes those with high yields. "It's a friendly competition between farmers," she says.
The Yield Challenge recognizes outstanding crops in spring wheat, winter wheat and soybeans (non IP and IP divisions). This is the third year for the spring wheat competition, and the second year for winter wheat.
The top three placements in each Yield Challenge are awarded $1,500, $750 and
$500, respectively. Burke says this year marked the introduction of an added perk for growers with the Spring Wheat 100 Bushel Challenge. All growers topping the 100 bushel mark with spring wheat were awarded $100 cash and a gift basket, sponsored by C&M Seeds.
spring wheat
For Del Cressman, the 2012 Spring Wheat Yield Challenge was a family affair. He took top honours with a 112.87 bushels per acre (bu/ac) yield, while his daughter and son-in-law, Sonya and Mike Arent, earned second place. The results came as a surprise, says Cressman.
PHOTO: HARVESTING AT DEL CRESSMAN'S FARM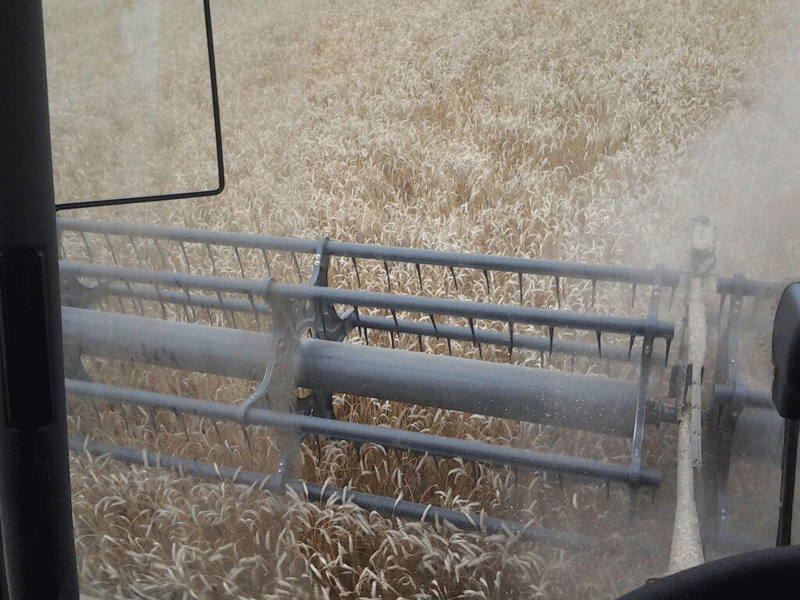 "I knew it was a good crop, but didn't realize just how good," he says, adding the average was 95 bushels on all his spring wheat acres.
Cressman crops 4,500 acres and runs a small grain elevator as part of Hasta Farms Ltd. near Listowel. Both his daughters are involved with the family business. He says they regularly rotate through corn, soybeans, winter wheat, spring wheat, white beans and adzuki beans – a Japanese bean they've been trying the last three to four years.
Cressman believes it was the site selection and turkey manure that helped the bushels stack up during 2012's spring wheat harvest. He had tried this combination six years ago and yielded 80 bu/ac, and was keen to try the approach again.
"We started with high fertility soil," he says, noting turkey manure with straw (three metric tonnes per acre) from a neighbouring farm was also added. The ground was worked lightly with a soil finisher, then rolled, planted and rolled. Cressman says this year no starter was applied, typically considered a "no, no", though he wanted to see if the turkey manure would provide enough of a jump.
In total, 250 acres were planted in early April to spring wheat at a rate of 150 pounds per acre with treated Wilkin seed from C&M Seeds. Originally, the winning field was supposed to be planted to corn, however, three days before planting Cressman felt the partially tile drained field was good and dry, and the switch was made to spring wheat.
Applications were made with 28 percent Nitrogen (25 gallons per acre), a herbicide, a plant stimulant, and two passes with fungicide throughout the growing season.
At harvest, Cressman found the management combination resulted in both high yield and quality – protein tested at 12.2 percent, earning him a protein premium. Only one spot of the field was knocked down by rain enough that 40 acres were combined in one direction.
"There's no real magic. We do some things right, and luck is three quarters of it," he says. "The number one thing is to have the right mind set – to do it right."
Cressman adds the biggest change in recent years has been the approach to planting. "We keep the planter running slow to ensure there's even depth and good coverage. We're much more careful."
"To get more than a straw crop and see decent returns, spring wheat needs to be put on the best ground," he says, adding he's already targeting his higher fertility acreage for the coming year's spring wheat plantings.
Second prize in the Spring Wheat Yield Challenge was awarded to Mike and Sonya Arent of Arecress Enterprises in Listowel, Perth County for their yield of 95.46 bu/ac (variety: Wilkin).
 
Third prize was awarded to Bill and Darlene Nater of Mitchell in Perth County for their yield of 88.89 bu/ac (variety: Sable).
The Spring Wheat Yield Challenge was sponsored by Bayer CropScience Inc. Canada and C&M Seeds.
winter wheat
In April, when the crop started to look lush and green, and the tillering was coming on strong, Ray VanDerMolen knew he had something special. So when his local agronomist suggested they enter their field in the Winter Wheat Yield Challenge, VanDerMolen was game.
PHOTO: HARVESTING WHEAT ON RAY VANDERMOLEN'S FARM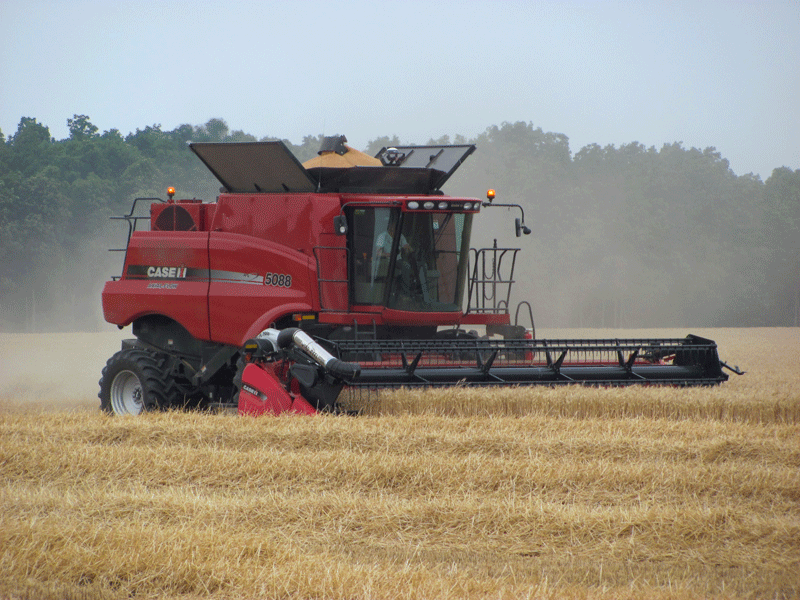 VanDerMolen was recognized in December as the winner of the 2012 Winter Wheat Yield Challenge, at a banquet held in Ingersoll. His hard red variety 25R40 from Pioneer tipped the scales at 144.41 bu/ac yield.
He credits two key factors with contributing to the outstanding yield: manure application and the previous year's rotation.
"The field had lots of manure and that helped us win the prize," he says, adding in addition to 800 acres of cash crop, VanDerMolen Farms Inc. near Jarvis, Ontario, also comprises a dairy herd milking 95 registered Holsteins, and a 74,000 bird broiler operation.
In 2010, the particular field was planted in corn and plowed down in the fall. However the clay, un-tiled soil in Haldimand County would be too wet in the spring of 2011 for planting, so the field was kept for  summer fallow.
"We prefer not to summer fallow," says VanDerMolen, "however, it just worked out that way, and in the big picture it looks like it gave the soil time to rest and rebuild nutrients for an exceptional crop this year."
Lots of livestock manure and conventional tillage prepared the field for planting mid-September with 1.6 million seeds per acre of wheat using a conventional drill. With the help of agronomist Kevin Van Netten, variety 25R40 was chosen for its shorter stalk and better standability.
A mild winter that followed meant no winter kill. Careful management resulted in an application of 28 percent Nitrogen (30 gallons per acre), two passes with fungicide, and finally a pass with insecticide to ward off army worms.
"We hired a custom operator with a large sprayer to minimize damage to the crop. He was able to drive in the same tracks each time," says VanDerMolen. The crop was combined in early July 2012.
This was VanDerMolen's first time participating in the Yield Challenge competition, though it won't be his last.
"It was easy to apply and very user friendly," he says. "I appreciated how the application deadline meant that I could apply after seeing how the crop was coming on."
VanDerMolen farms with his brother Bruce, and two sons Dennis and Aaron. Together they make the third and fourth generation of family farmers.
Second prize in the Winter Wheat Yield Challenge was awarded to James Soetemans of Jilaman Farms Ltd. in Watford, Lambton County for his yield of 134.02 bu/ac (variety: 25R40).
Third prize was awarded to Raymond Demers of Dover Centre in Kent County for his yield of 127.52 bu/ac (variety: Branson).
The Winter Wheat Yield Challenge was sponsored by Bayer CropScience Inc. Canada, C&M Seeds and Hyland Seeds.
Look for the story behind the 2012 Soybean Yield Challenge winners in the March issue of the Ontario Grain Farmer. •