Talking agriculture with non-farmers
A REVEALING EXPERIENCE AND A CALL TO ACTION
farmers feed cities. It's as simple as that, right? As the communications assistant for Farmers Feed Cities during the summer and fall of 2012, this is a phrase that I've become very familiar with. One of my primary responsibilities was planning (and then carrying out) promotional visits to food festivals across southern Ontario in order to create awareness about the Farmers Feed Cities campaign, distribute some of our merchandise, and have general discussions with event attendees about Ontario's agricultural industry and the inherent necessity for, and importance of it.
I quickly came to the realization that we in the agricultural industry have our work cut out for us when it comes to informing the public about ourselves, the food that we produce, and how we produce it. While it may often be true that the average consumer doesn't know much about agriculture, it is also true they are usually willing to learn more – they just need someone to provide them with the information.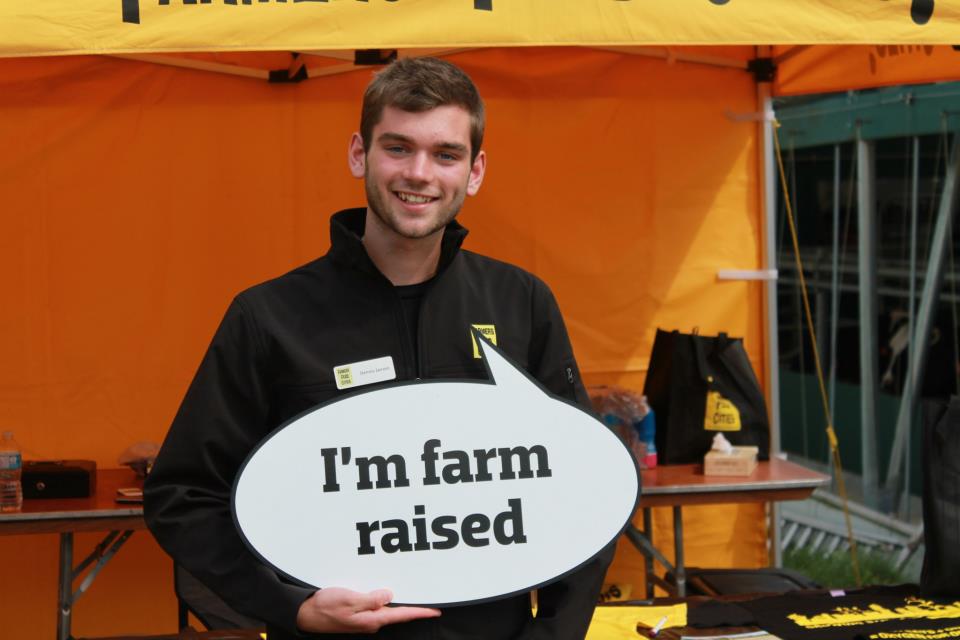 a diverse public
I grew up in a rural area where the majority of my friends and family had some sort of connection to agriculture. I didn't realize that most people don't really know all that much about food and farming; but I've since learned that we would be kidding ourselves to think that even the most basic misconceptions and stereotypes don't exist.
During the course of the Farmers Feed Cities Road Show, I was fortunate to have the chance to talk to countless people from all types of backgrounds, from all age groups, and even from some other parts of the world. And just as the demographics of the people that I held conversations with varied greatly, so did the topics of discussion.
While I did have several conversations with well-informed consumers about some of the more in-depth agricultural issues (such as genetic modification, animal welfare, food safety and urban expansion), I was very surprised at how many people were intrigued by the most basic discussions of agriculture – things that we take for granted as "common knowledge." For example, I can remember several instances of people being completely astounded to hear that farmers actually use GPS in some of their farm equipment, that combines and tractors can cost hundreds of thousands of dollars, and that the corn you see scattered across Ontario's fields isn't actually the same corn that you'd eat "on the cob."
correcting misconceptions
The fact that many people don't know much about their food or how it's produced is likely due to demographics – less than two percent of Ontario's population resides on farms. It's not surprising, therefore, that there is an increasing disconnect between 98% of our population and the food they eat.
While it may seem like a daunting task to try and inform the public about our industry, every little contribution to this effort helps. One of the most effective resources we have at our disposal is social media. Twitter, Facebook and blogs are already being utilized by many people in the agricultural industry; however, there's certainly room for more. If 50 farmers would take 10 minutes a day to tweet, share an informative agriculture-related post on Facebook, or write a blog post, their combined work would be equivalent to the amount of work that a full-time communications employee puts in each day.
If social media is not for you, there's always the option to volunteer at events like the Canadian National Exhibition and the Royal Agricultural Winter Fair with consumer outreach organizations like Farmers Feed Cities and Farm & Food Care Ontario. Events like this are a great opportunity to get into the heart of our province's largest urban centre (Toronto) and talk with consumers that have likely never visited a farm or even met a farmer.
Media and the internet are teeming with misinformation; and without farmers to step in and correct this, the general public will continue to develop inaccurate perceptions of agriculture. Each and every single consumer should be able to answer the question, "who grows and raises the food, fuel, and fiber that you use each and every single day?" Farmers do. Farmers Feed Cities.
Dennis Jansen grew up on a family farm near Drayton raising dairy goats and veal calves. He is currently studying Food and Agricultural Business at the University of Guelph. •