YOUNG AGRICULTURAL LEADERS SHARE KNOWLEDGE
understanding your customer, who they are and what their needs are, is an important aspect of any business. Grain Farmers of Ontario's 'Grains in Action' program provides young agricultural leaders with the opportunity to better understand the grain sector in the province and connect with some of the end-users of the commodities they grow.
PHOTO: 30 YOUNG AGRICULTURAL LEADERS FROM ACROSS ONTARIO PARTICIPATED IN THE JANUARY SESSION OF GRAINS IN ACTION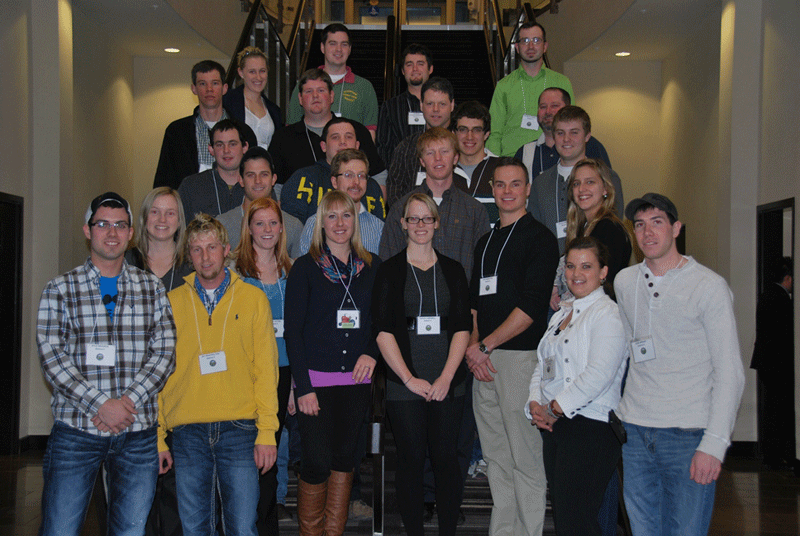 hands on experience
Two sessions of Grains in Action are held each year in January and February. Each course brings together 30 young farmers from across all 15 Grain Farmers of Ontario districts. It's an excellent opportunity for them to meet other young people who are involved in the industry and want to further their knowledge of on-farm practices. It also helps to develop a better understanding of what happens to corn, soybeans and wheat crops after they are delivered to an elevator.
Ontario grains are used in many different ways to create numerous end-user products that are distributed all over the world, but we do not always get a chance to see the process. Through the Grains in Action program, participants are offered the opportunity to have a dialogue with the people who make up other links in the grain value chain. This includes sessions with researchers, grain handlers, and provincial and federal government representatives. At this stage in their careers, many of our young farmers have not yet established these key industry contacts and this is an opportunity for them to ask questions and learn firsthand from industry experts.
At P&H Milling in Cambridge, formally known as Dover Flour Mill, participants tour the facility from top to bottom, watching wheat travel from the trucks, to the elevators and on to the hammer mills for grinding. The different refining stages throughout the building are showcased before the group ends up in the packaging area. The quality control standards our Ontario wheat is subject to at the mill creates the high quality flour that is desired by many bread, cookie and dough manufactures in the province. This stop on the tour has been a favourite with participants, as it provides an up-close look at the flour industry and the value it directly provides to a number of large Ontario processing plants. 
Some tours during the program also provide young farmers with practical on-farm knowledge that can be implemented in their day-to-day business practices. For example, the tour of Greenfield Ethanol in Chatham, allows the participants to discuss variety choices for corn with high starch levels that are desirable for ethanol production. Being able to have that conversation with the end user of your product can help you make choices come planting season. It can also provide you with information on how your product is used on a commercial scale.
Seeing the full value chain in production, can give participants a deeper appreciation for the year-round businesses that operate on our Ontario grains. The soybean and canola crushing plant in Hamilton, Bunge ETGO, is a 24 hour, 365 day crushing plant that produces 22 different food grade edible oils that are shipped all across North America for many different products. Seeing this plant in production was a great example of how Ontario soybeans are used in everyday products that are commercially available across the province.
past success
In its third year, the Grains in Action program has seen its graduates become emerging leaders in the industry and become actively involved with Grain Farmers of Ontario as directors, delegates and ambassadors in the media. Dave Park spoke with this year's group about his own participation in the program in 2011. He became a delegate for District 3 (Lambton) in 2012 and was also chosen as the ASA DuPont Young Leader that same year. In January of this year, he was elected as the Director for his district.
Another successful young leader is Emily den Haan, a graduate of the 2012 February session. Last summer, she was one of several Grains in Action participants who were featured in local media publications about their experience with the program and what messages resounded with them months afterwards. Den Haan was quoted in her local newspaper speaking about the opportunity Grains in Action gave her to build leadership skills, ask questions and learn why Canadian grains are something to be proud of. This then led to den Haan taking part in a TV interview on Rogers Daytime York about grain farming in her area. Communication skills are taught to all Grains in Action participants to help them promote the future of the industry to the public on various levels.
future opportunity
The Grains in Action program is an excellent opportunity for any young Ontario grain farmer between the ages of 19 to 35 to meet industry members, gain valuable knowledge of the full value chain, and create a network of peers from across the province. It is a chance for these young farmers to discuss challenges and successes on their farm and compare them with farmers from different regions. If you, or someone you know, is an emerging leader within the industry and are interested in participating in the program, please contact Valerie Gilvesy, vgilvesy@gfo.ca, 226-979-5581. •