The challenge of maize disease
PART 4 – EXPOSURE-4-DEVELOPMENT TOUR
managing crop diseases is a challenge for growers around the world. In Kenya, the sudden appearance of a new disease is raising the alarm for growers and government alike – raising concerns over large-scale crop failure for Kenya's number one food crop.
The first case of Maize Lethal Necrosis Disease (MLN) was reported in Bomet County, an area about three hours east of Nairobi in the southern Rift Valley, in September 2011. Farmers started reporting an unusual disease that was quickly killing their crops. The disease has since been reported throughout Kenya, as well as neighbouring Uganda and Tanzania, reducing yields by 30 to 100 percent on affected farms.
Farmers sounded the alarm and government responded quietly, fearing a significant crop failure across the country that could result in food shortages and civil unrest. Researchers at the Kenya Agricultural Research Institute (KARI) identified the mysterious disease as MLN, a combination of two viruses; the Sugarcane mosaic virus (SCMV) and Maize chlorotic mottle virus (MCMV), transmitted by aphids and thrips (Frankniella sp.) respectively.
Despite the fact that farmers in heavily affected areas lost their entire crop, strong performance in other parts of the country meant that the 2012 Kenyan maize crop realized roughly 85 percent of expected yields. The immediate crisis passed, the headlines faded, and the politicians turned their attention to the national elections in March 2013. Farmers were left without a strategy to help manage MLN, and there is a high risk of another severe outbreak.
"Farmers are left in the darkness. No one has information to help with," says Booker Owuor, CEO of the Kenya Small Scale Cereal Growers Association. "It's organizations like ours which should have gone a step further to get research done and disseminate the findings to members on how best to handle the menace, but we lack financial support to do it, and the government seems disinterested."
Farmers are not entirely alone in searching for answers. Researchers at KARI, the International Maize and Wheat Improvement Centre (CIMMYT) and Tanzanian and Ugandan national institutes are working together to find a solution to the problem by identifying MLN resistant varieties.
"We are screening a large set of diverse pre-commercial hybrids from CIMMYT and other public and private institutions to identify and validate MLN resistance," KARI's director Ephrahim Mukusira, told a regional workshop on MLN in February.
The collaborative project is focusing on germplasm from African-developed varieties instead of importing seeds from the West. Results from the screenings are promising, but resistant seed will not be available to farmers for the 2013 crop season.
"Farmers are struggling on their own to increase productivity using organic fertilizer application, compost manure and practicing both crop rotation and diversification," says Owuor. "I've been out in the field with farmers, and the government laxity in dealing with the problem has caused a lot of discomfort to the producers. We will definitely see a drop in food security whether the disease strikes again or not."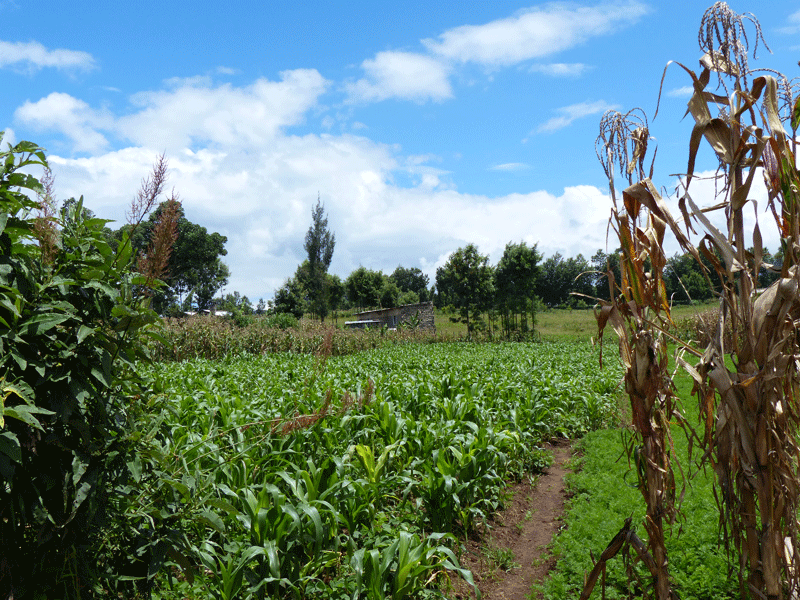 One of the solutions proposed is to try to change the practice of growing maize year-round. There are two rainy seasons in Kenya; the long rains (February to August), and the short rains (September – January).  As farmers harvest, they commonly clear the land and prepare to put the next crop in before the next rains start.
The continuous presence of maize at different stages of growth in the zones where disease is found has exacerbated the propagation and spread of MLN. The hope is that by encouraging farmers to only grow one crop of maize per year and synchronizing planting times, they will be able to reduce the spread of the disease.
It will be an ambitious undertaking to coordinate all of the growers in a region, but according to Owuor, more farmers are deciding to leave their farms fallow or reduce acreage under maize crop on their own. From a crop management perspective, it's a sound strategy – rest the land and break up the pattern of growing maize to stop the disease.
"Farmers are now diversifying into other cereals, like sorghum, millet, legumes and pulses, and tubers like cassava, yams and potatoes, both sweet and Irish. Much of the land would also be left for cows to graze on. Farmers who suffered directly the effects of the disease do not want to plant maize anymore," he says.
In a country with a strong reliance on a single food crop, markets for alternative crops are under-developed, and the social consequences are likely to be profound if the price of maize rises. The hope is that as the government stabilizes after the election, resources will be put into a coordinated effort to manage this new disease and minimize its impact in the region. •