GLEANER S67 COMBINE
A review by farmers for farmers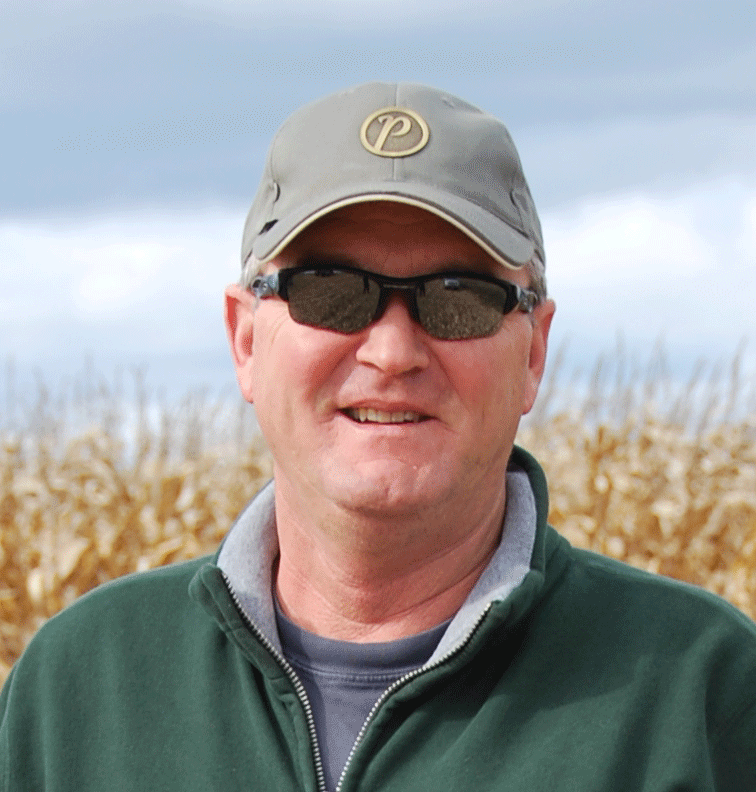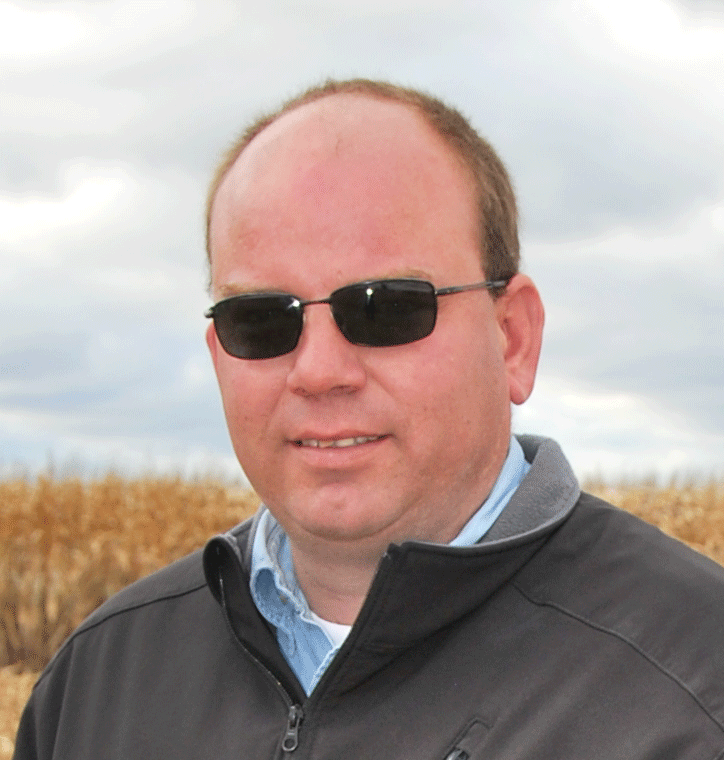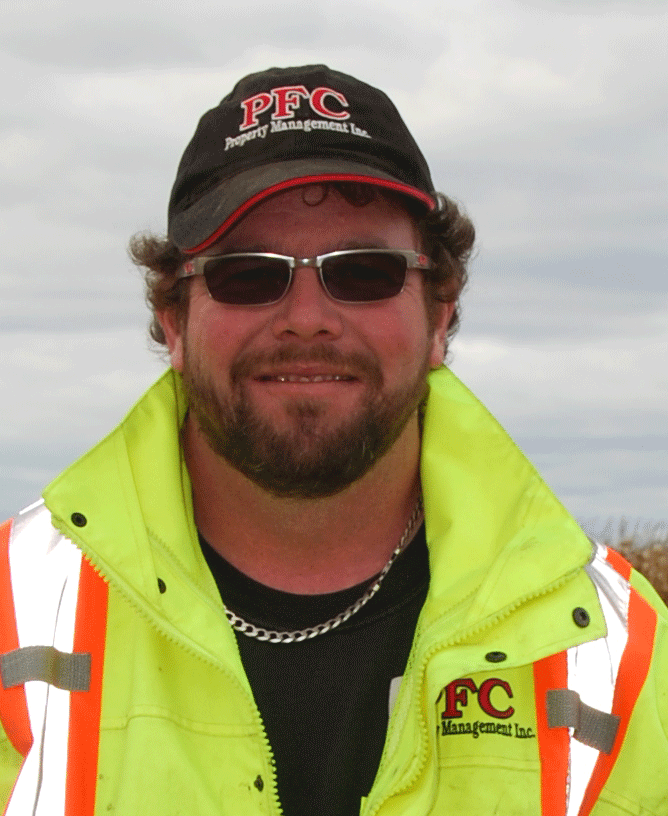 david fraser           jeremy nixon           robert parks
    ottawa, ON        north gower, ON         kanata, ON

looks can be deceiving. That well known phrase certainly applied to the Gleaner S67 combine, a product of AGCO. Sitting in a field next to other combines, it appeared smaller. But there's nothing small about the performance of the machine.
"At first glance you would think it's not very big, but it has a lot of capacity,".  said David Fraser, a grain farmer in Ottawa. "The grain tank is quite large on it, and it seemed to go as far as the other ones we tested."
Robert Parks, a Kanata grain farmer, had a similar first impression. "I was surprised at the threshing capacity for the size of the combine. And with the large grain tank, we actually went the full length of the field and we didn't have to dump at all."
"The biggest thing that you see when you look at a Gleaner is the way we've built it," said Charles Schrader, Product Marketing Specialist for Combines with AGCO.  "It's got a fully welded, unitized frame; we packaged the processor so it's right behind the grain bin when you look at it. We put the grain bin low to the ground and then we put it around our processor so it's easy to see how low it gets to the ground and why we can hold so much grain in the system."
The Gleaner S67 has a 390 bushel standard tank with a power foldable bin extension that folds down in under 20 seconds with the flip of a switch.
For Field Tested, the Gleaner S67 was outfitted with a 3000 Series eight row corn head, however, it can also be run with a six or 12 row corn head. AGCO provided a brand new machine for our test, and this allowed us to see the ease of set-up and adjustment.
"It was very simple to make the adjustments, just a push of a button," said Jeremy Nixon, a farmer from North Gower. "We adjusted the chaffer to clean up the sample, and it took some of the cob out all right."
Getting the corn out of the tank is just as quick and easy with a four bushel per second average unloading rate.
PHOTO: THE CONTROL SYSTEM ON THE GLEANER S67.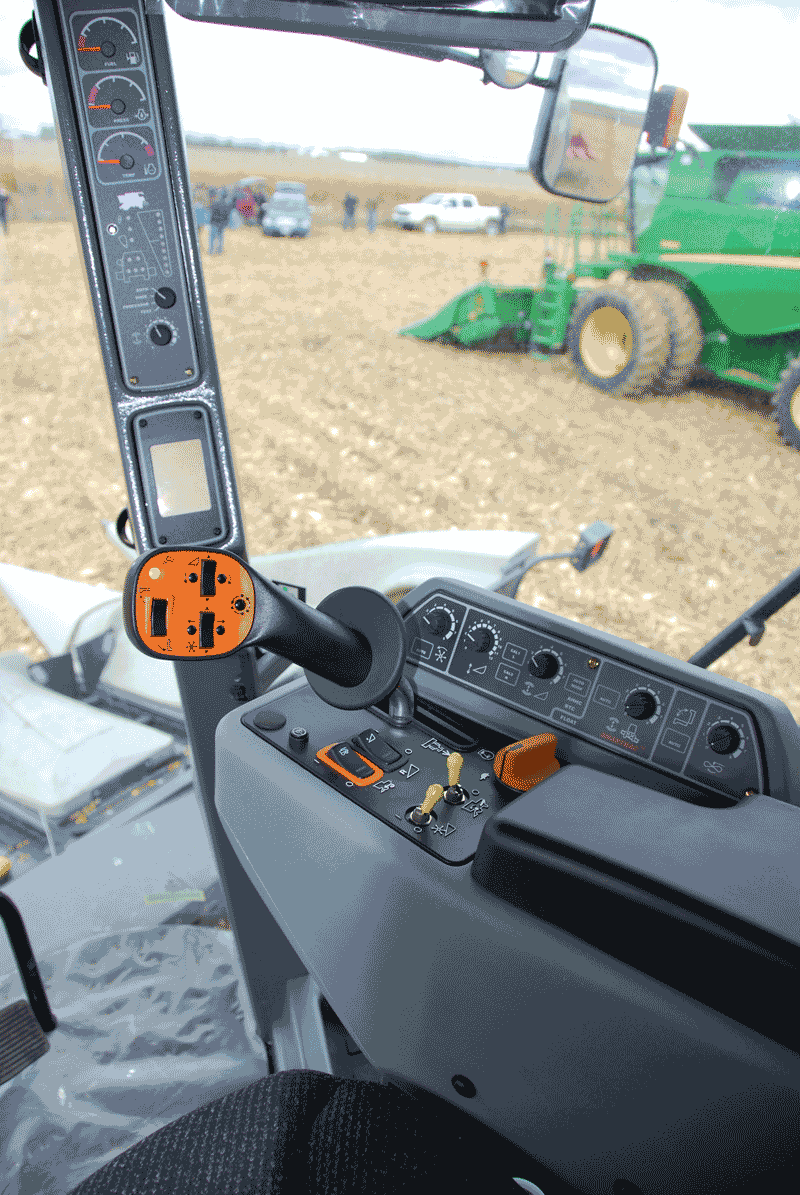 "I noticed the unloading auger seems to take very little horsepower the way they've designed it," noted Fraser. "It's an inline system, and it doesn't have any sharp turns for the grain to have to get out of the combine. It looks very simple, and hopefully that also means fewer issues."
Schrader said that was the intent of the design. "Essentially it takes less horsepower to run that crop through a 29 degree angle versus two 90 degree angles. There's also less maintenance and we reduce crop damage. We've got just one small roller chain on the right side driving it and there's only one clean out auger."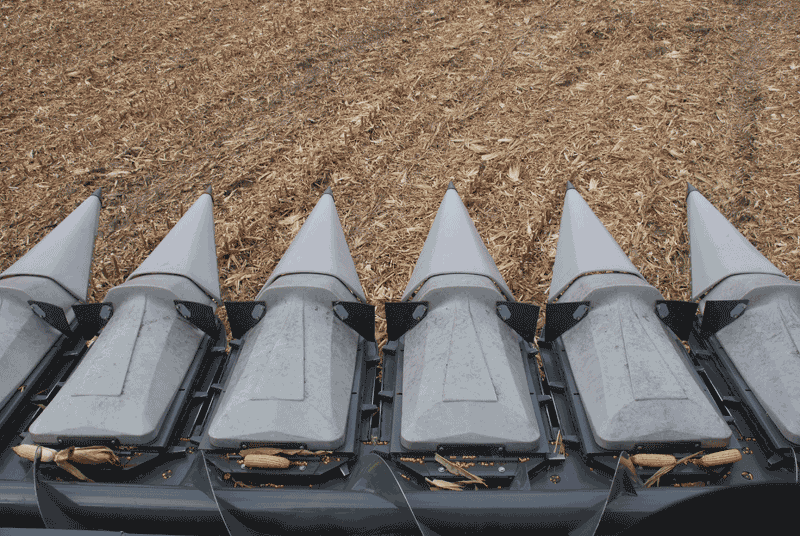 Parks saw value in the design. "It seems as though maintenance would be easy," he said. "The biggest benefit of it would be the simplicity of the cleanout to go to IP beans or specialty crops. It's just easier for vacuuming."
Nixon said the simple design stood out for him as well. "With fewer moving parts it would be an easy machine to maintain by the looks of it."
Fraser said that's another benefit of the combine being close to the ground. "Basically everything you'd have to service is within reach from the ground."  Other small details that made the combine more user-friendly also caught his attention. "It was very comfortable and quiet even though the cab isn't as roomy as other combines. It had a nice foot rest so you didn't have to put them on the window – that's a nice little thing. And the hydraulic ladder that you can swing out of the way was kind of neat."
All three farmers noted the controls took some getting used to and felt they could have been labelled better. However, once he got going, Parks says, "It was pretty user friendly for driving and it turned pretty sharp. I was pleasantly surprised by how good of a combine it was because I had never driven one before, let alone seen one before."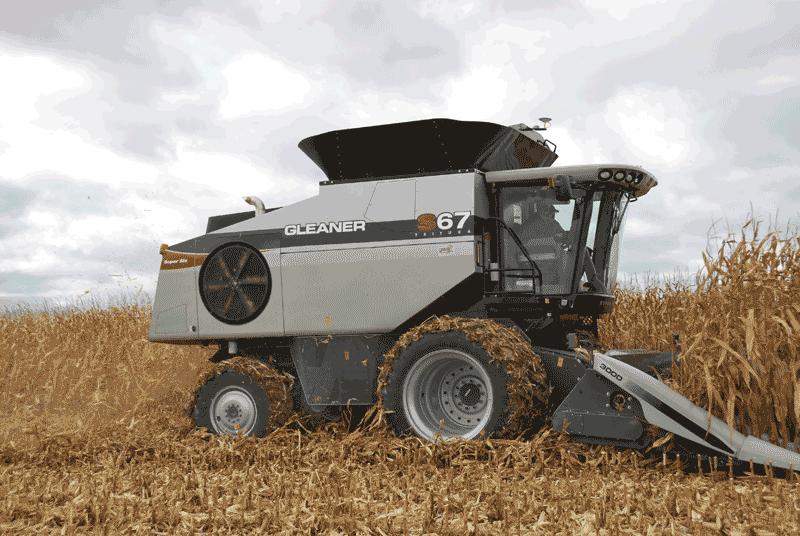 Nixon was also left with a good impression, saying he would recommend other farmers give it a try.
Watch a video version of this review here:
In the next installment of Field Tested, we review the John Deere S660 S-Series Combine. •
spec sheet
Transport height 12.41 feet
Natural Flow™ feeding system: 69-inch (1,752 mm) long by 39.5-inch (1,003 mm) wide feeder house powered by an 8 5/8-inch (219 mm) diameter front feed drum.
360° threshing area
Grain tank 390 bu
Unloading Auger Diameter 14 in. (356 mm)
Average Unloading Rate (bu/sec): 4.0 peak; 4.0 avg.
optional hydraulic chaff spreader
SmartCooling™ system: variable pitch cooling fan with reversing capability
Gleaner ComforTech II™ cab and controls
AGCO POWER 84 AWI Engine: features e3 SCR (Selective Catalytic Reduction)
clean air technology optimized for high performance, low particulate emissions and lower fuel consumption (meets Tier 4i standards).
3000 Series Corn Heads: 21.5° angle, standard adjustable stripper plates are electrically controlled in-cab.
Availability:
• 6-row [30" (762 mm) – 36" (914 mm)] • 8-row [30" (762 mm) – 38"?(965 mm)] • 12-row [20" (508 mm) – 22" (559 mm) – 30" (762 mm)].
Equipment provided by:
Dan R Equipment – Winchester
2301 Highway #31
Winchester , ON   K0C 2K0
(613) 774-1616  www.danr.ca •