MAKING THE MOST OF EVERY DROP
challenging weather in the last two growing seasons has left some farmers high and dry, and others squeezing the most out of their water sources. Now, an Ontario initiative is looking at all things water-related with the ultimate goal to put more
water-use information and ideas into the hands of farmers.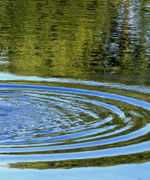 The Water Resource Adaptation and Management Initiative (WRAMI) is an  18-month program designed to help Ontario farmers be better prepared for low-water response, drought preparedness and to adapt water-use practices to deal with the growing impacts of climate change.
Through WRAMI, $1 million is being allocated to demonstration and pilot-scale projects proposed by Ontario commodity groups and agricultural organizations. WRAMI is funded by Agriculture and  Agri-Food Canada (AAFC) and the Ontario Ministry of Agriculture and Food (OMAF) through the Agricultural Flexibility Fund, as part of Canada's Economic Action Plan. WRAMI is administered through Farm & Food Care.
"Water is a basic requirement of all life, and access to a reliable water source is critical to the success of any agricultural operation," says Bruce Kelly, WRAMI Program Coordinator with Farm & Food Care Ontario, noting livestock, field crops, tender fruits, vegetables and all other crops depend on water for their growth.
Kelly says water has been identified as a constraint on agriculture because of factors such as insufficient rainfall, insufficient supply from surface and ground water sources, and competition between users. In the past, the issue of water has been considered within the contexts of other provincial environmental and economic programs – but Kelly says WRAMI is the first to focus entirely on water.
With the WRAMI objectives set, Kelly says the request for proposals went out and Ontario agricultural organizations didn't disappoint. "The commodity groups and organizations took it as a challenge to look at what was needed and really responded to call," says Kelly.
Thirty-eight applications were submitted and a panel of OMAF and AAFC technical specialists were given the task to review and mark them against a scoring system. Seventeen of the projects were approved for funding.
"There's a real smattering of variety in the chosen projects," says Kelly, listing off topics such as innovative irrigation equipment, solar watering for livestock, wastewater management, mobile apps to evaluate residue cover, soil management and water retention, and water-use surveys.
 
Kelly says all the applicants have recently been notified about their project's funding status. Successful applicants will be embarking on their projects throughout the next number of months, with final results expected beginning this fall.
"We'll certainly be making major efforts to communicate the tangible results of these projects so that farmers can learn from this work and consider implementing these ideas and methods to improve water use and efficiency on their farms," says Kelly.
In related work, Kelly says WRAMI will be commissioning a study to gauge the attitudes around water use and conservation. This study will include focus groups and surveys to hopefully capture current water use practices, decision making practices related to water use in extreme low-water conditions, and understand attitudes about water-demand management. This survey will shape feedback to government policy makers and is intended to help identify gaps in education, programs or technologies.
WRAMI FUNDING RECIPIENTS
Technology-driven strategic water management for Ontario potato producers.
The evaluation of soil moisture monitoring devices in tender fruit orchards in Ontario.
Precision fertigation: Performance improvement through the use of Fourier Transform Infra-Red (FTIR) Spectroscopy for rapid nutrient solution analysis in closed bag culture.
Showcasing variable rate irrigation technologies in Ontario potato industry.
Evaluation of pathogen removal by DE nitrification bioreactors and constructed wetlands under Ontario conditions to promote water reuse and good management.
Increasing preparedness to manage low and excess water conditions for non-irrigated field crop production.
Use of ground covers and remote soil moisture monitoring equipment to maximize water use efficiency in peach orchards.
Biopolymer/Bio filters for the removal of nutrients and micronutrients in greenhouse waterwater.
Crop residue cover assessment with a mobile technology application for Ontario farmland.
An online platform for sustainable water management for Ontario sod producers.
Subsurface drip irrigation for corn in the Sand Plain Region of Southern Ontario.
Whiteman's Creek pilot project for drought contingency planning.
Field-estimation of drought resilience for efficient row crop management.
Cattleman's alternative watering and surface water collection.
Water balance case study at an outdoor ornamental nursery.
Outdoor container nursery and production water use efficiency and best practices benchmarking study.
Evaluating irrigation water use efficiency in vineyards.•