The importance of infrastructure
MOVING CANADA'S RECORD CORN AND SOYBEAN CROPS
"ontario just had its biggest corn crop in history, and the US has shifted from being our biggest competitor to one of our biggest customers.  If you are an Ontario grain farmer, things couldn't be better," says Stephen Kell, a grain merchant with Parrish and Heimbecker. "We're shipping enormous amounts into the US, especially corn. Right now you can hardly find enough trucks to haul to US ethanol plants."
Ontario's grain sector is also benefiting from relatively low transportation costs, according to Mark Hemmes with the Quorum Corporation, which monitors Canadian grain transportation efficiency. "You couldn't ask for a better market environment for grains crossing the [US-Canadian] border," Hemmes says.  "Canada had good crops across the country in 2012 and pretty good quality.  You couldn't ask for better prices and logistics are pretty cheap."
Still, shipping logistics are constantly evolving in ways that affect all transport options, some benefiting, some hindering grain movement.  
grain sourcing
Of Ontario's five major grain terminals – Goderich, Hamilton, Owen Sound, Prescott, and Sarnia – all except Prescott are owned by major grain companies. That creates better potential for international sales by making it easier for customers to source grain. With the demise of single-desk sales, how people trade grain in Canada is likely to change, Hemmes suggests, noting that a big shift is already evident in shipments of commodities east of the three big western provinces.
"The logistical approach grain companies are taking is changing," he says. "Water is becoming much more economically viable, almost doubling the grain traffic on the St. Lawrence Seaway over the past two years. Out of Thunder Bay, we used to see up to half the crop moving by rail, but that is down in the last two to three years. You've got shipping capacity in eastern Ontario, and Quebec is looking for traffic."
Other industry sources suggest that with the Canadian Wheat Board gone, hard wheat from Saskatchewan and Manitoba might be sold south into the US more frequently, freeing up vessel traffic in Canada.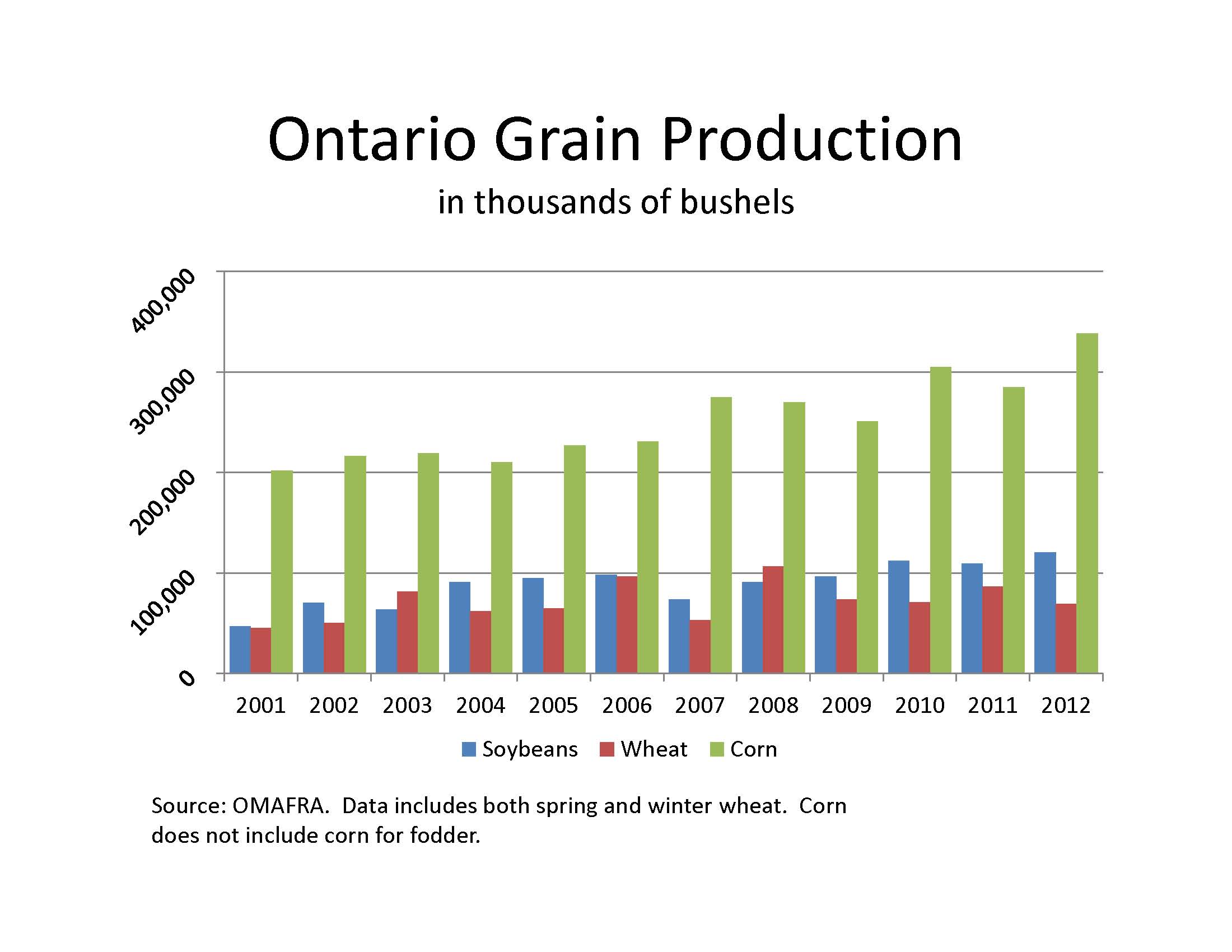 road
For Ontario growers, where the dominant shipping mode is by truck, US security measures enacted since the 9/11 terrorist attacks have complicated and slowed border crossings. "The documentation required has increased considerably," says Hemmes.  "From a logistics point of view, it can be a challenge.  The paperwork has probably tripled." In recent months, border crossings have become even more arduous as the US budget debate prompted staffing cuts of as much as a third on the American side. Still, most of those who regularly ship to the US have figured out the new rules, he says.
A second trucking pattern in eastern Ontario involves grain trucked to Montreal terminals for export down the St. Lawrence Seaway. For trucking in general, a looming long-term concern is the availability of trucks and drivers. At harvest, some shippers are already finding it hard to get truck capacity, a problem that could worsen if grain production continues to increase.  Meanwhile, as baby boomers retire, shippers in general are facing a shortage of drivers, according to the Ontario Trucking Association.
rail
Getting access to grain cars has been a challenge for some shippers in recent years, sometimes producing delays of several weeks or more. Though the problem has been more serious for western Canada, it has also affected grain movement in the east where some volume still moves by rail. As of late May, draft legislation (C-52) to address the problem had just passed its second reading and was pending in the Senate, with final passage possible by summer adjournment. C-52 is intended to make the railroads more accountable for service by giving shippers the right to enter into service agreements with railroads and by establishing an arbitration process to resolve disputes about such agreements. Hemmes calls the legislation, "worth watching."
great lakes seaway
Despite water levels he describes as "not great," Kell reports strong Ontario exports via the Great Lakes into Toledo this year. "We've seen about two million metric tonnes (mmt) out of Ontario's 13 mmt soybean crop and that's significant.  Right now, both Ontario wheat and corn are going into Toledo as short sea shipments on lakers. The same thing is happening from Owen Sound into Toledo," he explains.
Canadian corn shipped into Toledo may go to Midwestern US ethanol plants or be re-loaded on railcars for shipment to poultry and swine facilities in the southeastern states. One factor encouraging more shipments via the lakes is the availability of a new generation of more efficient, small lake vessels.
"Salties," ocean-going ships are another option. Vessels up to 50,000 tonnes can access ports east of Montreal while ships as large as 25,000 tonnes can reach as far west as Thunder Bay where they can load commodities for Italy, Germany or the Netherlands, avoiding the need to transfer cargo.
"They bring in steel, equipment, etc. and take grain back to their destination," Hemmes explains. "This seems to be working well for a lot of people in exports, especially when the size of the shipment matches the size of the vessel."
Grain shipment via the seaway is increasing, especially to European destinations, but Hemmes notes that ocean freight can make it just as cheap to ship from west coast ports. "Quebec's six big elevators traditionally took a large portion of Western Canadian grains, but now they have more capacity available because more of that grain is flowing to the west coast, and that provides an opportunity for Ontario grain," he says. •