GROWING OPPORTUNITY AT THE PORT OF HAMILTON
AT THE PARRISH & Heimbecker Hamilton Terminal, the fall harvest has finally arrived. Semi-trucks pulling double grain trailers loaded down with soybeans wait their turn to unload, two dome-shaped silos are going from nearly empty to nearly full, and the Federal Yukina (an ocean-going bulk carrier) sits at the dock while a constant flow of soybeans fills its holds.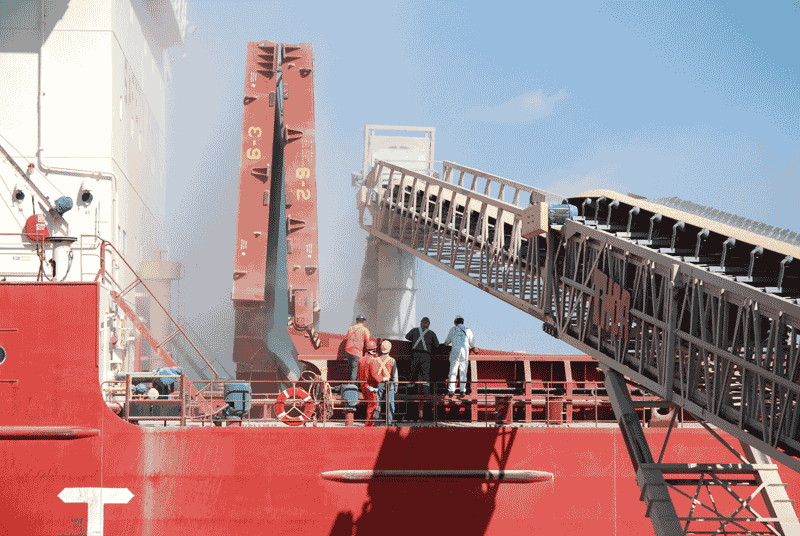 The activity at P&H is just one example of the booming agricultural sector at the Port of Hamilton. Over the past five years, the Port has attracted more than $40 million in agricultural investment to revitalize the facility after the decline in the steel industry. Agricultural commodities, including grain and fertilizer, now represent 16 percent of the Port's total tonnage, up from 9.8 percent in 2009.
"We have established the Port as a critical link in the province's agricultural economy," says Bruce Wood, President and CEO of the Hamilton Port Authority.
 
It has also become a major driver in the local economy – the agri-food sector is now a $1.3 billion per year industry in Hamilton as a whole.
"We are seeing steady growth in global demand for Canadian food products," notes Wood. "Perhaps people don't expect Hamilton to be the link between farm and fork, but we're helping Ontario farmers take advantage of global markets by building capacity and reducing logistics costs."
EXPANDING OPERATIONS
Jay Fretz, Location Manager at the P&H Hamilton Terminal, agrees with the cost-saving benefits. "As soon as you get the crop into a vessel, the transport cost drops," he says. "Hamilton is a good choice because it is central in terms of the highway traffic and the availability of vessel traffic is really good. There are a number of salties looking for a back haul; and even if that means they were originally just going to Montreal or Quebec City, it's not much more of a distance for them to come here."
In 2011, P&H expanded its operations at the Port with the addition of two grain storage domes with a combined capacity of nearly 50 thousand tonnes. The facility can handle 20 trucks per hour and operates 24 hours a day, seven days a week. A new vessel docks at their facility every three to five days.
"The key is scheduling vessels when we have enough grain to fill them, but we don't ever want our storage domes to get completely full and have to shut down our truck receiving," explains Fretz.
The drawn out 2013 soybean harvest made getting the right timing of vessel traffic a bit more difficult; however, "once we got to Thanksgiving, our receiving matched up with a year ago, and we have since exceeded it," says Fretz. In addition to producers bringing their grain right from the field, Fretz can also fill vessels with grain sourced from P&H elevators or third party elevators.
"As the grain business grows, we might feel the crunch to add in more storage," adds Fretz. "And we may need to add high volume ship loading as well to prevent bottlenecks and reduce the amount of time it takes to load a vessel."
INFRASTRUCTURE NEEDS
Harvest time is not the only busy period for the Port's agricultural tenants. Several fertilizer companies operate out of the facility. During the recent revitalization of the Port, Agrico doubled the storage capacity of its fertilizer tanks to 40,000 tonnes and Sylvite Agri-Services added two new 10,000 MT storage tanks used for UAN, bringing their total storage capacity to 38,000 MT.
Wood says it is the Port Authority's job to make sure they provide the infrastructure needed to help these investments pay-off. In addition to the easy highway access, the Port also offers a rail link. "We are the multi-modal place if you want to export bulk goods," states Wood. However, rail lines need to be upgraded in order to increase capacity. Plans are being looked at that would allow 50 to 100 car trains to enter the Port.
Fretz agrees that rail provides an opportunity for them to increase the movement of grain in the future. "We think rail is the next wise choice for us to expand into over the next two to four years. It would open up the work we do over the year. Vessels stop when the canal and St. Lawrence freeze up and rail would give us the flexibility to move things in and out."
2012 was a record breaking year with one million tonnes of soybeans shipped via the Port of Hamilton. Early outlooks anticipate a 20 percent increase in grain tonnages in 2013. It is that type of growth that Wood wants to focus on in the future. "The volatility and long term outlook in the steel sector means it makes sense for us to focus on agriculture where there is healthy global demand." •