FUTURE FARM LEADERS
CONSUMERS WANT TO know where the food they purchase has come from and how ingredients are used in the manufacturing process of the foods they eat. Farmers, as the primary producers of many of these raw ingredients, should also have a vested interest in learning what the crops they grow can produce.
PHOTO: BEGINNING THE TOUR AT P&H MILLING GROUP IN CAMBRIDGE: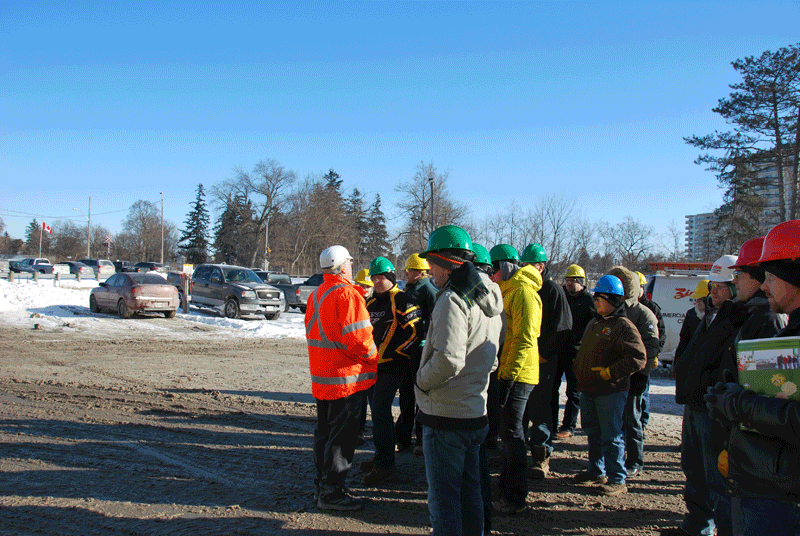 Grain Farmers of Ontario's Grains in Action program does just that. The three-day program runs twice a year (in January and February) and provides young agricultural leaders with the opportunity to learn about the corn, soybean, and wheat value chain in Ontario while building connections with industry leaders and other young farmers. Young farmers or agricultural leaders between the ages of 21-35 can apply to take part in the course. A short interview, in addition to the application, is required to make sure they are a good fit for the program. Organizers aim for two participants from each of Grain Farmers of Ontario's 15 districts for a total of 30 participants for each session.
NEW EXPERIENCES
"My cousin participated in Grains in Action last year and recommended me as a future participant," says Duncan Ferguson from District 14 (Prescott, Russell, Stormont, Dundas, Glengarry). "He said he really enjoyed it so I decided to apply."
Ferguson was one of the participants in the January 2014 session which kicked off with a whisky sampling with Spirits Canada. Whisky, made from corn, is a big industry in Canada and an important market for Ontario and Canadian corn. Participants were walked through the different elements and backgrounds of five Ontario whiskies and learned to further appreciate the work put into the creation of each. The demonstration was a great way to break the ice and help the group get to know each other.
The first facility tour on the course was at P&H Milling Group in Cambridge, where Ontario wheat is milled into several types of flour. Here, participants were able to see the milling process from the first inspection of the wheat when it reaches the mill to the final sifting of the finished product. The mill produces flour for use in bread, cakes, cookies, and many other baked goods, and must constantly adjust their production to meet demands from their buyers that reflect changes in consumer demand.
A presentation on research projects funded by Grain Farmers of Ontario prepared the group for a meet and greet with several researchers at the University of Guelph Ridgetown Campus. Researchers discussed current projects, outcomes, and on-farm applications of their results. Participants were able to talk to researchers about specific problems or difficulties on their own farm and learn how to better prepare for the upcoming season.
UNIQUE TOURS
Participants also had the opportunity to tour several facilities using grain and grain by-products to create their end product. A tour of the Ridgetown Campus' Centre for Agricultural Renewable Energy and Sustainability concentrated on the production of biogas and biodiesel. A biogas plant, also known as an anaerobic digester, breaks down a huge amount of organic waste materials. This process generates electricity and greatly reduces waste and methane emissions. A biogas plant also has the added bonus of providing bedding for animals in the form of separated digestate.
Tours of GreenField Specialty Alcohols Inc.'s ethanol and cellulosic ethanol plants in Chatham focused on a common end use for grains as well as the technology involved. GreenField is the leading specialty alcohols producer in Canada. They produce fuel and industrial and beverage alcohol for thousands of customers demanding quality alcohol for use in disinfectants, pharmaceuticals, and gasoline. Corn grown in Ontario produces roughly 1.8 billion litres of fuel ethanol per year to be blended with gasoline. Although ethanol is typically produced from corn and sugar cane, GreenField's work with cellulosic ethanol will broaden the sources from which ethanol can be produced, such as forestry products and grasses.
In Hamilton, Grains in Action participants were given tours of Bunge and Richardson International. Bunge is a soybean and canola crushing plant that crushes 3,000 tonnes of soybeans per day for human consumption, livestock feed, and industrial use. Richardson International's Hamilton grain terminal is a major shipping port for Canadian grain. With vessels able to ship as much as 25,000 tonnes, Richardson ships to major companies around the world. Both facilities provided participants with insights about what happens to the grain they produce after being delivered to an elevator.
NEW CONTACTS
Representatives from several industry groups also made appearances during the course to meet participants and form connections with up-and-coming farmers. Agricorp, Bunge, and Canadian Grain Commission employees spoke to the group, opening the door for future conversation.
"It can be so easy to get in your own little world sometimes in this industry, and the program just opened my eyes to the big picture," says Myranda Morrisson, a Grains in Action participant from District 13 (Prince Edward, Lennox, Addington, Frontenac, Lanark, Leeds, Grenville, Renfrew, Ottawa) and a student at the University of Guelph. "It lets you see so many aspects of the industry. It was definitely worth missing a few days of school to take part."
Ferguson also enjoyed the program, saying "it was a great experience. You get access to so many places you normally couldn't see, and the information guests gave out was excellent."
The Grains in Action program is currently in its fourth year. Out of the more than 200 past participants of the program, 30 have gone on to assume leadership roles within Grain Farmers of Ontario as directors, delegates, and alternates. If you or someone you know is a young leader in the industry and interested in participating, please contact Valerie Gilvesy, vgilvesy@gfo.ca or 223-979-5581. •