Top 10 corn tips for 2014
IDEAS FOR GROWTH
HERE ARE MY top tips for 2014.  Number one has the most data and research support, as we move towards Number 10 the data gets thinner and the ideas still need to be tested more; perhaps you can try some of them on your farm this year.
1. SUB 90 SOIL TEST K DEMANDS ACTION
When soil tests show potassium levels below 90 parts per million it could be a yield hit of up to 20 bushels per acre.  Producers need to put K where it is needed; farm specific, field specific or site specific if you have the technology. Fertilizer work over the last six years shows that not getting potash correct on these soils will often mean reduced return on your investment in N, P, S, Zn etc.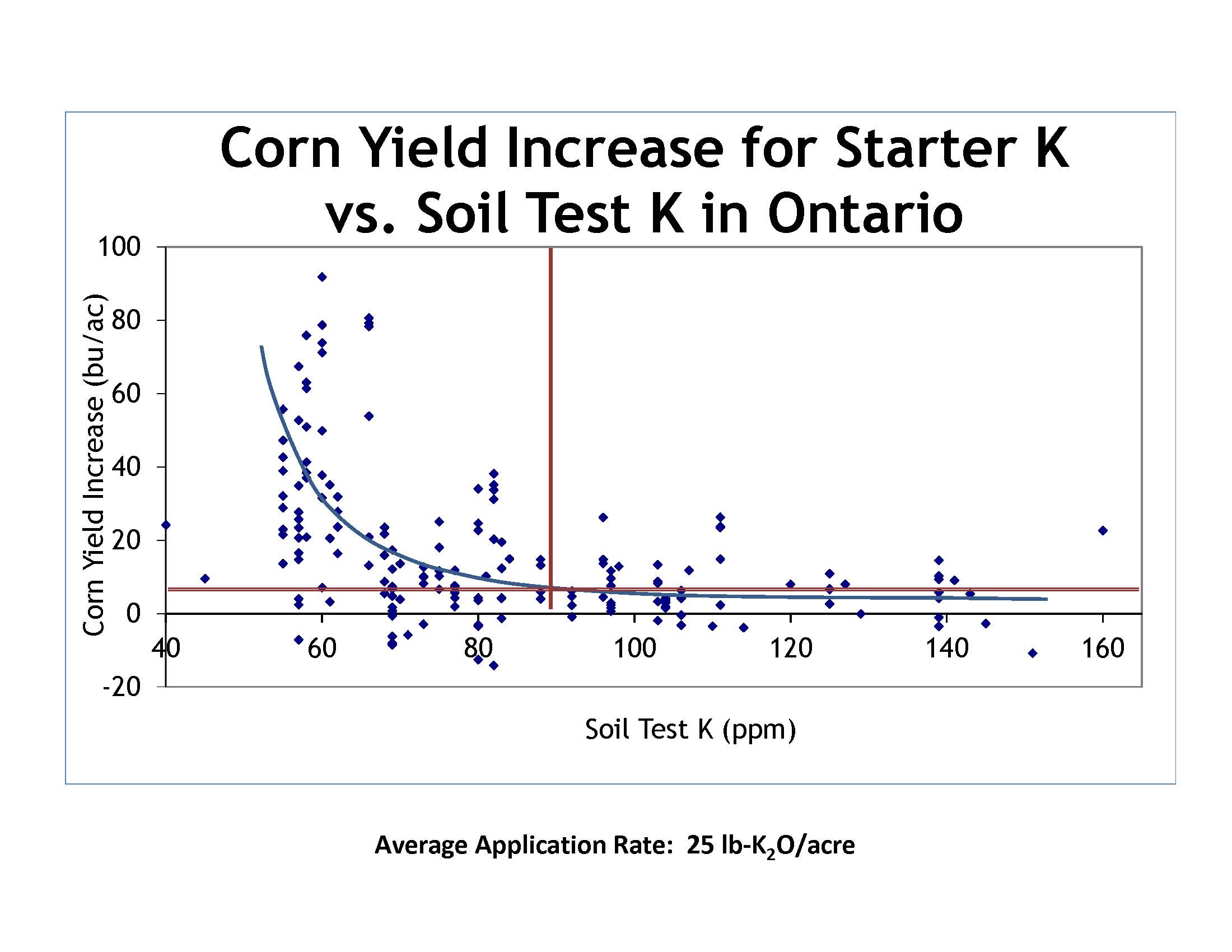 2. ADD POTASSIUM TO STARTER FERTILIZER
Although we often don't envision K as being critical in starter fertilizer it was by far the most important aspect of starter fertilizer on these soils where K soil tests were below 90 PPM, especially if broadcast fertilizer was not applied.  One should note that when soil tests are higher (i.e. 110 and above) this starter K advantage disappears.
3. STRATEGIC N MANAGEMENT CAN PAY
If you apply all your nitrogen pre-plant it is difficult to maximize return on your dollar invested in N.  Split applications are often more profitable, however the profit boost is not just from splitting; it really comes when the second application is adjusted for soil N supply.  If you put 100 lbs down up front and side dress 40 that can improve returns somewhat.  But if you put 100 lbs down up front and then use weather and soil nitrate tests to decide whether this is the year you should sidedress 0, 40 or 80 lbs then the potential to improve returns jumps considerably.
4. STREAMER NOZZLE APPLICATION OF UAN HAS RISKS AFTER 4 LEAF CORN
Producers can apply UAN (28%) using streamer nozzles over the crop canopy up to the four-leaf stage with a little leaf burn but no yield loss.  At later stages the research suggests that crop injury or less available N lowers yields compared to UAN applied directly to the soil.
5. WATCH N LOSSES FROM SURFACE APPLICATION
When UAN or urea is applied to a wet soil surface the chances of losing N to volatilization goes up considerably compared to dry conditions. Crop residue will also add to the risk. 
6. USE PUBLIC (OCC) CORN HYBRID PERFORMANCE DATA
Data from the Ontario Corn Committee's (OCC)?hybrid trials can be analyzed using online tools available at www.gocorn.net. Producers should have two goals when it comes to hybrid selection:  1) Select the hybrids that you trust enough to put on 70% of your acreage (more data, more reliable) and 2) Select the hybrids that you trust enough to put on 30% of your acreage (new hybrids, less data).  The OCC trials and the OCC Hybrid Selector can help you define these two groups.
7. EMPHASIZE UNIFORM DEVELOPMENT OVER UNIFORM SPACING
Don't ignore all the factors that can contribute to a uniform, high yielding stand.  Fertilizer application, tillage uniformity, even distribution of crop residues, compaction, depth of secondary tillage, planting depth and seed trench conditions are all important to a uniform crop stand. You can have perfect spacing and not have a uniform, high yielding corn crop.
8. WHAT IS THE MESSAGE FROM THE CORN CANOPY?
Our research to date suggests that canopy sensing technologies (i.e. GreenSeeker) which use optical sensors that measure light reflected from the canopy to judge nitrogen needs, aren't very effective at typical tractor-drawn side-dress time.  We continue to hope that these technologies used when N is being top-dressed at the waist high stage will help fine tune that N rate.

9. HYBRID MIXING MIGHT BOOST YIELDS AND PROVIDE DRY WEATHER PROTECTION
Planting with three-quarters of the seed from a normal maturity hybrid mixed with one-quarter from a full season plus hybrid (i.e. silks 5-8 days later) may boost yields and improve pollen supply for the normal hybrid if dry weather stresses the crop.  This idea worked in one of three trials in 2013!
10. EXPERIMENT WITH SPRING STRIP TILLAGE
Can we make strip tillage the winner in both profits and soil protection?  We will focus on: 1) spring strip tillage, 2) incorporating all of our fertilizer in that zone while we go -  so planting follows six hours later with no need for coulters, trash whippers, fertilizer, etc. and 3) using RTK GPS and run it on the contour so no blowing out row zones if we get a big rain. The Innovative Farmers Association of Ontario will lead this charge with support from OFIP funding and Grain Farmers of Ontario! •