Business side: Farm business vision
CONVERSATIONS WITH BUSINESS EXPERTS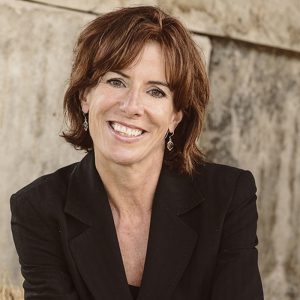 WHY SHOULD FARMERS SEE THEMSELVES AS BUSINESS PEOPLE?
For so many years, farm businesses were family businesses and many just considered themselves a family farm. Now that farms are getting so much bigger, so much more sophisticated with new science and technology, and now that they are hiring more than just family members, it's been a transition to be thinking more like a CEO than a farm manager. Farms are big businesses now.

WHAT IS THE PPG FARM BUSINESS MODEL?
If farmers or business owners decide they want to create a strategy, it's not a project and it's not one of those things where you say 'I'm going to go and figure out my vision' and then expect things to happen. It's an ongoing cycle and it includes everything from having that business, to then hiring the right people, and getting people aligned. We have a circle [process] that speaks to all of the steps that should always be alive — from attracting and keeping good talent, providing effective feedback, to getting people to understand and help you achieve your vision, and having clear expectations to help make staff more  accountable. And, as a business owner, you should always be raising that bar. People should  always be getting better — when you're learning, you're growing. At the rate that the agriculture industry is growing, it's getting so sophisticated and complicated that the talent — the human capital — on the farm always needs to be learning.
YOU SAY A VISION WITHOUT AN ACTION IS A HALLUCINATION. CAN YOU EXPLAIN WHAT THAT MEANS?
One of the biggest complaints I have with business managers and owners is that they will spend time and money to create their strategic plan and when they get back to their farm or their business they forget their strategy. It ends up in a binder that gets full of dust.

WHY IS EMPLOYEE ENGAGEMENT IMPORTANT?
As a business owner, we really need to understand what talent is available to us that we have from either our family or staff and leverage that talent. But don't try to put a square peg in a round hole. We've spent years optimizing our yields and optimizing our equipment but we haven't started to transition that to the people side. Our people are sort of like our equipment. They are a cost, and in many cases they are one of the most expensive costs, of a business. Yet, we don't take care of them the way we do the rest of our business.
Only recently are people beginning to realize that we need to look at employee engagement and make sure that we are putting people in the right jobs and that we are providing clear expectations and giving them the feedback they need. Recently, we coached a farmer, who was concerned about losing two new workers, about employee engagement and giving them some feedback and direction. We had them do something called an expectation plan. It's a one month plan, which includes a list of all the things he wanted these guys to do and learn the first month they started so that when seeding happened they would be prepared, ready, and trained.
HOW DO YOU GO ABOUT DEVELOPING THE CULTURE YOU WANT TO HAVE ON YOUR FARM?
Culture is a new word for people in the farm industry. The family culture used to be the predominant feeling, but now as you have a lot more staff,  often very skilled and technical staff, and farm businesses become more diversified, culture has morphed into a different thing. I will usually say to a farm owner or manager, 'what is it that you really wish your farm would represent to your employees?' Do you want it to feel like a family? Do you want it to be sophisticated and modern? I get them to identify what type of culture they want first, and then we start building whatever they need to do to make it feel that way – the processes, or feedback, or whatever it is that helps them shape that culture. And I remind them that culture drives behaviours. A toxic culture equals toxic behaviour. 
I encourage farmers to do a culture audit. This could be a little questionnaire or a meeting where you ask the staff what they think or feel the culture is on your farm. You might say, 'I think it's pretty family oriented, I think we are pretty laid back.' And then when you talk to the employees, you often get the opposite or something completely different. So it's an exercise I encourage any business owner to do every couple of years because it's easy to lose touch of what you believe your culture is.
WHERE CAN A FARMER GO FOR MORE INFORMATION ON CREATING A BUSINESS MANAGEMENT STRATEGY?
If you are interested in learning more, you can use these online resources:
•    Farm Credit Canada webinars at www.fcc-fac.ca/en/events/ agriwebinars/
past-agriwebinars.html
•    Mastering Strategy information at www.thepaladiumgroup.com
Or contact me directly at: michelle@ppghr.com.
WHY IS A CLEAR VISION IMPORTANT FOR YOUR FARM AND HOW DO YOU GO ABOUT CREATING ONE?
A clear vision drives employee performance and engagement.  What I hear a lot from farm businesses – particularly from the younger generation or those that are part of a succession plan – is that they don't understand where the business is going or they don't really understand why certain decisions are being made by their parents or by the senior management team and how or where they fit in. 
When you have a vision that the family, or the team, is involved in, everyone knows where you are going, why you are going there, and what you need to do to get there. You have better decision making, you have better alignment in terms of human behavior, and performance is optimized.
The successful farm businesses that do a good job of this spend a day or two a year where they remove themselves from the farm and they spend that day taking a look at their strategy or their vision. They ask themselves, 'what can we accomplish this year and where do we need to go next year?' They then ask, 'what's our execution plan, or what's our action plan', and they get people involved in creating that plan and then they hold each other accountable to that plan. Those businesses that can leverage and align everybody together to one common vision or one common goal can keep a farm together and can keep the family dynamic healthy as well. •