RESEARCHER DEVELOPS NEW WHEAT VARIETY
A NEW SOFT red winter wheat variety could help growers with their battle against Fusarium.  Known as Marker (UGRC C5-116), performance trials have shown it offers the best Fusarium resistance of any other variety currently available.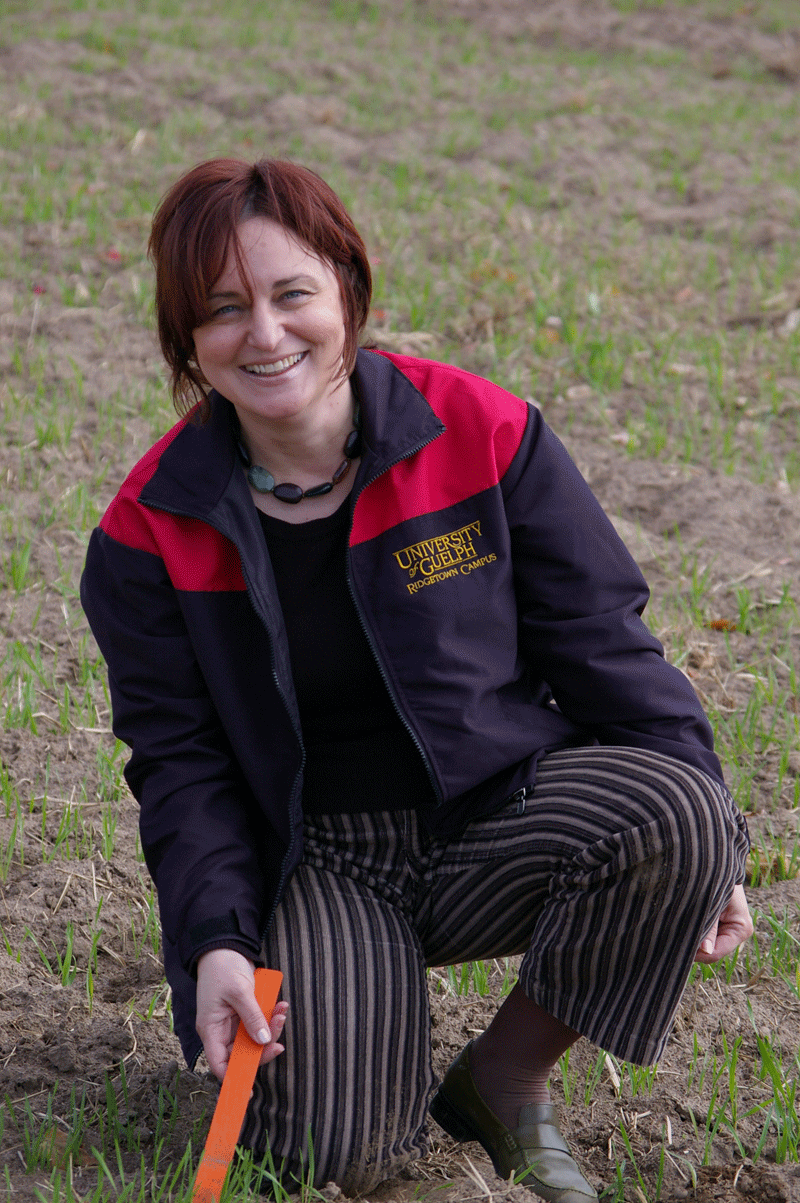 "I think it is very exciting," says Dr. Lily Tamburic-Ilincic, the Research Scientist at the University of Guelph Ridgetown Campus who developed Marker. "In the soft red class right now, we don't have any lines that we call moderately resistant. In the past we had several; unfortunately, they didn't stay around long because of poor yields. In this case, I am hoping that this line will have the ability, in terms of yield and Fusarium resistance, to do well."
PERFORMANCE TRIALS
Performance trials conducted by private and public research programs across Ontario showed promising results, and led to Marker being supported by the Ontario Cereal Crops Committee (OCCC) for registration with the Canadian Food Inspection Agency (CFIA). 
The trials rated Marker as moderately resistant to Fusarium head blight (FHB). Deoxynivalenol (DON) levels tested as low as 5.3 parts per million (ppm) in grain harvested at the Nairn research location after inoculation with Fusarium graminearum and misting to increase disease pressure. This is in comparison to the moderately resistant check for Fusarium, a soft white variety known as Ava, with DON levels as low as 7.6 ppm, and in comparison to the moderately susceptible soft red check, Emmit, with a DON level of 14.9 ppm. More information about Marker's performance is available at www.gocereals.ca. 
"Deoxynivalenol (DON) is a mycotoxin produced by Fusarium graminearum, and according to rules by Health Canada, more than two ppm in grain is not allowed for food anymore. It has to go into feed, meaning less money for growers at the end of the day," explains Tamburic-Ilincic. "When a resistant line is used along with other agronomic practices, such as using a fungicide, it can be an important benefit to farmers."
In 2013, DON was a major concern for farmers in some parts of Ontario. However, performance trials conducted under natural conditions supported the resistance shown by Marker in the inoculation trial. At Nairn, under natural conditions, Marker had 1.3 ppm of DON without a fungicide application, and 0.6 ppm with a fungicide. The check, Emmit, had 2.9 ppm without fungicide, and 1.3 ppm of DON with a fungicide application.
Tamburic-Ilincic was also pleased to learn her new variety offers another benefit to farmers. "Marker has shown good resistance to Septoria tritici. This is a leaf disease that is also very important in Ontario due to the economic impact it can have as a result of lost yields," notes Tamburic-Ilincic.
ONGOING RESEARCH
Tamburic-Ilincic's research program at the University of Guelph focuses on wheat pathology as well as wheat breeding and genetics. She works with all classes of wheat, but due to the fact that soft red wheat is more commonly grown, the majority of the new crosses she develops in her breeding program tend to be within this class. 
In addition to conventional breeding techniques, Tamburic-Ilincic uses marker assisted selection to speed up the breeding process by several years. "When you make a cross, you have the opportunity to extract the DNA from the progeny's seedling and then look for markers associated with the trait of interest. For Fusarium resistance, we make the selection based on markers, as well as visual symptoms after inoculation in the field," explains Tamburic-Ilincic.
"With my breeding and genetics program, I feel that developing something new for growers could really make a difference at the end of the day," says Tamburic-Ilincic. "Even though I am still doing my research in plant pathology and Fusarium and other diseases, I personally feel that being able to make new crosses from zero and take them along the route to variety development makes me happy and the possibility of being able to bring something new to growers is really cool."
With the success of Marker, Tamburic-Ilincic is now focusing on other soft red, hard red, and soft white wheat varieties with good resistance to Fusarium that she hopes will be entered into performance trials and made available in the next five years.
Given the length of time it takes to breed new varieties — eight to 10 years — Tamburic-Ilincic's crosses are continuously at different stages of development. Marker will be used in future crosses and some of its characteristics have already been included in other soft red lines.
For producers interested in growing Marker, it is expected to be distributed in limited quantities through Bramhill Seed by fall 2015.
The development of Marker was supported by the Canadian Field Crop Research Alliance (CFCRA), of which Grain Farmers of Ontario is a founding member, and through Agriculture and Agri-Food Canada's (AAFC) Developing Innovative Agri-Products (DIAP) program. The DIAP program supports industry-led science and technology projects that bridge the gap between ideas and discoveries and products in the marketplace. Tamburic-Ilincic's breeding program continues to be supported through the National Wheat Improvement Program (NWIP) cluster within the AgriInnovation Program, a five-year initiative under Growing Forward 2. The NWIP is led by the Western Grains Research Foundation in partnership with CFCRA, AAFC, and the Alberta Wheat Commission. •