Understanding the Chinese market
FUTURE OPPORTUNITIES FOR CANADIAN SOYBEANS
GRAIN FARMERS OF ONTARIO has partnered with the Ivey Business School at Western University to provide mentorship to an Executive MBA project team to explore market opportunities for Canadian soybean sales in China.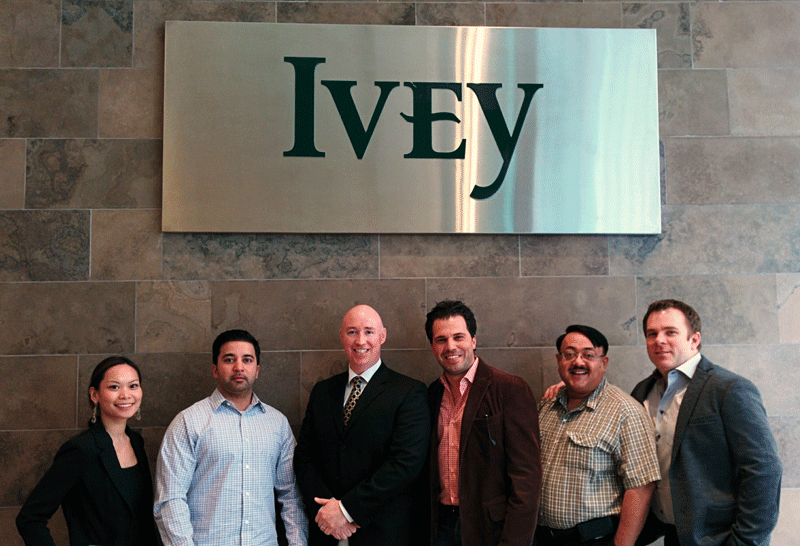 Project member Bryan Elliott says China is a market that over the last four years has become one of Canada's biggest export markets but, at the same time, is probably the least understood.
"The demand is there in China and this project is to further understand the opportunities that are available for Canadian Identity Preserved soybeans," says Elliott. "We have a good understanding of the market opportunities available in Japan and Southeast Asia, and can command a market premium from those areas. The goal is to identify the same kind of opportunities that might be available in China."
Elliott has teamed with fellow students Melodie Austria, John Buffone, Baljit Gill, Chris Morden, and Abdul Qadir to meet this goal. Given China's demand for soybeans there are likely several segments of the market we could target for growth. Canada produces about five million metric tonnes of soybeans per year, of which, approximately three million metric tonnes are exported. For the past two years, China has been our biggest single country export market with approximately 750,000 metric tonnes being exported each year.
Grain Farmers of Ontario's Market Development staff has provided background information and guidance on the direction the students should take with this project. They have asked the project team to investigate what opportunities are available for Canada to gain more market share, and to find ways we can differentiate ourselves from the competition in China. The key question is: where can Canada capture the most value in our transactions with Chinese importers?
RAPID GROWTH
Elliott says the team believes this is a great time for the project when you consider China's rapidly growing soybean import market. He points to figures which say in 2008, China imported 41 million metric tonnes; in 2012-2013, it jumped to 61 million metric tonnes – an incredible growth rate of 50 percent in just four years (according to the USDA's Foreign Agriculture Service's Office of Global Analysis report for September 2013).
Part of that, Elliott theorizes, can be attributed to China's fast growing economy and its emerging middle-class which is increasing the demand for protein — not only from soybeans, but from meat as well. Soybeans are a good and popular source of protein, but they are also a major source of animal feed. And, that is what is driving a lot of the commodity soybean sales —  animal feed to support China's growing livestock industry.
The team has already discovered one way Canadian producers can gain an advantage on the international competition. Elliott relays a story where his group came across a soybean producer in Brazil where a Chinese buyer had a contract for two million metric tonnes, nearly half of Canada's current total production. The contract ended up being about two months late because the port facilities in Brazil were so backed up that they could not get the product out. That left the Chinese buyer having to make up the shortage through other means. Being able to fill similar voids, with a reliable, consistent, high quality supply is one way Canada will be able to grow market share in the future.
Elliott also sees Canada offering a lot of value through Identity Preserved soybeans — the advantage to China being food safety.
"It's that level of assurance we can offer the Chinese," says Elliott. "When we look at the history of China over the last 10 or 20 years, there have been numerous food safety incidents. So, we think Canada will be able to demonstrate value through our traceability systems and identity preservation, and contribute to their food security. It's one potential differentiator that will enable us to achieve a better market position with Chinese buyers."
FINAL REPORT
The group of six Executive MBA students left for China on May 24 and will return the first week of June. Over the course of two weeks, they will split their time between Beijing, Shanghai, and Hong Kong.  Elliott says it is a tight schedule that will see the group meet with Chinese importers and soyfood producers from both camps —  companies who are already buying Canadian soybeans and those who are not.
"For the ones who are currently buying Canadian, we want to document what they like, what they don't like, and see if there are any challenges they are facing we can develop solutions for," says Elliott. "For the companies who aren't buying Canadian, we want to find out why they aren't, because that's where we believe the biggest market opportunity is."
The group's final report is expected to be presented to Grain Farmers of Ontario by the end of June. An update of the trip and the report will be featured online under the Market Development banner on www.gfo.ca. •