Tragedy results in education
LOCKIE FARMS HOSTS GRAIN SAFETY DAY
A TERRIBLE TRAGEDY in one family prompted an education day for farmers, grain elevator operators, and anyone working with or storing grain. In July, Lockie Farms Grain Elevator in Zephyr, Ontario hosted a Grain Safety Day in an effort to prevent further accidents while working in grain storage bins. The event was attended by 240 people.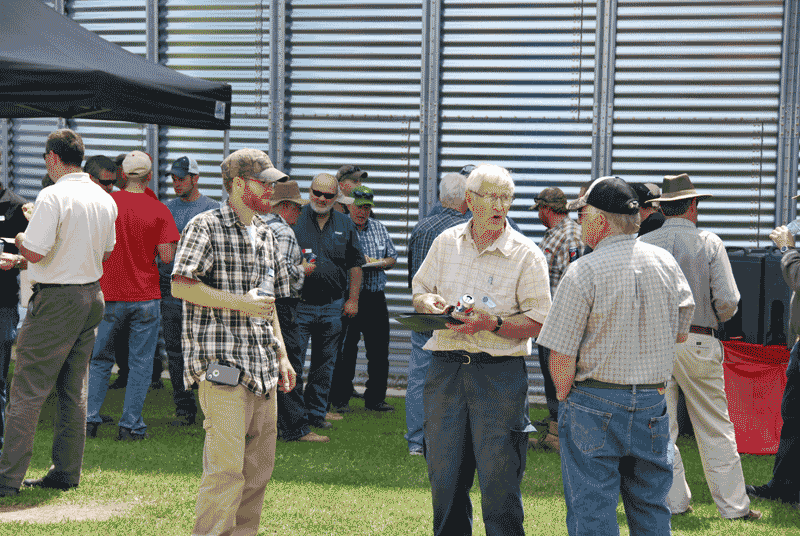 Earlier this year, Gary Rush, a 62-year old grain elevator worker, died in a grain bin accident just west of Cambridge. The tragedy had a profound impact on the grain industry, especially Rush's brother Daryl, who owns Lockie Farms. The decision to host the Grain Safety Day was made to increase industry awareness of the dangers of flowing grain and what to do in the event of an entrapment.
"We wanted to hold a Grain Safety Day because of the tragedy in our family. If it could prevent another family from going through the same thing we would do everything we could," says Daryl Rush.
Unfortunately, accidents like Gary Rush's are all too common in the grain industry. In the first half of this year, 17 entrapments and seven fatalities were reported in the United States. In 2013, 33 entrapments resulting in 13 deaths occurred. The vast majority of entrapments and 71 per cent of deaths are on-farm. Roughly two-thirds occur in steel bins and in stored corn.
Producers know the farm can be a dangerous place and, with farms getting larger and increasing production, there's no sign of the dangers decreasing. For example, a dangerous situation can be created in grain bins for workers attempting to find the cause of a blockage or move grain inside the bin.
"Bins are getting bigger and grain is handled faster," says Wayne Bauer, director of safety & security at Star of the West Milling Company. "Someone in the bin can be trapped in seconds. Generally, half of all entrapments or engulfments result in death."
Bauer emphasized the importance of taking safety measures when entering a grain bin, such as using fall restraint and ensuring there are anchor points present to tie off. He says the design of the bin should include these points, as well as wide doors at the top and bottom of the bin to make access for workers and rescuers easier.
"If workers are going to be wearing harnesses when in the bin, they need somewhere to always tie off," says Bauer. "The bin should include design parameters with multiple anchor points to make it easier to move around and prevent slack in the rope."
HANDS ON TRAINING
Access is not the only problem when rescuing someone entrapped in a grain bin. Many local fire stations are not trained for grain bin rescues, and if they are, may not have the necessary equipment to do so. In light of this, Lockie Farms trained 37 firefighters from City of Kawartha Lakes, Brock Township, Uxbridge Township, Georgina Township, and Township of East Gwillimbury on grain bin rescue as part of their Grain Safety Day.
The Grain Safety Day also included a hands- on portion for attendees to learn how to use rescue equipment. Two types of knots were taught, one for shortening and lengthening rope when working within the bin to keep appropriate tension, and one to use to create an emergency harness during a rescue.
Attendees were also taught how to use a grain bin rescue tube (also known as a cofferdam) which is a simple device designed to alleviate the pressure from the grain surrounding the trapped person and to facilitate extraction. Four grain rescue tubes were purchased with sponsorship funds and were used for demonstrations during the event. Lockie Farms donated three of the tubes to fire departments in the City of Kawartha Lakes, York Region, and Durham Region to make these essential rescue tools as accessible as possible to those who need it. The remaining tube is being kept at Lockie Farms in unlocked storage for use at any time by anyone who requires it.
SAFETY IS A TOP PRIORITY
It is the employer's responsibility to provide health and safety information, training, and protection at the workplace as a preventative measure. According to Fred Spiro, the Ontario Agri-Business Association's health and safety specialist, for many businesses "nothing happens until something happens. Attention isn't paid to safety until an incident occurs."
This rings true for Lockie Farms. Thanks to Tiffany Spearing, general manager and grain trader at Lockie Farms, they now have an extensive farm safety plan, training documents, videos that all staff must watch, and WHMIS in place to ensure employees understand their safety is paramount. Spearing took on the responsibility to gather the information they needed to comply with safety standards and train staff with the help of Workplace Safety & Prevention Services and WHMIS.
"Our new farm safety plan is over 50 pages long," says Spearing, who is Gary Rush's niece. "We want to make staff aware of our policies and let them know it's okay to be safe. They don't need to cut corners and risk an accident. It's not worth it."
"There are so many dangers involved in farming and we need to make workers aware," says Daryl Rush. "It starts right away with combining every year."
Spearing says she hopes the Grain Safety Day prompted farmers and grain handlers to re-evaluate the safety procedures and staff training at their own operation.
"I think every person who attended was able to take some helpful information home with them that they would be able to use on a regular basis," says Spearing. "Apart from the knowledge that people learned from the day, I think that there were some great connections made within our grain industry between individuals and companies willing to share with each other on what they do to promote grain safety at their locations in hope that we can all become safer."
Lockie Farms was supported by Grain Farmers of Ontario (District 12), BASF Canada, Bayer, Green Tractors, Horst Systems, Pride Seeds, Parrish & Heimbecker, NorAg Commodities, Midnight Acres, Thompsons, Creighton's Crop Services / Alliance Agri-turf, Richardson, WSC Transport, Palmerston Grain, Cargill, Hutchinson Farm Supply Inc., London Agricultural Commodities, Growers Direct Exports, and Shantz Farm Equipment in the funding of the Grain Safety Day.
GRAIN BIN RESCUE TUBE
A grain bin rescue tube, also known as a cofferdam, is designed to alleviate the pressure from the grain surrounding the trapped person and to facilitate extraction.
Rescue tubes can be made of aluminum, wood, or plastic and can be purchased or constructed. Lambton 4-H built three of the tubes that were purchased and used for demonstration at the Lockie Farms Grain Safety Day.
The tubes come apart into four pieces; each piece is taken into the grain bin separately, and then interlocked during use. The first piece is slid in front of the victim and pushed down as far as possible. It takes between 300 and 800 pounds of steady force to push one panel three feet into corn. Rescuers should stand on a platform, such as a milk crate, in order to prevent sinking into the grain while pushing down on rods inserted through the panels.
The remaining pieces are slid down around the victim, interlocking into each other. Grain can then be removed from inside the grain rescue tube with a vacuum or by hand to free the victim. When pulling the victim out, it is important to make sure they are wearing a harness as pulling on limbs can cause severe injury. •