Controlling early season insects
NEW GUIDEBOOK FOR GROWERS
CROP RESEARCHERS ARE stepping up their efforts to help Ontario farmers and crop advisors learn more about early season soil insects and to give them more options for pest management.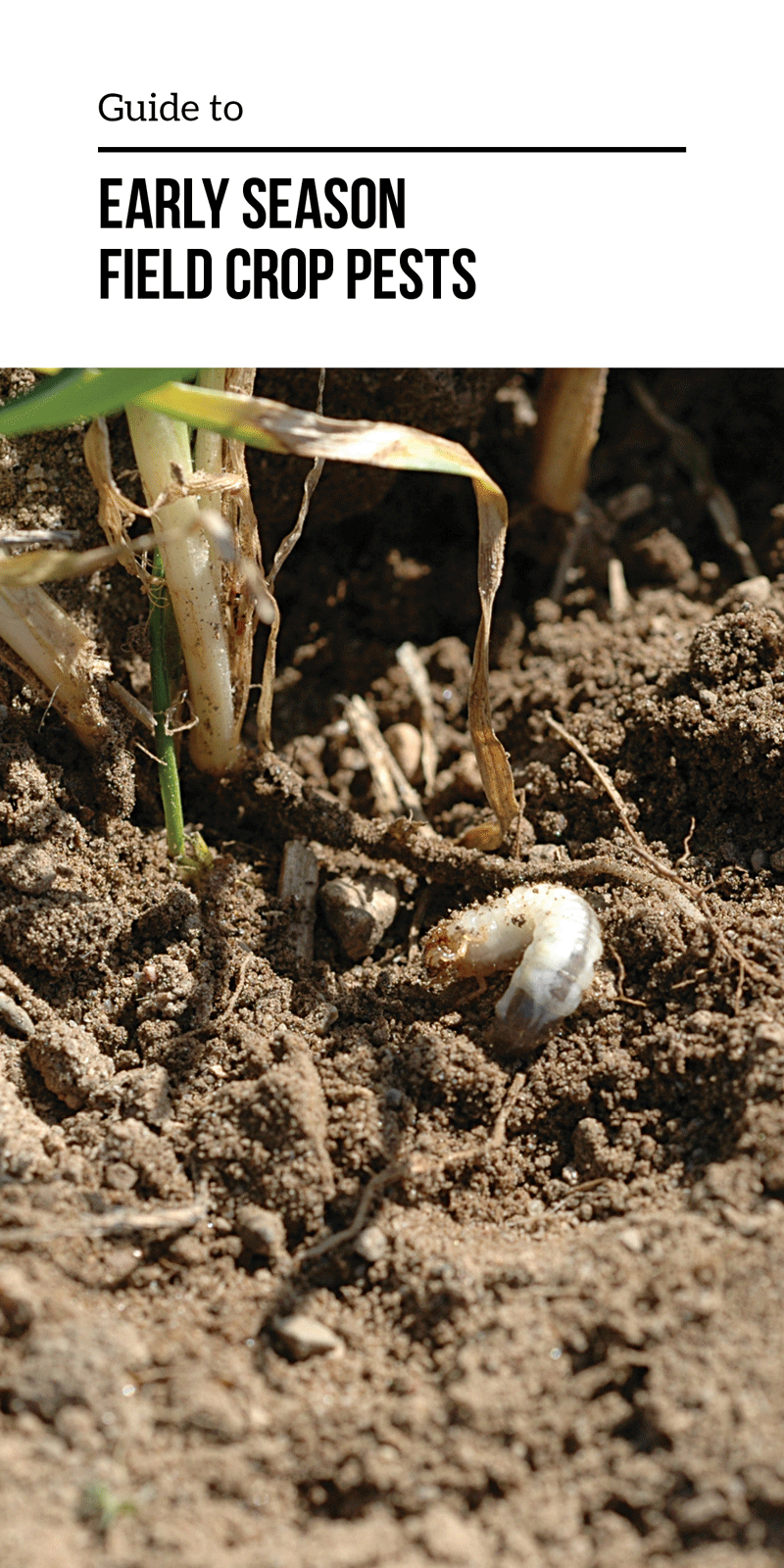 Farmers and advisors can now consult the 'Guide to Early Season Field Crop Pests', just published in September with funding from Grain Farmers of Ontario and the Ontario Ministry of Agriculture, Food and Rural Affairs (OMAFRA). The guidebook provides key information about the identification of insects and control recommendations. The guide is also aimed at helping farmers and crop advisors identify some of the high risk factors for the pests.
The goal is to work towards a more integrated pest management (IPM) approach and a more prescriptive use of insecticides to control pests, including insects that are targeted with neonicotinoid seed treatments. Practicing IPM when choosing seed treatments is one of the best management practices promoted by Grain Farmers of Ontario to help mitigate the risk to pollinators.
Jocelyn Smith, a field crop pest management research associate at the University of Guelph Ridgetown Campus, along with OMAFRA field crop entomologist Tracey Baute, previewed the booklet in July at the Southwest Crop Diagnostic Day in Ridgetown. Click on the image here or go to www.gfo.ca/pestguide to download the guide.
RISK FACTORS
During the preview, they discussed a few of the pests, detailing their characteristics and high risk factors that lead to their presence. Topping the list are wireworms and grubs, which are thought to be at risk in 10 to 30 per cent of Ontario's corn acres and five per cent of cereal acres.
According to Smith, these insects are a little more predictable than some of the other early season pests. The main risk factor for grubs and wireworms is sandy or silty (loamy) soils, or sandy knolls.
 
"Another risk factor for wireworms is sandy or silty fields that have had grass crops in the rotation, which the click beetles [the adult stage of wireworms] like to lay their eggs at the base of," says Smith. "So if you plant a susceptible crop afterwards you are at a greater risk for wireworm issues."
Smith notes that neonicotinoids don't always kill wireworms; they stun or repel them, resulting in less feeding injury. "They will remain in the soil and are able to recover," adds Smith.
Along with sandy soils, fields surrounded by tree lines are at higher risk for grub problems. For grubs, it's important to identify the species because they have different life cycles. June beetles, for example, have a larval stage that lasts for three years.
"During the second year, when second instar grubs are present, you are going to have feeding throughout the growing season," says Smith. "For the annual grubs like European chafer and Japanese beetle, it's the spring and the fall that are the busiest times for feeding damage."
Another risk factor is the history of grub infestations in a field. Examples of locations at high risk of grubs include Highgate, Komoka, Tillsonburg, Zurich, and the area south of Barrie to Uxbridge.
Of the other early-season pests, seedcorn maggot, black cutworm, corn rootworm, and bean leaf beetle were highlighted.
CONTROL
"Seedcorn maggot is one that we think of controlling with neonics but usually this isn't a big issue in corn; more so in soybeans," says Smith, who noted that the pest affects about one per cent of the corn acres and two per cent of soybean acres.
High risk factors for seedcorn maggot include fields with high organic matter, including recently applied manure or a recent plow-down of green residue.
"Adult flies are attracted to decomposing organic matter, lay their eggs and maggots, and will then feed on the germinating seed," says Smith. And similarly with wireworms and grubs, cool, wet springs give the insects more time to feed and cause more damage.
Calling black cutworm a sporadic pest, Smith says five per cent of the corn acres are at high risk. Historically, there has been a higher frequency of this pest in fields near Lake Erie. Other risk factors include fields with pre-plant annual weeds, such as chickweed, mustards, and lamb's quarters, or cover crops and fields with a history of infestations.
Corn rootworm is estimated to affect five to 10 per cent of corn acres. Bt hybrids that contain Cry1F are most effective on the young larvae. The high risk factors include clay soils and continuous corn-on-corn rotation.
"If you're going to plant corn after corn, you should scout for beetles the previous year to see what the population is like," says Smith, noting that planting a transgenic variety would be an option if the population was heavy.
The last pest highlighted was bean leaf beetle, which affects five to 25 per cent of the soybean acres. The high risk factors include planting early in the six southern counties of the province and fields next to alfalfa fields.
For more details on identifying these early season pests, scouting tips, threshold levels, and control options, farmers and crop advisors are encouraged to consult the guidebook. A hard copy will be available at the OMAFRA offices or by calling Grain Farmers of Ontario. An e-book version will also be available at www.gfo.ca.
INCREASING OUR KNOWLEDGE OF EARLY SEASON PESTS
In addition to developing the 'Guide to Early Season Field Crop Pests', efforts are underway to increase the knowledge about these pests in Ontario.
A project began this year to monitor early season insect pests across the province. It includes collecting data from 100 strip trials, 80 of which are in farmers' fields, and 20 that are part of the Ontario Corn Committee trials.
"We're hoping these strip trials are going to be a way that we can generate maps of the province of the riskier areas and create models that growers can use for targeted pest management," says Jocelyn Smith, a field crop pest management research associate at the University of Guelph Ridgetown Campus.
Learning more about the different species of wireworms that are in the province is also a key part of the study. The larval stage of some species spends only one year in the soil, while the larvae of other species can be there for six years.
"It will help us manage them if we know which species we're dealing with," says Smith.
The Ontario Soil and Crop Improvement Association is collaborating on the project, which is scheduled for four years.
This project was funded in part through Growing Forward 2 (GF2), a federal-provincial-territorial initiative. The Agricultural Adaptation Council assists in the delivery of GF2 in Ontario. Funding has also been provided by Grain Farmers of Ontario. •