ONTARIO FARM PARTNERS WITH BUNGE
NEARLY THREE YEARS ago, a seemingly ordinary order for a few bottles of virgin soy and canola oil was placed through Pristine Gourmet's online store. The order was sent to Mark Stavro, postmarked Manhattan. No one at Persall Fine Foods Co., developers of the Pristine Gourmet retail brand, suspected it was the beginning of what would become an exciting business partnership.
PHOTO: JASON PERSALL (LEFT) AND MARK STAVRO (RIGHT).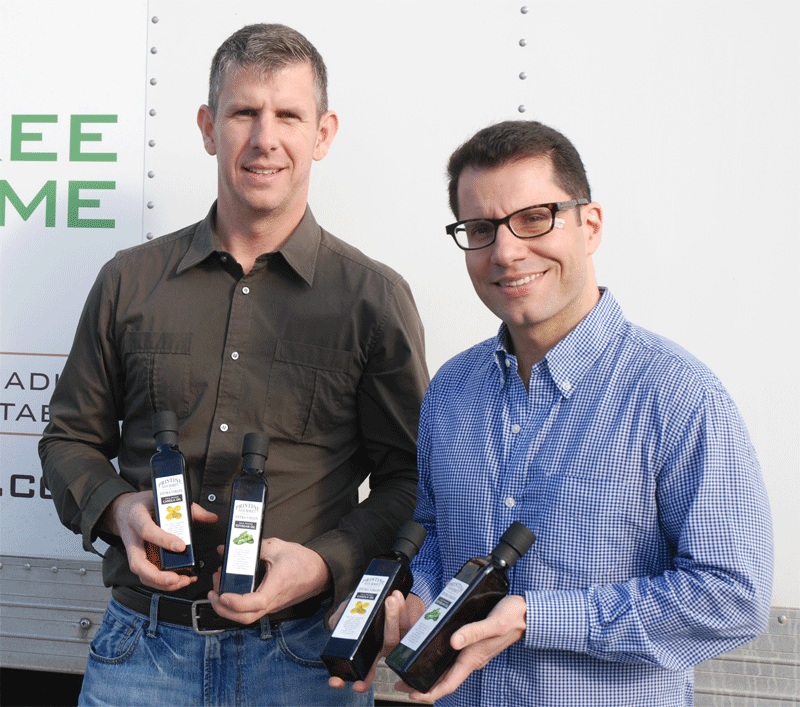 "A few more orders later, someone in the office noted the quantity being sent to the same person, but we didn't know who he was," recalls Jason Persall, a Waterford farmer and owner of Persall Fine Foods Co.
Persall reached out to Stavro and offered to send him the larger quantities of oil that they have available for the food service industry. Over the next few weeks, Stavro placed several orders for the 10 litre jugs of soybean and canola oil.
"I didn't really think anything of it, I just assumed he was a chef but he never did say," says Persall. "Finally, I just sent him a note and asked what are you using the oil for, can I be of any assistance? And that's when he said, actually I'm the global nutritionist for Bunge and we've been doing some different studies on your oil."
Stavro, who is also involved in general food innovation at Bunge, had been sampling different virgin oils from a range of producers and discovered Persall's brand with an online search. "Quite simply, his tasted the best," says Stavro, "and he has a story about the family farm which is fantastic and he had started this business himself. One of the pillars of Bunge is entrepreneurship so that resonated well."
FARMER AND ENTREPRENEUR
Persall is the fourth generation to work his family's farm in Norfolk County. He grows corn, soybeans, wheat, and sunflowers. In the late 1990s, he expanded his acres and added a grain drying and storage facility to his farm operation. In 2000, Persall purchased a small table top press to test production of cold pressed oil to add value to the non-GMO soybeans he was growing on his farm. In the fall of 2007, Pristine Gourmet was launched.
"When we started this business, we didn't realize that we were going to be totally on trend ten years later," says Persall. "Not only being local, but we speak to the heritage of our farm, we speak to the terroir —  which lately has been a real trend. A lot of food service personnel and chefs are really grasping the regional difference of foods that they purchase."
The tests Stavro and his team had performed on the virgin oils proved Persall's process provided the consistent quality Bunge was looking for to serve this growing niche market within the U.S. food service industry, primarily restaurants and hotels.
"Being trans-fat free, the product also linked in very well with our nutritional goals," says Stavro. "You can have a healthy product but if people don't perceive it that way then you are going to have a challenge getting people to consume it and appreciate it."
Persall signed a supply, distribution, and marketing contract with Bunge last fall after additional lab tests, development studies, and negotiations were completed. He says that the deal is a real joint effort given the fact that he is assisting the Bunge marketing team with their efforts in the U.S.
EXPANSION
Production of the oils began this July after an upgrade to the processing facility was completed. Persall installed six new presses which allow him to ship 5,000 to 6,000 litres of virgin oil to the U.S. every month. Two separate lines of three presses are run at a time, allowing for the production of two different products. Over the summer months, sunflower and canola were run before the canola line was switched over to press the new harvest of soybeans in September.
"We're trying to forecast enough ahead and get enough volume of each produced so that when we switch lines back and forth we can mitigate how many times we do that in one year," explains Persall.
Persall received financial assistance for the expansion of his facility from the Grains Innovation Fund, a market development initiative of Grain Farmers of Ontario. It was a program that he didn't realize he could access until it was mentioned by CEO Barry Senft. Senft received a tour of Persall's operation during the first annual 'Good Food Starts Here' event hosted for Toronto food bloggers and chefs in 2012.
"What I saw was someone with a business plan who was stepping outside of their comfort zone in order to achieve their goal," says Senft. "He seemed a bit uncomfortable meeting all of these different people at first, but he knew it was a way to add value to his business."
 
The Grains Innovation Fund is available to companies for developing new and reformulated Ontario corn, soybean, and wheat based products which have the potential to expand the market for Ontario grains. To qualify for and receive monetary support under this fund, a company must demonstrate (to the satisfaction of a Grain Farmers of Ontario committee) that it can meet at least one of the following criteria: open new markets for Ontario grains; expand the use of, and demand for, Ontario grains; promote Ontario grains as the best choice; utilize identity preserve varieties for novel uses; and/or increase the value (premiums) of Ontario grains.
"Doing something value added and innovative is not for everyone," admits Persall, "but there is certainly a growing number of mid-size farmers like myself that need to look at that value added opportunity in order to create some sort of long term sustainability with our operation."
Going forward with his own expansion, Persall is cognisant of the fact that he needs to stay true to the brand he has developed. "Part of our terroir, or providence, of our product is coming from this growing region. When we expand and change things we don't want to lose that essence of who we are, our connection to the crops that make our products, and our branding messaging."
However, "these opportunities only knock once in a lifetime and Bunge has been a great company to work with and everyone we have dealt with there has been great," says Persall. •