Protection and performance
PILOT PROJECT TESTS IMPACT OF PLANTER DEFLECTORS
IN OTHER JURISDICTIONS, such as Europe, dust deflectors installed on air planters have been shown to reduce the amount of off-field dust generated during the planting of neonicotinoid treated corn and soybean seeds. Investigating the development and adoption of these deflectors on planters here in Ontario was recommended by the Ontario Bee Health Working Group after an investigation by the Pest Management Regulatory Agency (PMRA) found that fugitive dust may have played a role in the acute bee deaths reported in 2012 and 2013. However, the concern noted by the working group, and voiced by many farmers, was that modifications made to existing planters could affect their performance.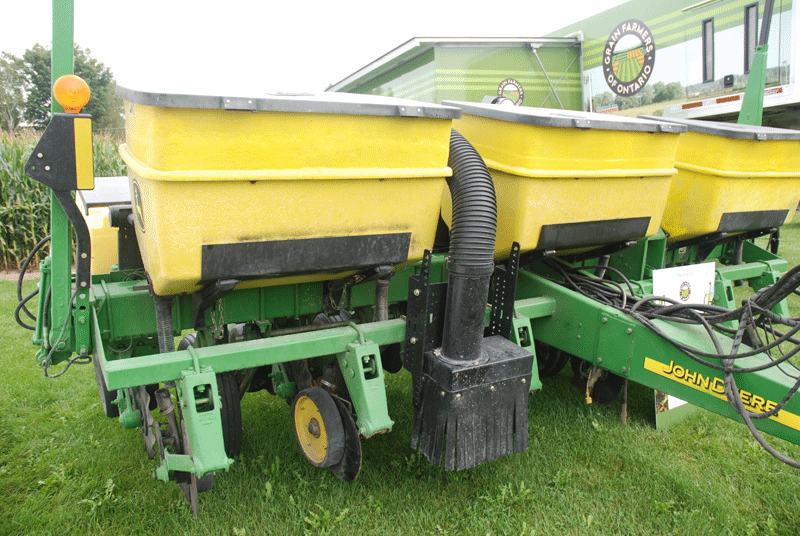 A pilot project undertaken by Syngenta with the support of Grain Farmers of Ontario during the spring 2014 planting season was designed to answer these questions about the impact of deflectors on planter performance.
"Syngenta has a vested interest in bee health," says Dr. Paul Hoekstra, regulatory and science stewardship manager with Syngenta Canada. "We have collaborated on research into mitigating dust because it's an example of where planter technology meets our technology."
Syngenta produces thiamethoxam, one of three active ingredients used in neonicotinoid seed treatments in Canada.
FARMER COOPERATION
Twenty-five farmers in southwestern Ontario volunteered to participate in the field-level research, 24 of which reported their findings in a final evaluation survey.
Each farmer was supplied with either a commercially available or after-market deflector kit which included an adapter plate for the fan and a hose to redirect planter exhaust towards the ground. Syngenta provided technical support, but let the farmers do the installation on their own in order to see how easy it was to use the kit and how long it took them to complete the modification.
Kevin Armstrong, a farmer in Woodstock and director for Grain Farmers of Ontario District 7(Waterloo, Oxford), was one of the project participants. The commercially available deflector kit he was provided required some additional work to make it fit onto his planter.
"The place where you should be directing the hose was actually right in the middle of the planter which is where the tongue comes out where we hook up our air cart," explains Armstrong. "So it wasn't possible to hook it up where it was designed to be. But it didn't turn out to be much of a problem — I just needed to get a longer length of the exhaust hose and then put it out on the wing. It took about three to four hours to complete."
Hoekstra reports the project results show it took farmers an average of five hours to install the deflector, with the majority requiring only two to three hours. "Growers found the equipment moderately easy to install. They were innovative and found ways to customize the deflector if the kit provided didn't work for them," he says.
After installation, farmers were asked to plant at least 10 acres with the deflector and the same amount without the deflector. The final surveys indicate that they chose to plant anywhere from the required minimum to 1,000 acres. Armstrong planted the minimum 10 acres without the deflector but then chose to plant another 500 corn acres with it on.
POSITIVE RESULTS
"It really seemed to work," observes Armstrong. "In a normal planting season, after you do 100 or 200 acres of planting you can see the fine dust that is the colour of the seed treatment on the planter, and that was not anywhere on it this year."
For the project survey, farmers recorded their own observations on how their planter operated with the deflector on. Overall, a reduction in fan noise, minimal fluency agent buildup, and a negligible impact on pressure were seen. "Some growers experienced a minor increase or decrease in air pressure," reports Hoekstra.
 
"I did notice there was a nominal difference in the vacuum pressure," confirms Armstrong, "But it was easily compensated for and it's not a significant [enough] difference that it is going to wear the fan out faster. And the design of it is specifically tailored not to have any back pressure."
Farmers also reported there was no significant difference in plant stand and the number of skips and doubles were about the same in both plots. Given these results, Hoekstra says participants have shown overwhelming support for the use of a deflector.
"The majority of participating growers say they will continue to use it next year and some have already been recommending it to other growers," says Hoekstra. "Generally, they didn't mind the time and effort it took to install the deflector and if it supports the continued use of seed applied insecticide they feel it is time well spent."
Armstrong is among those encouraging others to add a deflector to their own planter. "The seed treatment is an important tool for farmers and we have to show some initiative to be able to mitigate that acute exposure to the fugitive dust," he says. "Hopefully this, coupled with other initiatives like the fluency agent, shows everybody that we take this issue seriously and we as farmers are able to adapt in order to keep using the product."
Hoekstra encourages anyone interested in learning more about a deflector kit to speak to their equipment dealer or visit the Ontario Ministry of Agriculture, Food and Rural Affairs online at www.omafra.gov.on.ca/english/ crops/facts/adjustingplanters.htm for additional information. •